LinkedIn Marketing & LinkedIn Lead Generation in 2023
Social Media Marketing Using LinkedIn | Instructor Has Done LinkedIn Advertising since 2011: Kellogg MBA, Fortune 100 XP
Social Media Marketing
category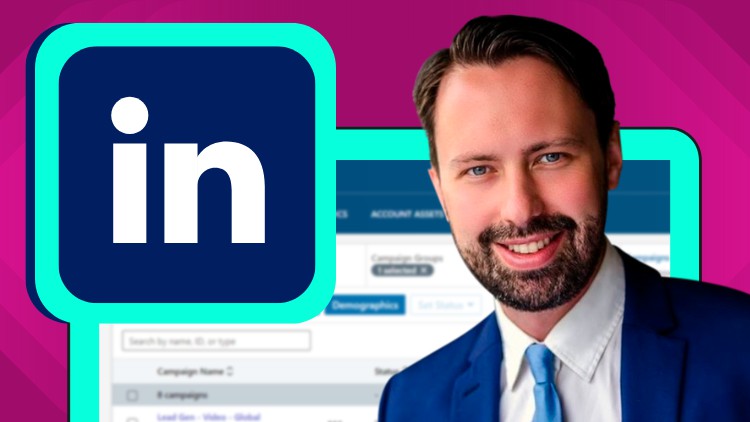 What you will learn
LinkedIn
LinkedIn Marketing
LinkedIn Lead Generation
LinkedIn Ads
LinkedIn Advertising
Description
Welcome to the ultimate course on LinkedIn marketing, lead generation & advertising in 2023. Master B2B social media marketing!
I've been advertising on LinkedIn since 2011, and I have an MBA from the #1-ranked business school for marketing in the USA.
The main benefit of this course is teaching you how to use LinkedIn to get new customers. For example, I'll walk you through a case study on how one ad campaign generated a 500% return on investment. To get customers we're going to use LinkedIn ads, but also account based marketing (ABM), LinkedIn Sales Navigator, your LinkedIn company page, and other tactics such as automating connection requests.
After this course, you'll be able to acquire new customers using LinkedIn efficiency by using the top, middle, and bottom of the marketing funnel. You'll be able to put together a LinkedIn customer-acquisition plan.
I'll talk about LinkedIn ads of various types with different objectives. The key to cost-effectvie lead generation and customer acquisition is mapping out the entire funnel, not just short-term lead generation.
The major sections of this LinkedIn marketing course are:

BOFU (Bottom of Funnel): generating short-term revenue

MOFU (Middle of Funnel): tactics such as product education & nurturing that will enhance BOFU

TOFU (Top of Funnel): generating broad awareness and problem education to provide the basis for subsequent revenue generation
I'll talk about the details of LinkedIn campaigns I worked on and provide 3rd-party case studies. I'll give you tutorials, strategies, and tactics to pull everything together.

This is a more structured approach to LinkedIn marketing than my previous courses which focused on jumping straight into tutorials.
This course is for people in B2B marketing and potentially those in outbound sales and business development.
Let's get started!
Key Marketing Topics:
LinkedIn Marketing

LinkedIn Lead Generation

LinkedIn Advertising (LinkedIn Ads)

Social Media Marketing

LinkedIn Advertising Course

B2B Advertising

B2B Marketing
Content
Part 1 - Bottom of Funnel LinkedIn Marketing
Introduction
Introduction
Message Ads
Message Ads
Message Ads Tutorial
Conversation Ads
Conversation Ads
Conversation Ads Tutorial
LinkedIn Sales Navigator & Outreach
LinkedIn Sales Navigator & Outreach
Image Ads 1
Image Ads 1
Image Ads 2
Images Ads 3
Image Ads
Image Ads Tutorial
Video Ads
Video Ads
Video Ads Tutorial
Text Ads
Text Ads
Text Ads Tutorial
Other
Other
Targeting Options in 2022
Matched Audiences
Part 1 Slides
Part 2 - Top & Middle of Funnel LinkedIn Marketing
Introduction - A
Introduction - A
Introduction - B
Introduction - B
Introduction - C
Brand Unaware - A
Engagement Boost [Tutorial]
Video Views & Brand Awareness Boost [Tutorial]
Brand Unaware - B
Problem Unaware
Category Unaware
Create an Event [Tutorial]
Deleting an Event
Product Unaware
Other - 1
Other - 1
Other - 2
Other - 2
Part 2 Slides
Reviews
I really enjoyed the first half of this course. It helped me confirm the set up of my ads and helped me troubleshoot a couple of issues. I was also able to put together better ad copy and chose a creative type.
Professor you are awesome learning a complete new universe with LinkedIn within first few minutes eager to learn more as I'm listening to whole course
The course is not that lengthy so a one day is enough to learn from this course. The instructor is obviously knowledgeable about the course he is teaching. Kudos, Mr. Fraser!
It's definitely what I was looking for to get started with Linkedin Ads. I knew the very basics and this is taking my knowledge to the next level. So far so good.
This is the second LinkedIn course I have taken from Dekker. He has deep knowledge about LinkedIn Ads for sure. I learned a lot from his course. In addition, his course is very efficient and practical. What's more, he answers questions quickly and is patient and thorough. He never leaves the questions unanswered. I have been following Dekker and get inspired by his tips shared from time to time on YouTube and LinkedIn. Dekker is a great instructor on Udemy that I am following.
Coupons
| Submit by | Date | Coupon Code | Discount | Emitted/Used | Status |
| --- | --- | --- | --- | --- | --- |
| Angelcrc Seven | 4/10/2022 | C007F73EDB7862E28194 | 100% OFF | 100/90 | expired |
| Angelcrc Seven | 4/14/2022 | C2DF10AA732F3C01861D | 95% OFF | | expired |
| - | 4/20/2023 | C9224950F8E381ABE6A0 | 100% OFF | 1000/980 | expired |
| - | 5/25/2023 | E8FEEE406057EA07CE00 | 100% OFF | 1000/886 | expired |
Charts
Price
Rating
Enrollment distribution
3/25/2022
course created date
4/10/2022
course indexed date
Angelcrc Seven
course submited by