Learning Evernote from Scratch
Taking and Managing Notes with Ease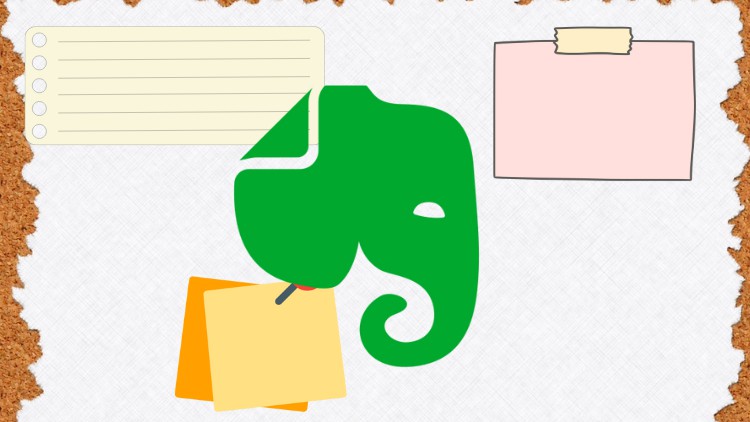 What you will learn
Evernote
Note Taking
Digital Note Management
Information Keeping
Description
Evernote is a free-to-use yet very powerful tool that can be used to take and manage notes. You can also attach files in the notes that you make and keep web clipping as required in the notes that you make.
In this course, we are going to look at the major features of Evernote so that you can utilize its note-taking and managing capabilities very efficiently.
We will start by learning how to create, edit, format, and manage notes. Then we will see how we can work with notebooks and manage notebooks in sticks as well.
After that, we will look at how we can organize notes by utilizing shortcuts, tags, and links and learn how we can easily find the notes that we want.
Also, we will look at how we can collaborate with other users to effectively manage notes together as well. For this, we will be learning how to protect notes with encryption and see how we can utilize its chatting features.
And then we will see how we can customize Evernote through account settings and preferences. Then, we will also see how we can export our notes in different formats and print the notes in the way we want.
After taking the course, you will have a detailed understanding of how Evernote works and will be able to use its features efficiently.
Hope that you will enjoy learning this course with me.
Content
Getting Started
Signing Up for a Free Account
Interface Tour
Installing Desktop Version
Working and Managing Notes
Making New Notes
Create Notebooks
Renaming and Deleting Notebooks
Stack Management
Default Notebook
Note View Options
Note Filters
Sorting Notes
Exporting Notes for Backup
Exporting as PDF
Importing Exported Notes
Move, Copy and Duplicate Notes
Move Notes to Trash and Restore
Note Formatting and Editing
Basic Text Formatting
Unordered List, Ordered List and Checkboxes
Adding Internal and External Links
Working with Alignment and Indentation
Header Formats
Further Text Formatting Options
Adding Table and Table Data
Table Size, Row and Column Modification
Cell Background
Cell Alignment Options
Merging and Unmerging Cells
Accessing and Using Cell Width Options
Using Divider
Using Codeblocks
Adding Checkboxes
Adding Sketches
Inserting Images
More Image Options
Image Annotation
Suggested Templates
AI Cleanup
Creating Tasks
Paste and Match Style
Adding Extra Contents to Notes
Adding Attachments
Insert Google Drive
Recording and Inserting Recorded Audio
Installing Web Clipper Extension
Using Web Clipper Features
Organizing Notes
Merging Notes Together
Adding Tags in Notes
Accessing Tags
Modify Tags
Making Shortcuts
Finding Note Contents
Searching for Note Contents
Finding Contents within a Single Note
Replacing Contents within a Note
Share and Collaborate
Share Notes with Link
Share Notes by Email
Modifying Sharing Settings for Shared Notes
Collaborating to work on a single note with Multiple Users
Note Security and Management Options
Selected Text Encryption and Decryption
Using Scratch Pad
Utilizing Work Chat
Finding and Using Shortcut Keys
Accessing and Modifying Note Info
Print Settings and Printing Notes
Account Settings and Security
Accessing Device Settings
Login and Security Settings
Connected Services Management
Sending Emails to Make Notes
Accessing Personal Settings
Menu Contents in Desktop App
Accessing and Changing Preferences
Accessing and Changing Profile Settings
Customizing your Homepage
Multiple Account Login in Evernote Desktop
Close / Deactivate Account
Reactivating Account
Example and Goodbye
Example Project
Goodbye
7/23/2023
course created date
9/3/2023
course indexed date