Wordpress For Authors
DIscover How to Use Wordpress to Grow Your Audience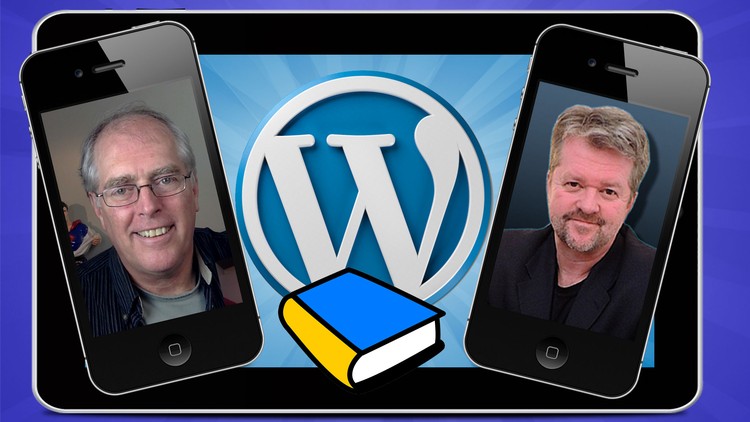 What you will learn
Set up a Wordpress site to promote their books with
Know how to register a Domain name
Be familiar with setting up website hosting
Description
Congratulations! You are an author, or at least, you have started writing the next New York Times best seller!
The 'Dirty Secret' of book publishing is "It's Book Publishing, not Book Promoting". Your publisher, if you have one, prints your book,makes sure it meets certain publishing standards, gets it into book stores and onto a few online ecommerce sites, but they do very little in promoting your book, unless you are extremely popular and famous.
This means you have to do the heavy lifting of making your book popular.
In this course, you will learn:
How to set up your domain name

How to set up your web hosting

How to install Wordpress (The world's easiest web site management tool)

How to make Posts or Pages on your site

How Wordpress works

What Plugins and how to use them

How to have a professional design for your site without using an expensive designer (Almost instantly!)

How to build an engaged email list (Critical for successful book launches)

And much more...
If you are a non-fiction author or aspiring novelist, this course has everything you need to have your own website promoting your book 24/7.
Don't hesitate and register today!
Content
Introduction
Introduction
Why Authors Need a Website
Why Authors Need an Email List
Why Authors Need to Connect on Social Media
Meet Your Instructors
Introduce Yourself
Before You Start
Planning Your Site
Hosting & Domain Considerations
Bluehost Account Setup
Bluehost WordPress Installation
Login To WordPress
Wordpress
WordPress Dashboard
Posts vs Pages
Posts - Part 1
Posts - Part 2
Pages
Categories
Tags
Comments
Plugins
Plugin To Email Users
Plugin To Create and Build Your Optin List
Plugin To Improve Search Engine Optimization
Plugin To Connect To Social Media - Part 1
Plugin To Connect To Social Media - Part 2
Plugin To Add YouTube Channels and Videos
Plugin To Add A Free or Paid Membership Section - Part 1
Plugin To Add a Free or Paid Membership Section - Part 2
Themes
Add Header Image To The Suits Theme
Media Library
Widgets
Menus
Users
Tools
How To Post Links To Your Book For Sale On Amazon and Other Sites
Settings
Conclusion
Next Steps
Help Your Fellow Students
Join Our Student/Graduate Facebook Group
[Bonus] Author Sites DFY (Done For You)
Reviews
I really liked the style of teaching. Tim Knox especially seems to be a great guy. But I could not give five stars, because this course is really outdated. (the course is from 2016 now we are in the middle of 2020) All mentioned webpages are completly different in 2020 or do not exist at all. Here is the list https://interviewingauthors.com/ (Completly different) entrepreneur-code.com (Completly different) timknoxbooks.com (does no exist) entrepreneur-code.com (does no exist) createablogfree.com ( (does no exist) but domain for sale for "only" $1999) There are also the following plugins which do not exist any more: Email Users Ultimate Social (maybe now Ultimate Member) Membership 2 I hope Tim Knox is still alive and able to update this really good course. Best regards Gary
Interesting topic Marketing seems to be an area that is missed alot I like the fact that you cover this.
The genuineness in which you present your desire to teach students valuable information to fulfill their dreams.
I thought this course was going to be a little more advanced. I think the guys did great and beginners will learn a lot. Though I knew this information already, there were still some tidbits I didn't know and will now use to increase my site's ability. My impression... I think Scott and Tim are personable guys that truly want to help others learn to create their own websites. I think author pages should have an Events calendar and perhaps in the future they will include an additional video that deals with this subject.... after all... if you don't fill up your events calendar with your marketing events... are you really an author or just someone who is hoping to be discovered? Keep up the good work Scott and Tim. Hopefully, at some point, I will get to meet the two of you and be a guest on your show/podcast. - Sincerely, Author Jeff Scott
Yes, I need a website for my Heavenly Waterfall Productions Company. To sell my books, music, pdf files, and CDs/DVDs,
Overall its great course, but my favorite one is plugin section especially the membership plugin. Other than that I also like the lecture on header image, its very helpful. Mr Tim is great teacher.
A promising course with knowledgeable instructors. The instructors have a friendly but no-nonsense approach and instructions are clear. I found a few minor problems with the course, some of the instruction was out of order with the sequencing, but otherwise a good solid course.
Awesome! Really learning a lot. A lot of great marketing advice also for reaching out to readers and keeping them engaged.
So far, really informative. Only disconnect is that the sub-categories were not discussed. The video mentioned it would be discussed. For an author with several books, does each book become a sub-category under the category called "Books" for instance ?
Coupons
| Submit by | Date | Coupon Code | Discount | Emitted/Used | Status |
| --- | --- | --- | --- | --- | --- |
| Lee Jia Cheng | 2/6/2020 | 13FDB9D4C01B8ABD1EB2 | 100% OFF | | expired |
| Angelcrc Seven | 4/20/2020 | EXPIRESAPR22 | 100% OFF | 40000/1550 | expired |
7/22/2016
course created date
2/6/2020
course indexed date
Lee Jia Cheng
course submited by