Real Fast Podcast into Best Selling Kindle Books Easily
Hate writing? Love Podcasting? This is the fastest and easiest process for publishing your Kindle book real fast!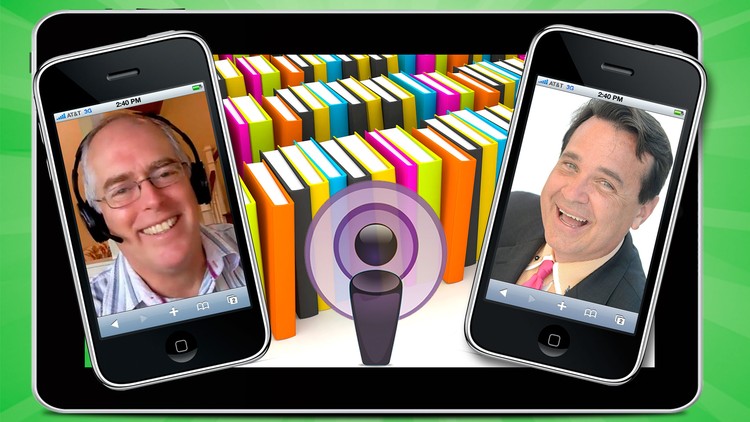 What you will learn
Use their Podcast to produce Kindle and Print-on-Demand books fast!
Position yourself as an expert in your field
Description
In this fast-paced podcasting course, we cover how to get your own unique, original Kindle books - along with your Amazon Listings, Author Bio, Sales Page Copy and more - Created (in Under 3 Hours TOTAL) WITHOUT sitting down to write a single word of it yourself.
This works especially if you HATE writing and never want to know anything about publishing a kindle book.
Create & Publish Unique Kindle Books Start-To-Finish in 3 Hours Flat.
The Fastest and Easiest Way To Build a Passive Income Catalog of Kindle Titles!

What You're Going To Discover...
In fact, here's just a sample of what we'll answer for you / cover on this incredible course:
Exactly how to create the content for your books without writing (in fact, if you have a hard time writing, this method was MADE for you)...
Specific tools I use to create amazing book content fast (including FREE apps and websites that make it a breeze)...
An amazing tip that will get your content created faster than you could ever do by sitting down and the keyboard to "gut it out" and writing it all yourself...
Specific referrals on Fiverr for getting awesome Kindle and print book covers done for $5 that look like you paid a LOT more for them..
Specific examples of how I've used this technique to create six-figure paydays in our own businesses...
How you can get started TODAY and have your own book DONE and published on Kindle by the end of the week...
If you are already podasting, this course is a MUST-have.
Looking forward to seeing YOU in the course. Enroll Today!

Content
Introduction
Introduction
Introduce Yourself
The Power Of Books
Introduction
How Books Grow Your Business
What is Kindle and Why You Must be on This Platform
What are Podcasts?
Podcast Agreements
[Activity]
Summary
Kindle Quiz
Real Fast Kindle and Print-on-Demand Book Creation
Introduction
Podcast Popularity
Organizing and Laying Out Your Book
Editing Your Book
Titles and Covers
Use Your Book to Build Your Podcast Audience, Generate Leads and Sales
Publishing Your Kindle and Print on Demand Book
Organizing Your Podcasts
Summary
Podcast Quiz
Conclusion
Next Steps
[Bonus] How to Podcast
Help Your Fellow Students
Facebook Groups
[Bonus] Introduction To Real Book Publishing
Reviews
Great, easy to follow course full of information I need to start working on a new platform. Thanks, guys.
Peter16882009@hotmail.com
January 27, 2020
this is an excellent course from Daniel Hall and Scott Paton I know she both I have read a lot of books from Daniel Hall on Kindle and I bought around 5 podcast course from Scott Paton and I was figure it out how I can write a book fast and this is a good option Thank you so much both good learning material
The Instructor's gave a great introduction to the process of publishing podcast's. They also opened the door to new possibilities in engaging an audience, in a fun and easy way. They were very positive and motivational. I am in the process of publishing my own podcast, and will be referring back to the course materials as needed. I have also signed up for more courses with Scott and Daniel. They were both instructive and entertaining. Pete
Sounds good to me as I want to write books and it seems like with podcasting I can kill 2 birds with one stone
I know many people who have their own podcast and have not written a book. The ideas in this course to repurpose your podcast into a kindle or saleable book is such a simple, but excellent idea. Love it.
Scott Paton is truly the master of Podcasting and produces some of the best quality and informative courses I've seen on the Udemy platform. If you're considering expanding your reach and turning your audio content into a book then this course is for you!
Combining books and podcasts is such a powerful marketing idea and there is no one else who can teach this better than Scott and Daniel. I've gone through a podcasting course by Scott and a book publishing course by Daniel, and they were both superb. Now what can be better than getting them both to teach this innovative method?
Coupons
| Submit by | Date | Coupon Code | Discount | Emitted/Used | Status |
| --- | --- | --- | --- | --- | --- |
| Lee Jia Cheng | 2/14/2020 | 0C0B3A86C0A9A4ACC592 | 100% OFF | | expired |
| Angelcrc Seven | 4/24/2020 | EXPIRESAPR26 | 100% OFF | 40000/3250 | expired |
| Angelcrc Seven | 6/26/2020 | RFPBSKBEXPJUNE282020 | 100% OFF | 40000/164 | expired |
| - | 5/20/2022 | RFPIBSKBEXPMAY242022 | 100% OFF | 1000/764 | expired |
| - | 6/6/2022 | RFPIBSKBEXPJUN112022 | 100% OFF | 1000/611 | expired |
3/30/2016
course created date
8/1/2019
course indexed date