TailwindCSS from A to Z: Master TailwindCSS Quickly
Get started with Tailwind, a utility-first CSS framework, and master its directives, modules, and code reusability.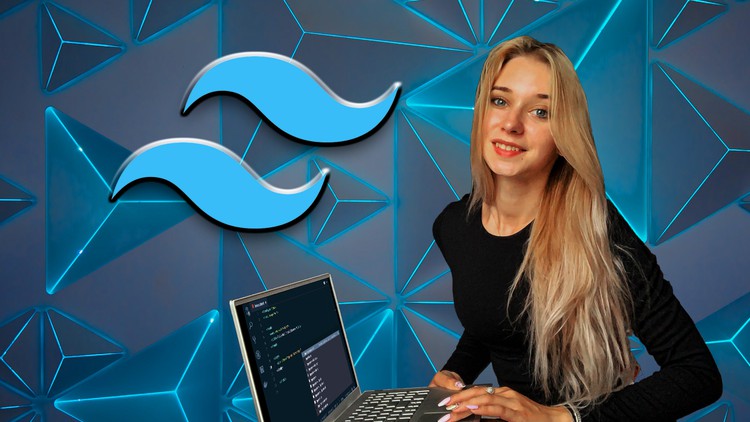 What you will learn
Learn about Tailwind CSS basics
Learn how to use Tailwind CSS to create modern websites
Learn how to create custom components with Tailwind CSS
Learn how to customize existing utility classes and create new utility classes
Learn the A-to-Z of the Tailwind CSS Framework
Description
Are you tired of using an easy way to create a professional landing page without having to style everything yourself? You are at the right place; this course will be a complete Tailwind CSS tutorial.
Tailwind is a utility-first framework that turns web designing into a passing breeze. Its simplicity and array of classes make it an excellent tool for beginner developers.
This course will help you create a perfect responsive web page for your app, business, portfolio, or blog. Having a little knowledge of HTML & CSS is ideal for getting you started on the quicker route to Tailwind; however, it isn't essential.
The first aspect of this class would be getting familiar with Tailwind CSS utilities and how it works and are implemented. We will cover the famous grid system and media queries to ensure your new page looks its best on all devices.
You would be introduced to the fonts, colors, alignment, background colors, gradients, images, padding, margin, grid, flexbox, hover, animations, transitions, and transformation.
Why Choose This Course?
Complete Tutorial on Tailwind CSS: You'll be walked through every code step to ensure you have the right understanding and tools before a professional after taking this course.
Practical-based Tutorial: You will learn by doing to help you understand all aspects of the Tailwind CSS framework faster. You'll also gain access to the tools to re-design our template or build an entirely new landing page specifically how you want it. You will be able to download project files throughout the course, which will be yours to keep and work on at your leisure.
Exploit Your Creativity: Besides learning how to create a clean, modern, professional-looking Tailwind CSS landing page, you will also be taught how to add animations and Google Webfonts to make sure your website stands out from the crowd.
Learn to Build Your Next Professional Websites Today!
With the right mindset, understanding, and application of the teachings in this course, you will instantly begin to move towards Mastering Tailwind CSS.
Content
Introduction & Overview
Introduction to TailwindCSS
Overview of TailwindCSS
Installation of TailwindCSS
Installation of npm and TailwindCSS
Why use Tailwind CSS?
Typography
Margin and Padding
Width and Height
Font Size
Font weight and style
Line spacing in TailwindCSS
Text Capitalize & Text Overflow in TailwindCSS
Text Decoration in TailwindCSS
Background in TailwindCSS
Border in TailwindCSS
Borders in TailwindCSS
Border Radius in TailwindCSS
Divider in TailwindCSS
Outline in TailwindCSS
Opacity and Box-Shadow
Layout
Flexbox with TailwindCSS
Designing with Tailwind CSS: Hover, Focus, and Active Styles
Boost your Productivity with Tailwind CSS: Apply Directive
Reviews
Not sure how to describe my feelings about that course. It was to quick IMHO. I mean the knowlegde was given to the audience in a manner like author was in a hurry. And the last section was just reading the code most of the time. But, for my first encounter with TailwindCSS I can say I have learnt a bit. So regardless of "how" it was given, I appreciate "what" was given.
Good course, the only drawback is that the learning screen display is too small, and not visible by default, must be zoomed in. the materials and presentations are pretty good. overall good for beginners
Wow, what others have said, so chaotic. You can't really see the code, it's not clear, a lot of words like probably, check the internet, find it yourself are not really what you expect from a course instructor.
really chaotic, there are way better free courses on youtube. I can't recommend this course to anyone
Ce n'est pas Master Tailwind CSS Quickly mais Master Tailwind CSS Marathon Race. Ca donne des indications mais le pauvre formateur qui connait très bien Tailwind est même essoufflé à plusieurs reprises tellement il parle vite et il code aussi vite, très difficile à suivre. j'ai appris des choses et c'était le but de suivre cette formation pour avoir une idée.
I loved the way of teaching and the last module's mini project, I would be happy if we got some more projects and famous websites clone.
It's good, but I couldn't see the code of the examples well, although more information can be consulted in the documentation, it would only be to make the letter of the code bigger
Coupons
| Submit by | Date | Coupon Code | Discount | Emitted/Used | Status |
| --- | --- | --- | --- | --- | --- |
| - | 8/17/2022 | 701C09D9B56F0DE3B175 | 100% OFF | 1000/796 | expired |
| - | 8/17/2022 | CD3B29D18840834507BD | 100% OFF | 1000/871 | expired |
| - | 8/18/2022 | E32B0556D0EDAEADD5D5 | 100% OFF | 1000/990 | expired |
| - | 9/1/2022 | E25BF0CF26E17D902448 | 100% OFF | 1000/739 | expired |
| - | 9/9/2022 | 3A26EE53C229A01AC996 | 100% OFF | 1000/998 | expired |
| - | 9/24/2022 | 2DAB754D9FEA4E74627E | 100% OFF | 1000/994 | expired |
| - | 9/30/2022 | DE29D2D9633400BBA1C2 | 100% OFF | 1000/729 | expired |
| shehta2000 | 10/3/2022 | 5A90A16109A42F6DD827 | 100% OFF | 1000/972 | expired |
| - | 10/5/2022 | 6F080F2749A2352E6880 | 100% OFF | 1000/965 | expired |
| - | 10/9/2022 | F7E1807D2F78DA48FCF2 | 100% OFF | 1000/978 | expired |
| - | 11/11/2022 | HOT_NOV | 100% OFF | 1000/541 | expired |
| - | 11/24/2022 | C7E4B0BDDB3D97ACECDB | 100% OFF | 1000/368 | expired |
| - | 12/25/2022 | 171B92BB10127FE85891 | 100% OFF | 1000/942 | expired |
| - | 1/7/2023 | 6D0375E256B810D1D5D2 | 100% OFF | 1000/690 | expired |
| - | 1/14/2023 | 8D58D1A42AE90DC4629B | 100% OFF | 1000/813 | expired |
| - | 2/6/2023 | FEB-BESTDEALS | 100% OFF | 1000/877 | expired |
| - | 2/20/2023 | FEBSALE | 100% OFF | 1000/555 | expired |
| Angelcrc Seven | 3/6/2023 | SPRING-DEALS | 100% OFF | 1000/442 | expired |
| - | 3/18/2023 | MARCH-DEALS | 100% OFF | 1000/766 | expired |
| - | 3/21/2023 | MARCH-MYDEALS23 | 100% OFF | 1000/905 | expired |
Charts
Price
Rating
Enrollment distribution
8/16/2022
course created date
8/17/2022
course indexed date