Podcast Pacing For Audience Engagement
Learn to Podcast more effectively with superior speaking skills, such as pacing
Social Media Marketing
category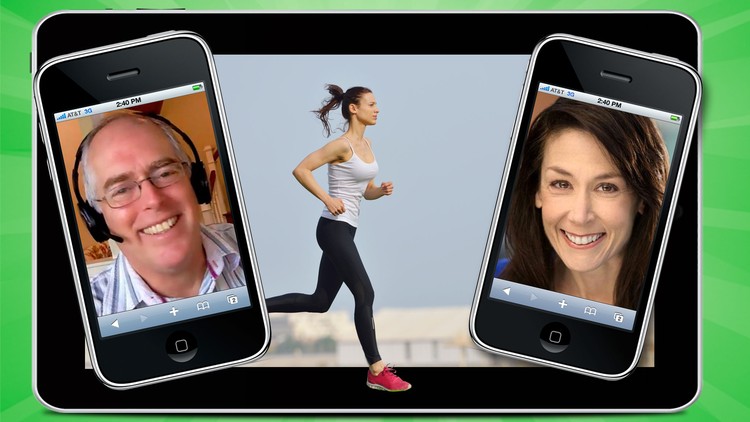 What you will learn
Have an understanding of why a set level of pacing is key for a foundation
Understand perception in pacing and why it's key to know what is being received and delivered
Understand pacing shifts that stem from a set pace in order to create value for the listener
Understand the role pacing plays in delivering the passion
Description
Imagine knowing a special group of Podcasters who are excelling in their careers and leaders in their field Now imagine that group offering you the very tips, and techniques, they've used, to build your podcasting audiences.
The good news is, that group exists and NOW you can be part of this special group of podcasters.
This group is made up of Tracy Goodwin, Speaking coach, and Scott Paton, the Dean of Blogonomics and Podology. In addition to building relationships with fellow podcasters, as a student or graduate of this course, you're entitled to personal contact with your instructors, unique, targeted training, personal mentoring, and lifetime access to this course.
Podcast Pacing For Audience Engagement gives you the knowledge and the confidence you need to be successful in any Podcast niche you choose as you use the power of your voice to grow your audience, influence thought leaders and engage with your tribe in ways you never thought possible.
This course is for the podcaster who is ready to take your content, and the delivery of it, to the next level as you learn key strategies in pacing which is crucial in podcasting for audience connection, and for the overall delivery and assimilation of your material.
In this course, you will learn:
What pacing is
Why pacing is important
What pacing can do for you and the listener
How to use pacing to hook and keep the listener
How to use pacing to show value and stress to the audience so they know what is important
Pacing sets the tone for the show, for our personality and for the ride the listener will be on with this.  Pacing is essential for getting the listeners attention, hooking them in and then captivating them throughout the experience. 
You have a full 30 day guarantee, so there is no risk in taking the course.
Content
Introduction
Introduction
Meet Your Instructors
Introduce Yourself
Pacing
What is Pacing?
How to Set Your Pace
Why Pausing is Key
Fast and Slow Pace for Emphasis
[Activity] Checking Your Pace
Moderating Pace of Your Guest
Summary
Pacing Quiz
Conclusion
Next Steps
Help Your Fellow Students
Facebook Groups
[Bonus Lecture] Getting Help
Reviews
i am taking this course because i'm interesting to joining some podcast community on my college. So, i want to learn from here first, before i joining that community
I was disappointed in this course. It covered the very basics of pacing from a general public speaking viewpoint with only a handful of examples specific to podcasting. The conversation between the two hosts felt awkward at times. I was hoping in the Activity section that there would be a way to record myself and get feedback on my pacing but instead the advice was just to ask someone in your life to rate your pacing and then practice on your own. As they note, the website format does not offer forums for discussion, which necessitates using the Q&A section, which few students have done. They mention "dropping a recording" to get feedback from other students on your pacing but not any way of doing that. The link to the first Facebook group didn't work for me. I don't think I'm walking away with anything new.
I find this course providing a new insight to what was known to me, so I really appreciate this course.
First the good bit: * There is definitely some good information well worth the having in this course. Having said that... The not so good bits: * I found the course very short. * For me course sections 9 and and 10 where identical (which made a short course even shorter). * I found the presentation a bit clumsy on the male side. * I found the background sets unhelpful and distracting. There were only two (which is fine); one was too white and glaring and the other looked like an old dark coloured blanket had been stapled to the background wall. * "Quiz 1" is the only quiz - so the "1" is misleading. * The 2 question 'quiz' was condescendingly easy - virtually impossible to get wrong. * Course hasn't been updated for ages.
This course can take my speaking skills to the next level. I'm communications teacher and I'm always looking for ways to improve myself. As such, I believe the seemingly systematic and thorough approach of the instruction here can help me achieve life-changing progress.
Michael
September 27, 2016
Planning and Execution of a high quality Podcast depends in large part on the pacing of it. That is something we all need to ensure so we help our listeners get the most from our podcast. Thanks for the insights!
Great course! I love the tips and insight Tracey and Scott provide. Two of the best! I didn't realize what I was doing wrong with my podcast show and interviews, until listening to this course. Now, I'm ready to take over the real estate sales and marketing training world! Of course with Scott and Tracey as my voice coaches! If you want to learn how to podcast - Scott's your man! If you want to learn how to use your voice to captivate a room - Tracey's your go to expert. Thanks for allowing me to take the course!
Thank you Tracy and Scott. I am learning how to feel comfortable with pacing and pausing. My presentations are more and more dynamic. You both are the best!
Both provide some kind of hints. But there is a lot of talking...I mean the course could show up something else.
Scott is an excellent podcasting instructor and his courses are always a great investment of time and money.
Not just for Podcasters; great course for any speaker, teacher or trainer. Anyone who uses the spoken word to address their audience. This course even improves your one-on-one conversations. I'm really glad I enrolled.
Coupons
| Submit by | Date | Coupon Code | Discount | Emitted/Used | Status |
| --- | --- | --- | --- | --- | --- |
| Lee Jia Cheng | 2/14/2020 | 3F0C5C9125A717C71D2E | 100% OFF | | expired |
| Angelcrc Seven | 4/24/2020 | EXPIRESAPR26 | 100% OFF | 40000/3131 | expired |
| Angelcrc Seven | 6/26/2020 | PPFAEEXPJUNE292020 | 100% OFF | 40000/946 | expired |
| - | 5/20/2022 | PPFAEEXPMAY242022 | 100% OFF | 1000/744 | expired |
| - | 6/6/2022 | PPFAEEXPJUN112022 | 100% OFF | 1000/597 | expired |
| - | 6/20/2022 | PPFAEEXPJUN252022 | 100% OFF | 1000/600 | expired |
| - | 6/28/2022 | PPFAEEXPJUN292022 | 100% OFF | 1000/428 | expired |
3/15/2016
course created date
11/21/2019
course indexed date