Complete Italian for Beginners: Speak Italian like a Pro
Learn Italian FAST with this innovative multilingual course: Learning Italian will be easy and fun!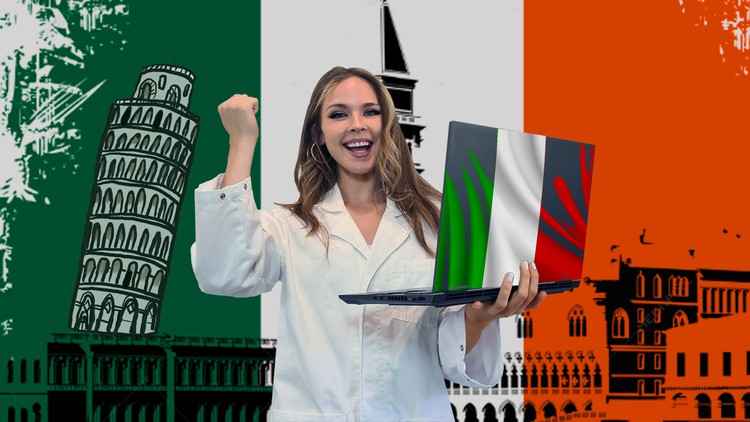 What you will learn
You'll learn to speak Italian through our fundamental Italian lessons than will change your approach to the language, making learning more enjoyable and easy
You will work on crafting correct Italian pronunciation in each unit, while acquiring and revisiting functional vocabulary
You'll be exposed to a multi-language conversation that'll help you learn Italian so much faster
You'll learn how to order food and drinks at cafés and restaurants
You'll learn and understand the building blocks of the Italian language
You'll be able to speak Italian fluently and comfortably in everyday circumstances after taking this course
Description
**The ultimate Italian beginner course that will teach you Italian faster than you thought possible**
Suppose you've ever wanted to travel to Italy and be able to hold your own in real-life circumstances, be independent, and converse with the people. In that case, our complete Italian beginners' course is the right place to start!
This comprehensive Italian course will teach you all you need to know to become a natural Italian speaker. The course will cover the Italian Alphabet, Italian vocabulary for beginners, Italian speaking, Italian pronunciation, Italian writing, Italian grammatical rules and patterns, including Italian verbs and tenses, and Italian conversation and communication skills.
The lessons provide visual learning and immersion methods to improve spoken Italian learning speed, comprehension, and fluency.
Why Choose This Course?
• Complete Italian Course: Start speaking effectively and confidently in authentic, grammatically accurate Italian.
• Improve your listening and Italian comprehension skills: A native Italian-speaking teacher will tutor you through ear training and visual learning materials in pdf. An interactive board, subtitles, and materials would also give you a virtual classroom experience.
• Gain confidence in your Italian skills (A1, A2, A2+ levels): This course incorporates a lot of practice and exercise after each session. In no time, you'll be able to comprehend and use everyday phrases.
• Build and develop your practical communication skills: You will be able to speak fluent Italian and read and write Italian with grammatical precision by the conclusion of the course.
So What Exactly Is Covered in The Course?
· Lots and lots of vocabulary
· Useful everyday phrases
· Basic sentence structures
· Basic grammar rules most beginner courses don't teach
· After taking this course, you will be able to:
· Greet people and introduce yourself both formally and casually
· Pronounce words correctly without hearing them first
· Over one thousand vocabulary words from all categories
· Read a restaurant menu
· Order food and drinks
· Structure basic sentences with ease
· Give and receive directions
· Describe people's personalities and physical appearance
· Create sentences in the past tense
· Distinguish between the past tenses
· Form questions and negations in the past
· Acquire and hone translation skills
· Structure new sentences with ease
· Adapt to new situations, such as using public transportation or visiting the doctor
· Learn how to use social media and technology
· Conquer the basics of dating in Italian
· Learn to make comparisons
· Create sentences in the future tense
· Create sentences in the continuous tenses
· Conquer hundreds of words necessary for day-to-day life
· Tackle new topics, such as working from home and global healthcare
Content
Introduction
Welcome to the course !
Course Materials
Everyday Conversations
Saying hello and goodbye
Asking how someone is doing
Asking someone their name
Asking someone their age
Asking someone where they come from
Asking someone what they do in life
Asking someone what they do in their free time
Asking someone where they live
Asking someone about their family
Days/Months/Years/Seasons
The weather
Colors
Master Italian Numbers
Basic Numbers
Ordinal Numbers
The Clock
Math Symbols
Money
Master Italian Grammar
The Alphabet
Masculine and Feminine
Plural of nouns
Definite articles
Indefinite articles
Adjectives
Subject Pronouns
Italian Verb Conjugation: The Present
There is vs There are
Demonstrative pronouns
Possessive adjectives
Adverbs of frequency
Negative and interrogative forms
Simple prepositions
Build up your Italian vocabulary
Ordering food: The Italian Menu
Ordering Food: Cooking methods
Ordering Food: Useful words/sentences
Ordering Food: Making a reservation
Ordering Food: Polite requests
Feelings and emotions
The Face
The Body
Public places
Asking and giving directions
Reviews
Porque me hubiera gustado que tradujera lo que dice la última tabla. También que pusiera más ejemplos de práctica.
Die tatsächlich besprochenen Inhalte sind zu einfach für Fortgeschrittene, zwischendurch sind aber viele Dialoge drin, die für Anfänger noch zu schwierig sind. Die Computer Stimmen machen das Lernen der Aussprache etwas schwer.
I did not find this teaching method interesting. It is quite childish and did not live up to my expectations.
Terrible. The people making this course had the "amazing" idea of using "Loquendo" (an Italian synthetic voice program) or something similar instead of having real Italian speaker. Absolutely ridiculous. As useful as copying beginner texts and reproduce them on Google Translator.
some sentences are a little bit difficult and how i can learn them if i dont have any italian language background
there can be more resources provided and in more depth the phrases should be covered .but still, it is good for beginners like me and is very beginner friendly.Thank you for this free course.
Takahide
November 12, 2022
If you are a beginner, this course is recommended. However, experienced golfers may find it lacking. Many of the exercises are in English, so I am not sure if they are good practice for Italian.
this is fun and i am getting more than i expected. i will look forward to learn more within finishing this course. thank you.
Excellent high quality course, and it's pretty rich in content and supporting materials. My recommendation is not to worry so much about understanding each and every word uttered, but just try to focus on the few words or sentences that they are trying to explain... learning will be much smoother like this
Hello , I am disapointed because the subtitles for italian words are utterly false , and I expected a systematic learning of the pronunciation at the begining. Sorry because this full animated video represent a great amount of work.
First lesson and I didn't even understand half of it because they were talking in Italian most of it. How about they teach us the meaning of the words instead of thinking we'll just pick it up based on nuance. Listening to the second lesson now and they're talking about pizza like I'm a native. I'm never going to be able to learn words like this, as if I don't understand individual words, I'm never going to comprehend the entire sentence!
being a course for learning Italian, I expect the subtitles of the conversation parts in Italian to be correct to help learning; instead they are automatically generated and therefore all wrong
Coupons
| Submit by | Date | Coupon Code | Discount | Emitted/Used | Status |
| --- | --- | --- | --- | --- | --- |
| - | 4/25/2022 | EA23B071F45BCF19D0BF | 100% OFF | 1000/934 | expired |
| - | 4/27/2022 | EB178528257B0A5702D1 | 100% OFF | 1000/934 | expired |
| - | 5/3/2022 | CB68B82313E15D36D6DE | 100% OFF | 1000/980 | expired |
| Angelcrc Seven | 5/4/2022 | 4054E702DB1A26BDB057 | 100% OFF | 1000/936 | expired |
| Angelcrc Seven | 5/4/2022 | 168433085C8E3BD7D20A | 100% OFF | 1000/991 | expired |
| - | 5/4/2022 | 9A70F151E58668811C6B | 100% OFF | 1000/839 | expired |
| - | 5/8/2022 | 11C240273D83B8911B86 | 100% OFF | 1000/746 | expired |
| - | 5/10/2022 | 55EF93E0CD4317A2F45F | 100% OFF | 1000/864 | expired |
| Angelcrc Seven | 5/11/2022 | ISPEAKITALIAN22 | 100% OFF | 1000/976 | expired |
| Angelcrc Seven | 5/14/2022 | 5EE5D4C5F28FA45B661E | 100% OFF | 1000/960 | expired |
| - | 5/17/2022 | 9AB8B2E5D8BDDF8FD31A | 100% OFF | 1000/907 | expired |
| - | 5/20/2022 | 430548DC531F9E16E63E | 100% OFF | 1000/945 | expired |
| - | 5/25/2022 | B489D9AE62F6FBEDA986 | 100% OFF | 1000/927 | expired |
| - | 5/29/2022 | 9618DD8DEEB498574283 | 100% OFF | 1000/997 | expired |
| - | 5/31/2022 | F3DBE65D928B2FB94545 | 100% OFF | 1000/967 | expired |
| - | 6/1/2022 | E74220CC5E1046A51A07 | 100% OFF | 1000/993 | expired |
| - | 6/3/2022 | 755AEC8EB4D6BDC14632 | 100% OFF | 1000/999 | expired |
| - | 6/27/2022 | 24DB3A0995D043F9783C | 100% OFF | 1000/985 | expired |
| - | 7/3/2022 | 3F4CEAA0A55CF937A399 | 100% OFF | 1000/982 | expired |
| - | 7/4/2022 | 755165DE1E7D0BCC5BCE | 100% OFF | 1000/971 | expired |
| - | 7/7/2022 | BC9047A6A51314119267 | 100% OFF | 1000/885 | expired |
| - | 7/9/2022 | 5C202A9C71B767AC3A2A | 100% OFF | 1000/987 | expired |
| - | 7/16/2022 | FE486CEA7B5D5E459C3F | 100% OFF | 1000/980 | expired |
| - | 7/19/2022 | AFCF3DA4A2F5D62C4D4C | 100% OFF | 1000/949 | expired |
| Angelcrc Seven | 7/20/2022 | EC088143FF3D643D0F34 | 100% OFF | 1000/287 | expired |
| - | 7/22/2022 | 537321659779D913AD99 | 100% OFF | 1000/994 | expired |
| - | 7/25/2022 | 67874EAEFF03DFCFF081 | 100% OFF | 1000/905 | expired |
| Angelcrc Seven | 7/26/2022 | DBB114CF9B436F438BE1 | 100% OFF | 1000/119 | expired |
| Angelcrc Seven | 7/31/2022 | B91990353A05E4D6A683 | 100% OFF | 1000/963 | expired |
| Angelcrc Seven | 7/31/2022 | 344FB6230CB3B93E3E71 | 100% OFF | 1000/247 | expired |
| - | 8/7/2022 | 125AB9F81F27D374F6A4 | 100% OFF | 1000/918 | expired |
| - | 8/16/2022 | F6C0821BEBF7F8AAA767 | 100% OFF | 1000/870 | expired |
| - | 9/3/2022 | AC73208D841347ACFBF8 | 100% OFF | 1000/939 | expired |
| - | 9/8/2022 | A5EEA7204718CDE8E424 | 100% OFF | 1000/928 | expired |
| - | 9/12/2022 | 33C521AC85D19654CD6B | 100% OFF | 1000/996 | expired |
| - | 9/19/2022 | 7D1E520ADB4CA6EF6D04 | 100% OFF | 1000/909 | expired |
| - | 10/3/2022 | DD6DFE3AC0C8A2E718C6 | 100% OFF | 1000/956 | expired |
| - | 10/6/2022 | 7A87279D9DD55E226150 | 100% OFF | 1000/445 | expired |
| - | 10/6/2022 | A39A60900A54FA1F3BDA | 100% OFF | 1000/540 | expired |
| - | 10/9/2022 | 6CEEFBAF7D98442C906E | 100% OFF | 1000/983 | expired |
| - | 10/16/2022 | 5724FFB7CDC3BD81D619 | 100% OFF | 1000/968 | expired |
| - | 11/9/2022 | HOT_NOV | 100% OFF | 1000/799 | expired |
| - | 11/17/2022 | MEGA_NOV | 100% OFF | 1000/957 | expired |
| - | 11/24/2022 | F211478885B2AEB3ECB8 | 100% OFF | 1000/390 | expired |
| - | 12/14/2022 | 94E6B228F3A6208F1F8B | 100% OFF | 1000/279 | expired |
| - | 12/25/2022 | C6B69AA3A65952598C0F | 100% OFF | 1000/842 | expired |
| - | 1/7/2023 | 9A7A6172A51960FC08D5 | 100% OFF | 1000/819 | expired |
| - | 1/14/2023 | CAFECE10CC86E3F9792C | 100% OFF | 1000/965 | expired |
| - | 2/6/2023 | FEB-BESTDEALS | 100% OFF | 1000/988 | expired |
| - | 2/20/2023 | FEBSALES | 100% OFF | 1000/915 | expired |
| - | 3/18/2023 | MARCH-DEALS | 100% OFF | 1000/734 | expired |
| - | 3/21/2023 | MARCH-MYDEALS23 | 100% OFF | 1000/869 | expired |
| - | 4/14/2023 | 2CB597183A89E5A082C5 | 100% OFF | 1000/454 | expired |
| Angelcrc Seven | 5/3/2023 | 60785BFF32B143F5B22B | 100% OFF | 1000/215 | expired |
| - | 5/19/2023 | 5E03E7B8315F7539653B | 100% OFF | 1000/500 | expired |
| - | 5/27/2023 | 7320F730563F8667505C | 100% OFF | 1000/489 | expired |
| - | 6/7/2023 | 6843945A2EE45B4FF1BE | 100% OFF | 1000/988 | expired |
| - | 6/16/2023 | D0AB3AA694BE9AC1350D | 100% OFF | 1000/531 | expired |
| - | 6/29/2023 | 07B3F5DE4C5593C0B354 | 100% OFF | 1000/981 | expired |
| - | 7/30/2023 | 706C425A778AC7229707 | 100% OFF | 1000/981 | expired |
| - | 7/30/2023 | A1552F22D7C070909745 | 100% OFF | 1000/547 | expired |
| - | 8/5/2023 | VUBFVQHTTFNIL | 100% OFF | 1000/954 | expired |
| - | 8/14/2023 | VIRGOVALUE56 | 100% OFF | 1000/999 | expired |
| - | 8/28/2023 | SCHOOLREADY95 | 100% OFF | 1000/669 | expired |
| - | 9/3/2023 | SUMMERAU_REVOIR10 | 100% OFF | 1000/929 | expired |
| - | 9/11/2023 | SCHOOLBLAST275 | 100% OFF | 1000/724 | expired |
| - | 10/7/2023 | FORESTFINDINGS325 | 80% OFF | | expired |
| - | 10/14/2023 | COZYCOURSE315 | 100% OFF | 1000/985 | expired |
| - | 10/28/2023 | PUMPKINPERKS102762 | 100% OFF | 1000/793 | expired |
| - | 11/11/2023 | GATHER63ROUND | 100% OFF | 1000/778 | expired |
Charts
Price
Rating
Enrollment distribution
11/15/2021
course created date
4/25/2022
course indexed date