Learn Core Python, Numpy and Pandas
Learn all the importance concepts about Core Python, Numpy and Pandas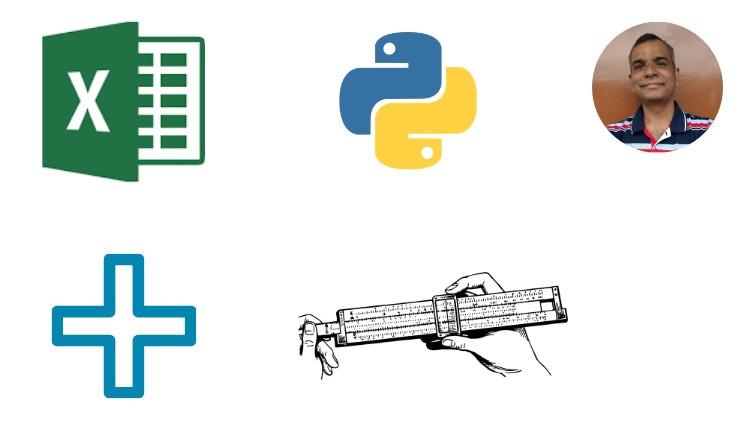 Description

The course covers Core Python, Numpy and Pandas.  Numpy and Pandas are stumbling block for many people who venture in machine learning. This course  will help students to understand machine learning code as Numpy, Pandas are the building blocks for machine learning. Please note this is not a machine learning course. Please note that I have covered only core concepts of Python and there is fare more to Python than what I have covered.

Google Python Notebook is used for code.

Following are the topics in Core Python.

Setting up Google Notebook

Variables in Python - String, Integer, Boolean

Python Blocks

If else statement

While Loop

List operations

Range

Functions

Modules

Exceptions

File Handling

Dictionaries

Tuples

List Slices

List Comprehensions

String functions

Any,All operations

Object Oriented Programming

Magic methods

Class and Static methods

Following are topics in Numpy and Pandas

What is Numpy

Numpy - Add, Subtract, Multiply

Numpy Dot Product

Numpy Slicing

Mixing Integer Indexing And Slice Indexing

Numpy Array Indexing

More Array Indexing

Boolean Array Indexing

Numpy Sum

Numpy Reshape

Numpy  Tensors 1D, 2D,3D

Numpy Transposing

Numpy Broadcasting

Pandas

What is Pandas

Pandas Series

Pandas Series Index

Pandas Advantage Over Numpy

Pandas Loc and iLoc

Pandas example - Finding Max

Pandas Series Addition

Pandas Apply Function

Pandas DataFrames Introduction

Pandas DataFrame Index, Loc and ILoc

Pandas Sum Along Axis

Pandas DataFrame Addition

Pandas DataFrame ApplyMap

Pandas Reading A CSV File
Content

Core Python Programming

Setting up free jupyter notebook on Google

How to use Jupyter notebook

Variables in Python

Python Integer Data Type

Python String Data Type

Taking Input

Python Boolean Data Type

Python Blocks

if else statement

if elif else

Boolean Logic

While Loop

Python Lists

Python List Operations - Append, Index, Max. Min

Python Range

Python Functions

Passing variable arguments to functions

Python Modules

Python Exceptions

Python File Handling

None Data Type

Python Dictionaries

Tuples

List Slices

List Comprehensions

Python String Functions

Python List Functons - Any

Python List All - Function

Object Oriented Programming

Object Oriented Programming - Methods and Class Level Attributes

Object Oriented Programming - Inheritance

Magic Methods

Python Object Lifecycle

Python Garbage Collection

Object Data Hiding- Weak Method, Private Method

Object - Class and static methods

Numpy

What is Numpy

Numpy - Add, Subtract, Multiply

Numpy Dot Product

Numpy Slicing

Mixing Integer Indexing And Slice Indexing

Numpy Array Indexing

More Array Indexing

Boolean Array Indexing

Numpy Sum

Numpy Reshape

More Numpy Reshape

Numpy Tensors 1D, 2D,3D

Numpy Transposing

Numpy Broadcasting

Pandas

Pandas Series

Pandas Series Index

Pandas Advantage Over Numpy

Pandas Loc and iLoc

Pandas example - Finding Max

Pandas Series Addition

Pandas Apply Function

Pandas DataFrames Introduction

Pandas DataFrame Index, Loc and ILoc

Pandas Sum Along Axis

Pandas DataFrame Addition

Pandas DataFrame ApplyMap

Pandas Reading A CSV File

Machine Learning Course

Bonus Machine Learning Course
Reviews

Everything was quickly explained, which I don't mind. I learn quicker that way. The first part was a recap of everything I knew. I felt like I wasted my time there. Some parts of the code are very repetative and pointless to have, but It's a good way to say there's more ways of doing things. What I didn't like is the Pandas section, what I was originally trying to learn. The links provided in the notebook were mostly not working, so I was unable to run the code properly.

It is actually not laggy and sir comes to the point directly with not much of theory. It's really good for revising.

The author speaks very fast and very softly. I addition he has distracting music playing in the background which makes him even more difficult to hear. The content is good but it is just to hard to hear him

STOP stopping the course to beg for "STARS" your instructors do not have even a small amount of knowledge in teaching beginners most talk way to fast with accents so thick it seems to be in another language, and the inability to explain and demonstrate is the reason your page should be closed!

Background music should be removed, although it is not too loud it was very annoying for me trying to concentrate on lectures while it was playing. You can ignore it if you see several videos in a row as you get used to it, but for seeing the lectures at different times in same day or different days it is hard to ignore it.

It is easy only I have some python knowledge. seems like this course requires prior programming knowledge.

- It's a great course to refresh your basic knowledge. It's not good if you start with Python. - Teacher's accent is hard to understand sometimes.

Great refresher if it has been a while. Very good for beginners wanting to jump right in. Instructor explains things very well.

Lecturer is moving too fast and even though I know the concepts a little some of the instructions seem hurried. Very hurried course.

The course content is good & understandable. It would be better to add some quiz questions at the end of each sections.

The Course is very comprehensive. Vishal, The instructor has done quite a phenomenal job in making the content vivid and hollistic. All the concepts taught in the tutorial subjugate Python for you. Thanks.

I was really a beginner, i came to understand the basic and this lecturer have really made many basic things clear. Short and sweet explained and also gave the direction if in case need to learn in depth.
4/14/2019
course created date
4/26/2019
course indexed date