Learn BigData & Hadoop with Practical
Learn Hadoop and BigData with real examples and architecture of Hadoop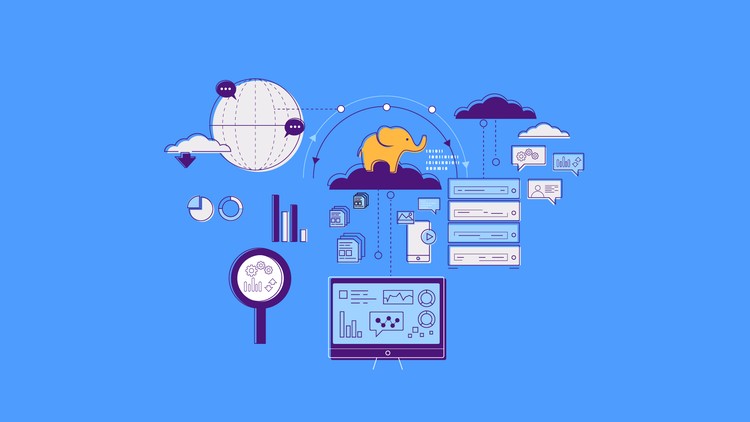 What you will learn
Understand what is BigData and Hadoop
What is HDFS and Map Reduce
You get practical knowledge how HDFS and Map Reduce Examples
Understand what the job of a Hadoop Developer /Tester looks like
This course is meant for students willing to next generation of IT
Understanding V's of Big Data
Evolution of Hadoop
Description
*** Course Updated as of August 2017! ***

*** Introductionary very detailed course for Hadoop and bigData ***
*** Only course in Udemy which is taught with practical for Hadoop Basics***----------------------------------------------------------------------------------------------------------------
What is Bigdata / Hadoop
- Big Data are large data sets which can't be processed using traditional data processing software.
- These data sets consist of data from different sources and are analyzed and processed for gathering valuable information.
- Big e-commerce websites use big data to gather information about customer preferences and browsing patterns to provide 
viable suggestions and search results to individual customers.
What You Will Learn
You will get detailed understanding of Hadoop and Big Data.
Lectures are made with real examples, helping to understand better
Why hadoop came and what is Hadoop Ecosystem
Hadoop Architecture will be explain in details
Examples will be explained how data is saved into Hadoop
If you are developer or testers, this is your first step to enter into Hadoop/BigData domain
What are V's of BigData
Some facts about BigData
What are BigData tools available
Advantages of bigdata Analysis
Why is bigData in Huge Demand
Practical example of handling files in HDFS
Practical example of Map Reduce i.e. how Hadoop works in real
This course will make you prepare for BigData & hadoop.
This course will be covering the basis of Hadoop while covering its architecture, component and working of it.
Why This course
Course is cheap compared to other courses and just having lectures of 1 hr only
This is doesn't give introduction but detailed description and also practical hands on experience
Instructor support is avaialable for this course
If you didin't liked the course you have 30 days refund policy
Content
Introduction
Carrier with Hadoop
BigData Introduction
What is BigData
BigData Examples
BigData Generating Scenarios
BigData Facts, Tools & Scenarios
Facts About BigData
BigData for Testers
BigData Tools
All About BigData & Hadoop
Hadoop vs Conventional Databases
BigData in Analysis
Types of Data in BigData
Characteristic's of BigData or V's
Advantages of BigData & Hadoop
Hadoop Stratergy
Hadoop InDetail
Hadoop Ecosystem
History & Hadoop Working
Hadoop Architecture
Hadoop Distributed File System
Components of Hadoop Cluster
Map Reduce
Explaining MapReduce with Example
Hadoop HDFS Practical
Installing Hadoop-Cloudera
Copying File to Hadoop
Copy from Hadoop filesystem and deleting file
Moving and displaying files in HDFS
Hadoop Map Reduce Practical
Running map reduction for stadar deviation
Map Reduce Example
Reviews
The course is a basic overview of Hadoo. It is a little shallow on details but overall it's very useful for somebody who's never used or seen Hadoop.
Good Course that explains the basics of Big Data. The people who want to have basic understanding of big data can definitely go through this course.
The accent distract me a little bit, and so far I have not learned too much. I think it is because I only heard de introduction.
The course can be more informative. The presentation can be improved. The instructor can be bit more fluent with the content.
in video -24 there Is error in moveToLocal command as image.txt file is copied by you ,but file name is image.jpg??? May be I m wrong but course is very well explained ...Cheers!
Good , But need more explanation with simple and real time examples....they have only provide basics of toipc .... what content available is google....overall nice and good content..
This is the best way of teaching the important course Big data. The best thing is every term is explained using example , and that really help me to understand the concepts fast and effectively. And I want to thank Udemy to provide this kind of learning.
Gave good knowledge about hadoop with practical, but you didn't explain about installation of cloudera . That link is showing documentation rather than zip file. I think it has some process to open that link. I tried, but didn't get it. Finally, thank you sir.
This course gives a basic understanding for all beginners about big data and Hadoop .but to much theory explain in it with repeated information.
when i am starting this course i dont know anything about hadoop . Now i understood the concept of hadoop file system. This course is very helpful to people like me.
There were lot of spelling mistakes and grammatical mistakes . Please improve it up. Also some portions are recurring.
The course was good but in most of the videos same repititive information is given. This course is very generalised. It could have been much detailed.
Great course for beginners! Highly Recommended. The instructor has explained everything in very simple language with simple examples. Thank you.
Lots of repetition of words, Introduction should be so impact full that a learner should be ready to move and learn from the trainer. Giving a presentation on Word is not a good practice
The tutorial explains the importance of Hadoop in the IT Career. Hadoop a JAVA-based open source that helps to process extremely large data sets. Big data manipulation in a distributed computing environment can be made an easy process by using Big data Tools. The lecture describes what actually a big data is, the ways of big data generation, and how to handle data of size petabyte, exabyte etc.. Carrer in Hadoop will be highly paid in comparison to the ​automation testers. Definitely, the lecture is helpful to identify the importance of Big data handling.
Charts
Price
Rating
Enrollment distribution
9/14/2016
course created date
5/8/2019
course indexed date