Civil 3D Level 4/4 - for Civil Works and Land Surveying
Learn to create basic linear designs and works with the Autocad Civil3D software applied to Surveying and Civil Works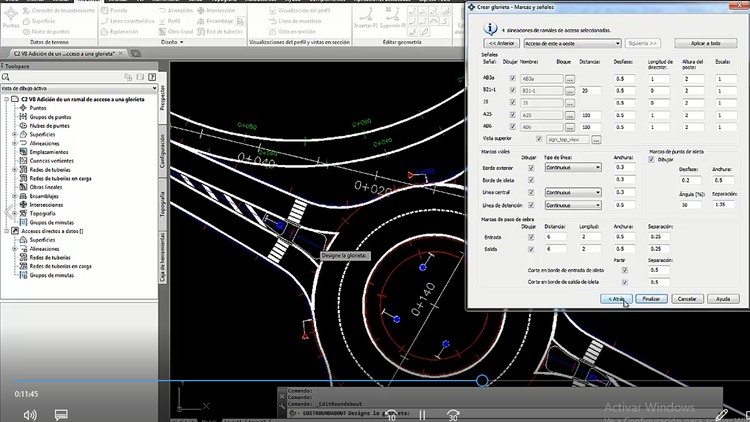 What you will learn
Participate in the design of roads and civil and topographic projects.
When conducting a topographic survey in the field, you can import these land points to Civil3D and save a lot of time in drawing.
Create land surfaces in 2 and 3 dimensions and generate calculations such as area, volume and earth movement
Build horizontal and vertical alignments that allow the design of a linear work such as roads, canals, bridges, railways, high voltage lines, among others.
Prepare professional plans to present works both in plan and in profile.
Description
Disclaimer:
We have selected this course to offer it in English for its high pedagogical quality and user acceptance.
The version of the software used is in Spanish, but the whole explanation of the instructor is narrated in English.
--------------------------------------- #AulaGEO
This is the fourth of a set of 4 courses called "Autocad Civil3D for Surveying and Civil Works" that will allow you to learn how to handle this fabulous Autodesk software and apply it to different projects and construction sites. Become an expert in the software and you can generate earthworks, calculate materials and construction prices and create great designs of roads, bridges, sewerage among others.
This set of courses has been the product of hours of dedication, work and effort, compiling the most important data on the subject of Civil and Topographic Engineering, summarizing large amounts of theory and making them practical, so that you can learn in an easy and easy way. Fast with short but specific classes for each topic and practice with all the (real) data and examples we provide here.
If you want to start managing this software, participating in this course will save you weeks of work by investigating on your own what we have already investigated, doing the tests we have done, and making the mistakes we have already made.
Let us introduce you to this world of Autocad Civil3D, which is a powerful tool to reduce large amounts of time designing and calculating and facilitating your work in the professional field.
Who is it for?
This course is aimed at technicians, technologists and professionals with knowledge in Surveying, civil or related works, who want to start in the world of road design, linear works, earthworks and construction or those who want to strengthen their skills in the management of This powerful tool.
CONTENT OF THE MIDDLE COURSE (4/4)
PLAN SETTINGS
- Template building.
- Automatic generation of floor plans.
- Automatic generation of planes in profile.
- Automatic generation of floor plans-profile.
- Automatic generation of cross section planes.
EXPLANATIONS (GRADING)
- Definition and configuration.
- Sloping and transition of slopes.
- Volume balance.
- Surface generation.
INTERSECTIONS
- Cross intersection construction.
- Adding branches
- Linear work design from intersection
- Construction of a roundabout or roundabout.
PLOT CONSTRUCTION
- Calculation of areas and perimeters
- Alignment
- Topology
- Locations
- Englobes and desenglobe
CALCULATION OF SURFACE ESCORRENTY
- Surface design
- Basin analysis
- Drains and hydrological sub-basins
DRAWING OF SANITARY NETWORKS AND PIPES
- Object projection
- Profiles
- Material calculations
Content
Labeling plans
S1 study material
Create template from scratch
Set up drawing on paper presentation
Configure template for layout plans
Create minutes or display frames for layout
Creation of plans Floor - Profile
Creation of plans Section
Grading
S2 study material
Characteristic lines for esplanaciones
Creation of an esplanade by distance I
Creation of an esplanade by distance II
Creation of an esplanade by distance III
Creation of a surface area
Creation of an esplanade by elevations and transitions
Intersection and Roundabouts
S3 study material
Create intersections between two or more alignments
Create intersections with segregated lanes
Create intersections using existing geometry
Horizontal geometric intersection editing
Vertical geometric edition of intersections
Creation and edition of a linear work at an intersection
Creation of a roundabout
Adding branches, segregated lanes and editions
Adding branches, segregated lanes and editions
S4 study material
Creation of plots from objects
Parcels subdivisions
Properties of plots and alignments
Parcel Editing
Creation of servitude, tables and reports
Pipes and Networks
S5 study material
Pipe network creation from objects
Creation of pipe network by composition tools
Add parts to a pipe network
Change pipe network properties
Pipe network display in profile and labels
Pipe network editing in section and style view
Network section view of pipes, tables and reports
Watersheds
S6 study material
Collection basin analysis
Water drop and watershed
Shed Basin Object
Extract objects from catchment basins and legend
Creation of surface masks
Catchment basins
Materials and quantities of work
S7 study material
Prepare surface for material calculation
Create cubing criteria and bill of materials
Modify and add cubing criteria and materials
Create and edit section views and tables
Creation of mass diagram
Reviews
person who is translating is speaking very fast, very unprofessional. videos are not even in full HD.
7/23/2019
course created date
11/23/2019
course indexed date