Keyword Research From Scratch. Unlock New SEO Opportunities
Carry out an in-depth keyword research: from the brainstorming ideas to clustering and placing the semantics
Search Engine Optimizati
category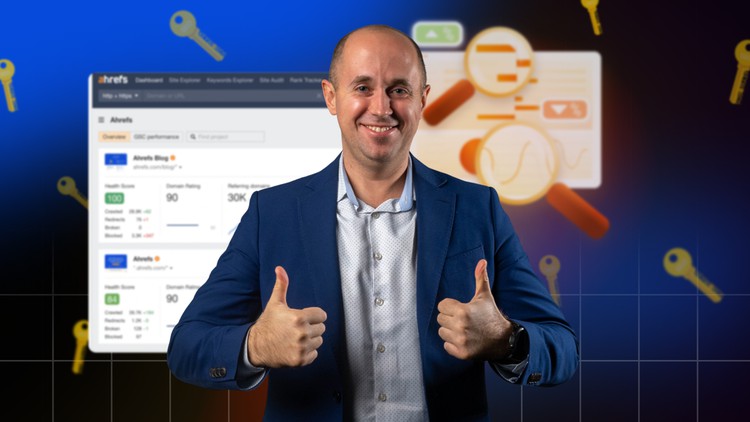 What you will learn
The notion of keyword research and reasons to conduct it
Latest keyword tendencies in SEO
Definition of user intent and its role in the process of a keyword selection
Semantic core and the algorithm of its building
Structure o keywords and their types
Long-tail keywords as a basis of keyword strategy
Tips and tricks on brainstorming
5 metrics to consider while choosing keywords for targeting
Analysis of competitors' websites
Google instruments to collect statistics
Ahrefs as a keyword research tool
Keyword clustering process
Placing semantics
Description
Do you want to find keywords that will take you to the first pages on Google? Are you trying to build a keyword strategy, but have no idea where to start? Would you like to take a more systematic approach to the process of keyword research? If so, this course will offer you a turnkey solution!
My name is Anton Voroniuk and I would like to teach you how to conduct in-depth keyword research step by step. I am the CEO of the internet marketing academy SkillsBooster, a co-owner of Webpromo Agency, and a digital marketer with over 15 years of experience. During this time I have learned the area inside out and have gained hands-on experience working on various SEO projects. Now I'm ready to share with you all ins and outs!
What will you learn in this course?
After completing this course, you will know how to conduct keyword research: from brainstorming ideas to clustering and placing the semantics

Find out what metrics to take into account while selecting keywords

Get to know how to carry out the analysis of competitors' websites

Learn how to use automatic tools such as Google Keyword Planner and Ahrefs Keyword Explorer to generate more relevant keywords

Understand how to group keywords and work with them further
Get the hang of the keyword research right away!
What do we offer in our course?
Structured lessons with practical tasks and examples

Keyword Research Checklist



Why should you choose this course?
Why should you choose us over other keyword research courses?
You will have the opportunity to learn about keyword research from the top internet marketing professionals.
We are industry experts! WebPromoExperts has over 14 years of experience in internet marketing. Our agency is a Google Premier Partner and a Facebook Marketing Partner.

I have personally obtained a vast number of digital marketing qualifications and certifications such as Google Analytics Individual Qualification, Google Ads Individual Qualification, Bing Ads Accredited Professional, Search Ads 360 Certified, and others.

During our career, we have launched over 1,500 successful marketing strategies and marketing campaigns.

More than 430,000 internet marketers have enrolled in our online courses.

Our internet marketing courses are easy to understand. We train specialists in strategy, digital agency management, SMM, SEO, content marketing, PPC advertising, SERM, email marketing, web analytics, and other areas of digital marketing.



What else do you get?
Lifetime access to the course and its updates

A certificate from Udemy upon completion of the course
Should you be worried?
Sign up now! Don't miss your chance to find keywords that bring you rankings and conversions!
This course comes with a 30-day money-back guarantee!
Click the "take this course" button to start learning something new today!
Content
Keywords as a Part of Semantic Core
Introduction to the Keyword Research
Keywords Tendencies in SEO. User Intent
What is Semantic Core? Why Do We Need It. Algorithm of Collecting Keywords
How to Study on Udemy Effectively?
Structure and Types of Keywords
Structure of keywords. Long tail keyword strategy
Types of Keywords
Steps to Collect Keywords
Brainstorming
How to Choose the Right Keywords
Analysis of Сompetitors' Websites
Google Trends and Google Keyword Planner as Instruments to Collect Statistics
Ahrefs as a Keyword Research Tool
Sorting out and Clustering
Keyword Clustering Process
Placing the Semantics
Summary
How to Leave a Review for the Course
How to Get a Certificate
Reviews
Need to give real time example and do SEO for a blog or website as sample. and show how much the ranking and traffic improved.
The course is brief and concise. The importance of including these keywords to the page titles, meta descriptions, URLS, content, internal links, image & videos, and file names were clearly stated. Thank you Mr. Anton Voroniuk!
Before this course, I knew about keywords. But this course will show me new tools to work with them. Many thanks to Anton Voronyuk for this impressive keyword course!
Coupons
| Submit by | Date | Coupon Code | Discount | Emitted/Used | Status |
| --- | --- | --- | --- | --- | --- |
| - | 2/24/2023 | KRFREE2402 | 100% OFF | 1000/938 | expired |
| - | 3/1/2023 | KR0103 | 100% OFF | 1000/839 | expired |
| - | 3/3/2023 | CEC2BBFACF1C0E128260 | 100% OFF | 1000/774 | expired |
| - | 3/4/2023 | FREE0403 | 100% OFF | 1000/985 | expired |
| - | 4/6/2023 | KEYWORD0604 | 100% OFF | 1000/966 | expired |
| - | 4/14/2023 | KEY1404 | 100% OFF | 1000/612 | expired |
| - | 4/25/2023 | KEYWORD2504 | 100% OFF | 1000/986 | expired |
| - | 5/5/2023 | KEY505 | 100% OFF | 1000/861 | expired |
| - | 5/15/2023 | KEY1505 | 100% OFF | 1000/971 | expired |
| - | 5/24/2023 | SEOCONF | 100% OFF | 1000/849 | expired |
| - | 6/6/2023 | F544D83B4149C9102166 | 100% OFF | 1000/685 | working |
Charts
Price
Rating
Enrollment distribution
2/13/2023
course created date
2/22/2023
course indexed date