JDBC Basics Guide
Everything you need to know about JDBC Basics
Programming Languages
category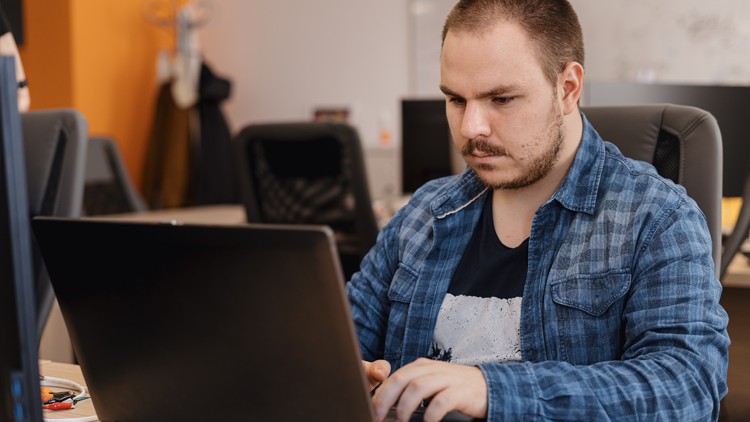 What you will learn
JDBC
Environment
Connections
Statements
Streaming Data
Batch Processing
Description
Have you always wanted to learn how to do use JDBC but don't know where to start?
Would you like to learn how to use JDBC?
Then JDBC Basics is for you!
Hi, I'm your instructor Josh Werner and I'll be leading you through this course.
JDBC is a in-demand skill in 2021.
The course begins with the basics. We'll Cover everything you need to know about JDBC Basics from scratch.
Next, you'll learn all the fundamentals of JDBC Basics.
This is great for students starting that need a refresher course on JDBC.
There are no requirements necessary to enroll I only ask that you come open minded and ready to learn.
So let's have fun learning.
Feel Free to look through the course description and checkout some of my preview videos.
Here Is What You Will Learn:
01. Introduction
01. Overview
02. JDBC
02. Overview
03. Home
04. Introduction
05. SQL Syntax
06. Environment
07. Sample Code
08. Driver Types
09. Connections
10. Statements
11. Result Sets
12. Data Types
13. Transactions
14. Exceptions
15. Batch Processing
16. Stored Procedure
17. Streaming Data
03. Conclusion
18. Summary
So what are you waiting for? I look forward to going through course with you I'll see you inside!
Content
JDBC
Overview
Home
Introduction
SQL Syntax
Environment
Sample Code
Driver Types
Connections
Statements
Result Sets
Data Types
Transactions
Exceptions
Batch Processing
Stored Procedure
Streaming Data
Reviews
No es un curso sobre JBDC es una lectura directa de una página web de tercero, me parece que el título es engañoso y no cumple lo esperado ni da ejemplos prácticos.
Sorry, but EVERYONE can teach with that way. You are even not able to read sql queries properly. It is not id minus 100, it is id=100. And so many this kind of mistakes. It was waste of time tbh.
The tutor is just opening the website and starts typing what he could see on the screen. Feels like I was just here to watch his actions online instead of learning something new.
This is something that everyone could find on internet, actually, he based more than a half of his content on a web page.
Why is it even a paid course at all The guy is just reading from a website and that's all, in the entire course just reading stuff, nothing else
I am just a beginner for the programming. I learnt Java (basic) a long time ago, and confused how SQL or database works. Through this training I learnt a lot about databases, I really like the way you taught me through this one hour tutorial, but I had to stop everytime, then take notes, so it takes me three hours to understand. One hour is impossible for beginners to understand all these jargons so it requires a beginner to stop and write down notes. I understand that it requires me to learn Java and SQL first before use this program which I will go and study them. It is good that you introduce the tutorial website, and it is great that helped me to increase knowledge. I would recommend some improvements, if you want beginners to learn this programming and keep them motivated to go and learn Java and SQL. It would be nice to see a person who is talking on this video. I would like to see this person face - perhaps you can put at the beginning of the video - just an introduction. Sometimes the subtitles does not match what you are saying - it would be good if have real subtitles so deaf and hard of hearing people can access to your course fully. I lost the understanding of statements, results set, transactions, batch processing, stored procedure, and streaming data. Perhaps that is because I lack of full knowledge in Java and SQL programming. I recommend you to add video clips of program running to show how it work in action, rather than display the codes for me to find out myself.
Coupons
| Submit by | Date | Coupon Code | Discount | Emitted/Used | Status |
| --- | --- | --- | --- | --- | --- |
| - | 9/19/2020 | TRY10FREE205 | 100% OFF | 40000/4477 | expired |
| Angelcrc Seven | 10/12/2020 | TRY10FREE304 | 100% OFF | 40000/2245 | expired |
| - | 12/14/2020 | TRY10FREE122004 | 100% OFF | 40000/4510 | expired |
| - | 12/20/2020 | TY10FREE2007 | 100% OFF | 40000/1959 | expired |
| Angelcrc Seven | 12/23/2020 | TRY10FREE122008 | 100% OFF | 40000/350 | expired |
| - | 11/25/2021 | TRY100FREE112104 | 100% OFF | 100/48 | expired |
| - | 12/7/2021 | TRY100FREE122101 | 100% OFF | 100/96 | expired |
| - | 12/26/2021 | TRY100FREE122105 | 100% OFF | 100/75 | expired |
| - | 12/31/2021 | TRY100FREE122106 | 100% OFF | 100/67 | expired |
| - | 1/30/2022 | TRY100FREE12204 | 100% OFF | 100/85 | expired |
| - | 1/30/2022 | TRY100FREE12205 | 100% OFF | 100/77 | expired |
| - | 1/30/2022 | TRY100FREE12206 | 100% OFF | 100/2 | expired |
| - | 3/1/2022 | TRY100FREE32201 | 100% OFF | 100/64 | expired |
| - | 3/1/2022 | TRY100FREE32202 | 100% OFF | 100/92 | expired |
| - | 4/15/2022 | TRY1000FREE42203 | 100% OFF | 1000/820 | expired |
| - | 4/22/2022 | TRY1000FREE42205 | 100% OFF | 1000/973 | expired |
| - | 5/10/2022 | TRY100052201 | 100% OFF | 1000/990 | expired |
| - | 5/17/2022 | TRY100052202 | 100% OFF | 1000/975 | expired |
| - | 6/2/2022 | TRY100052203 | 100% OFF | 1000/629 | expired |
| Lee Jia Cheng | 6/5/2022 | TRY100062201 | 100% OFF | 1000/981 | expired |
| - | 7/1/2022 | TRY100062203 | 100% OFF | 1000/985 | expired |
| - | 7/27/2022 | FCC864C94022FA589F04 | 100% OFF | 1000/32 | expired |
| - | 7/27/2022 | BC11374753A15998AAA3 | 100% OFF | 1000/3 | expired |
| - | 8/31/2022 | 976E05ABD78105D49164 | 100% OFF | 1000/170 | expired |
| - | 8/31/2022 | E7DA4F99B2D38DAD85D4 | 100% OFF | 1000/3 | expired |
| - | 11/23/2022 | TRYFREE1000112208 | 100% OFF | 1000/635 | expired |
Charts
Price
Rating
Enrollment distribution
8/30/2020
course created date
9/16/2020
course indexed date