JavaScript for Beginners - The Complete introduction to JS
Learn all the Basics of JavaScript and create various basic JavaScript programs and applications
Programming Languages
category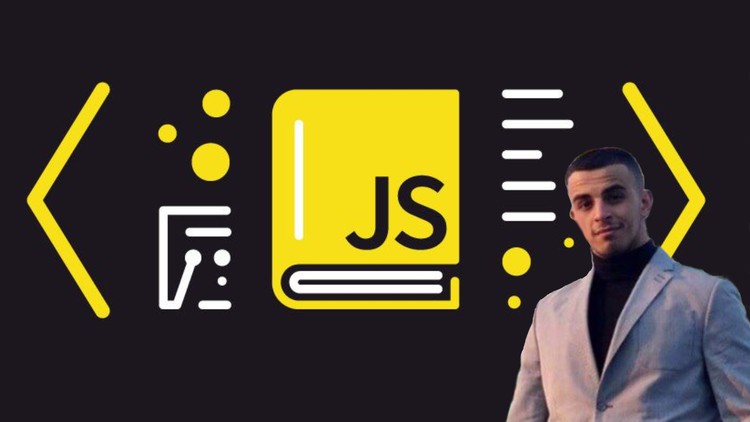 What you will learn
Create your own basic programs with JavaScript
Be able to use JavaScript on a daily basis
Learn at your own pace with different practical exercices at each class
Learn how to use JavaScript the right way
Understand basic and more complexe JavaScript functions
Learn Different Tips and Trics to improve your JavaScript skills
Description
Learning how to properly program in any programming language can be very complicated espescially if you never did any programming before. having the capacity to program in JavaScript is not different. This is why, this course have been created, to helpyou learn, properly program and understand everything you need to know about JavaScript to be able to master this programming language. If you:
- Need to learn the basics of JavaScript for work
- Always wanted to create various projects with this programming language
- Are currently in school and have to understand some Javascript concepts
- are simply curious about this programming language
Then you are definely at the right place and will probably love this course and everything that it has to oofer. Indeed, not only you will learn and understand all the basic concepts and everything aroud JavaScript programming but you will have a lot of practice throught out this course. The goal here is that by the end of this course you have a solid and strong understand of how to write your code with Javascript and be able to create your own JavaScript programs and applications.
The structure of the course
The way this course have been built, is made to help you understand and learn everything you need to know about Java script. Indeed, you will understand all the basics of this programming language. From the starting point where you are going to learn what to instal and how to do it to write your first basic lines of code to the more advanced part that contains things such as statements, functions and loop and various practical projects, this course has everything you need to start your JavaScript programming journey. Also, this course has been created not only to help you learn JavaScript but to also, help you have a clear understanding of all the basics of this programming language. Also, this course will teach something very important that can be used in any other programming language and it's the programming logic. Indeed, by creating various applications, you will learn to think like a programmer and this can be applied in any other programming language. In other words, if you don't have any programming experience prior to this course, by completing it you will learn the programming logic and this will help succed not only in JavaScript but it's useful in any other programming language.
Also, this course is built around a very simple but effective logic that is learning by practice. Indeed, this simply means that this course is definely not theoritical even if it contains some classes that present various Javascript concepts. In other words, this course is built on a logic of learning by practice . This means that you will find plenty of exercices all over the course to help you understand and master this programming language to finaly achieve your end goal of learning how to program in JavaScript.
For who is this course designed
There is a lot of JavaScript courses that exist all over the internet. But, this course is definely different. Indeed, all the concepts that can be found in this course are simplified to help you understand them more in depth and a lot easier. Also, it's important to mention that each element in this course is presented with a multitude of various programming examples that will allow you to practice everything that you will learn all over the course. In other words, if you never wrote a single line of code or did any programming prior this course and you always wanted to start somewhere then you will probably love this course. The way this course is presented and structured is here to help you achieve your obective of starting in the programming world and have a solid understanding of JavaScript programming by the end of this course.
Why should I take this course
If programming in JavaScript is something that you always had a passion for and you always wanted to learn more about that programming language then you should definitely take this course. The first thing that this course will teach you is understanding the logic of programming or in other words how to think like a programmer and how to use with JavaScript . You will also learn various JavaScript concepts as well as create various JavaScript prrograms and applications all over the course.
There is no risk involved in taking this course
This course comes with a 100% satisfaction guarantee, this means that if your are not happy with what you have learned, you have 30 days ​to get a complete refund with no questions asked. Also, if there is any concept that you find complicated or you are just not able to understand, you can directly contact me and it will be my pleasure to support you in your learning.
This means that you can either learn amazing skills that can be very useful in your professional or everyday life or you can simply try the course and if you don't like it for any reason ask for a refund.
You can't lose with this type of offer !!
ENROL NOW and start learning today :)
Content
Introduction
Introduction
Introduction to JavaScript
Downloading your text Editor
Programming in JavaScript
Writing our first line of code
Various Data Types
Working with variables
Basic string methods Part 1
Basic string methods Part 2
Working with numbers
Google console and taking user input
Practicing everything Part 1
Practicing everything Part 2
More Programming
Using arrays Part 1
Using Arrays Part 2
Creating Basic Functions
Practice Part 1
Practice Part 2
Practice Part 3
Statements and Loops
Introduction to Statements
Practicing the IF statement Part 1
Practicing the IF statement Part 2
The Basics of Loops
The basics of the FOR loop
Understanding the WHILE loop
Final Project
Final Project part 1
Final Project Part 2
Final Project Part 3
Conclusion
Reviews
Mohammed
September 2, 2023
i really learned a lot through this course, it would ve been better if you zoomed to the screen, however i would like to thank you for the valuable informations
The course was good. Got to know the basic knowledge about JavaScript, but the video quality was very poor.
It was an amazing experience for me to learn JS in an interactive way. This course cleared all basic concepts regarding JS. Thank You so much sir!
This course is really good for someone who has never learned any programming languange before because the instructor teaches ypu like a five. However, the exercise is not included and practical practice can be upgraded.
Es una buena introducción, pero al aplicar la teoria en los ejemplos y ejercicios se pudo haber hecho mucho mejor.
I do have a programming background but the instructor is pretty good in explaining it for the beginners also. I'm enjoying my learning
very good to get a grasp of the vey basics of javascript. it would be perfect if the font of the text editor was bigger.
A very good experience, if you didn't know anything about javascript, this course is for you, because the concepts and activities are very well explained.
Course content is awesome. But a little con is voice must be a bit high. Even i am using earphones i must maintain more than 85% volume to audible the course perfectly. But the contents, explanation and everything is cool.
Christine
February 1, 2023
I am totally new to programming, my husband is a senior software engineer of many years so I have heard many of the terms but never coded myself and wanted to try. The only issue I had was the course was out of date and atom would not work for me, so I installed github and visualstudio and took a little while trying to figure things out without being able to do a direct copy, so would be good to update the part about Atom I think but great course!
Nice to hand in hand application of what we we have learned, kindly bring html and css full master course also
Tharindu
December 22, 2022
This course is very good. Very well explained about java script . This course very good for beginners.
It is a good course, it is explained in not over complicated language and each lesson is backed by some practice. I like it ;)
Takahide
November 13, 2022
This course is recommended for beginners. However, the version of the text editor is outdated. Currently, it is a newer version and the operation method has changed. You need to be careful there.
Juliana
September 19, 2022
I really liked this course. It gives you an idea about java script Very good for begginers like myself.
Coupons
| Submit by | Date | Coupon Code | Discount | Emitted/Used | Status |
| --- | --- | --- | --- | --- | --- |
| - | 4/25/2021 | 2F763D4B77D279178B75 | 100% OFF | 40000/17267 | expired |
| manto | 4/28/2021 | 7653550B7A5B71EB5291 | 100% OFF | 40000/1646 | expired |
| MesterPerfect | 5/7/2021 | CB0CB4B41ACE6A59C1B0 | 100% OFF | 40000/3490 | expired |
| - | 5/19/2021 | 6B8162950294FE3EA7D6 | 100% OFF | 40000/5923 | expired |
| - | 5/26/2021 | 5725CCDCD8CD53F7CE79 | 100% OFF | 40000/3530 | expired |
| - | 6/19/2021 | 415DDB7A418D840688B0 | 100% OFF | 40000/7178 | expired |
| - | 6/27/2021 | 885D73EE6A069F9A3A68 | 100% OFF | 40000/9598 | expired |
| - | 6/27/2021 | 885D73EE6A069F9A3A68 | 100% OFF | 40000/14 | expired |
| Angelcrc Seven | 8/22/2021 | 1522B95D43C258041A60 | 100% OFF | 40000/5255 | expired |
| - | 8/28/2021 | 3DEF14B7C82C7807A763 | 100% OFF | 40000/5977 | expired |
| - | 9/4/2021 | 833248D9A7E5CA3CEC8B | 100% OFF | 40000/4858 | expired |
| - | 9/16/2021 | BED2E445793089FF7BF6 | 100% OFF | 40000/3908 | expired |
| - | 9/29/2021 | COURSEROCKS.COM | 100% OFF | 40000/2286 | expired |
| - | 10/18/2021 | BA0934B11C337022F269 | 100% OFF | 40000/3071 | expired |
| chris | 10/27/2021 | DD8390BF993E68A5EE82 | 100% OFF | 40000/3197 | expired |
| - | 10/31/2021 | 953AFCF5FE3DCA8DE4B5 | 100% OFF | 1000/737 | expired |
| - | 11/10/2021 | B470DDF52C47F905F0A8 | 100% OFF | 1000/920 | expired |
| Ignacio Castro | 11/23/2021 | 5C8B56EB4DC192BDB252 | 100% OFF | 1000/764 | expired |
| Angelcrc Seven | 12/3/2021 | 799D92D36F244261D384 | 100% OFF | 1000/979 | expired |
| Angelcrc Seven | 12/14/2021 | 6A3B19E3083933CC2EAF | 100% OFF | 1000/931 | expired |
| Angelcrc Seven | 12/24/2021 | 638BF6655084C76D8443 | 100% OFF | 1000/844 | expired |
| Angelcrc Seven | 1/2/2022 | 4E28E966E47DEFCEF8B8 | 100% OFF | 1000/394 | expired |
| Angelcrc Seven | 1/11/2022 | B53AA7F985338F926EFB | 100% OFF | 1000/954 | expired |
| Angelcrc Seven | 1/23/2022 | 2B8B0F3D3E190B69FF33 | 100% OFF | 1000/832 | expired |
| Angelcrc Seven | 2/3/2022 | 272B478471071775617B | 100% OFF | 1000/753 | expired |
| Angelcrc Seven | 2/12/2022 | AF6F058D94DC7701C66E | 100% OFF | 1000/802 | expired |
| Angelcrc Seven | 2/21/2022 | 9820AB22F07F17F63C10 | 100% OFF | 1000/964 | expired |
| Angelcrc Seven | 3/6/2022 | 2D5D4075BE56C296AD40 | 100% OFF | 1000/592 | expired |
| Angelcrc Seven | 3/23/2022 | AFEF794835BEB61D055A | 100% OFF | 1000/961 | expired |
| Angelcrc Seven | 4/2/2022 | 3B4E81670F4D2B1A5ACE | 100% OFF | 1000/709 | expired |
| - | 4/15/2022 | 2E1B031B95E5A5F3A189 | 100% OFF | 1000/864 | expired |
| Angelcrc Seven | 4/25/2022 | D0214B049D007BE93D98 | 100% OFF | 1000/957 | expired |
| Facialix | 5/5/2022 | F6D01BEA13A2BB8C11C0 | 100% OFF | 1000/996 | expired |
| - | 5/14/2022 | D6B92125F19FE53726CF | 100% OFF | 1000/674 | expired |
| - | 5/24/2022 | E9E345FB21B59D5E772D | 100% OFF | 1000/902 | expired |
| - | 6/3/2022 | 1D5CC72BC07C6D656CDB | 100% OFF | 1000/987 | expired |
| - | 6/14/2022 | FA7BDC5565BCA303465F | 100% OFF | 1000/865 | expired |
| - | 6/23/2022 | 1FA6D82106C7592E70DD | 100% OFF | 1000/963 | expired |
| - | 7/3/2022 | 5CF93F6B2710BF839CB8 | 100% OFF | 1000/856 | expired |
| - | 7/14/2022 | 703094175B1E66AB7359 | 100% OFF | 1000/946 | expired |
| - | 7/26/2022 | 19FAB3E677F185DAC436 | 100% OFF | 1000/785 | expired |
| - | 8/3/2022 | B226AC212D953DA782ED | 100% OFF | 1000/668 | expired |
| - | 8/13/2022 | C17BC27E81049B5823D6 | 100% OFF | 1000/766 | expired |
| - | 8/24/2022 | 60C93C1F51F05280B81C | 100% OFF | 1000/982 | expired |
| - | 9/2/2022 | 7E7D56A580C20E2D13FE | 100% OFF | 1000/845 | expired |
| - | 9/11/2022 | C82B6CFE67847732AF59 | 100% OFF | 1000/790 | expired |
| - | 10/2/2022 | AD935F9287BE40E12AFD | 100% OFF | 1000/984 | expired |
| - | 10/11/2022 | B2AB383050230B3D6E05 | 100% OFF | 1000/782 | expired |
| - | 10/19/2022 | A93D55F23227435BEC53 | 100% OFF | 1000/763 | expired |
| - | 11/3/2022 | 1E1B41ABB1B3D9F2D063 | 100% OFF | 1000/828 | expired |
| - | 11/12/2022 | 3926EB95C22044C5DA13 | 100% OFF | 1000/496 | expired |
| - | 11/20/2022 | 47D360ED8C0236E1EC7A | 100% OFF | 1000/672 | expired |
| - | 12/3/2022 | 1E2A5E7E5A0FCD315F45 | 100% OFF | 1000/952 | expired |
| - | 12/11/2022 | 01171C1C0411EC4FD465 | 100% OFF | 1000/990 | expired |
| - | 12/22/2022 | EB730A058E5C32231FE6 | 100% OFF | 1000/847 | expired |
| - | 1/2/2023 | 7EB60E84391ACB121670 | 100% OFF | 1000/919 | expired |
| - | 1/14/2023 | 114589B0545B58379948 | 100% OFF | 1000/964 | expired |
| - | 1/25/2023 | F3B7C5C1498BCACEB918 | 100% OFF | 1000/971 | expired |
| - | 2/3/2023 | 3D723546DA8C293E0BBC | 100% OFF | 1000/547 | expired |
| - | 2/11/2023 | C2152C4FCCDAE4555CD3 | 100% OFF | 1000/888 | expired |
| - | 2/24/2023 | B86D6B3AD1084076E3C4 | 100% OFF | 1000/991 | expired |
| - | 3/3/2023 | 7F16C1BDCE42E965B380 | 100% OFF | 1000/933 | expired |
| - | 3/12/2023 | BD14BD07E7F74B2FA36D | 100% OFF | 1000/753 | expired |
| - | 3/24/2023 | 6CE1155D9571468A19FB | 100% OFF | 1000/929 | expired |
| - | 4/3/2023 | 9FDD183A43EB2E56B4B4 | 100% OFF | 1000/970 | expired |
| - | 4/14/2023 | 990C8462B7D8EDCC2DD6 | 100% OFF | 1000/874 | expired |
| - | 4/24/2023 | 157B821330BA37CAD1E8 | 100% OFF | 1000/698 | expired |
| - | 5/3/2023 | 0C878402135A1A506C61 | 100% OFF | 1000/928 | expired |
| - | 5/19/2023 | B5C4A6D058551DBED75D | 100% OFF | 1000/221 | expired |
| - | 5/23/2023 | 77464726E67D368D2639 | 100% OFF | 1000/941 | expired |
| - | 6/4/2023 | 83C7D1EE16FBB15CD1E2 | 100% OFF | 1000/988 | expired |
| - | 6/19/2023 | 205F557FC182196C258D | 100% OFF | 1000/995 | expired |
| - | 6/24/2023 | 1A7AE29004D92CFD2EA2 | 100% OFF | 1000/997 | expired |
| - | 7/3/2023 | 969B41163E1F9B037E58 | 100% OFF | 1000/635 | expired |
| - | 7/13/2023 | 20C1FB549C09DD46DA4B | 100% OFF | 1000/876 | expired |
| - | 7/26/2023 | 781E2A5C56827BAF4AF7 | 100% OFF | 1000/933 | expired |
| - | 8/5/2023 | C2D0CA47FB7403397D8D | 100% OFF | 1000/998 | expired |
| - | 8/13/2023 | 24586A6DD61FD5CB06BD | 100% OFF | 1000/853 | expired |
| - | 8/26/2023 | CD744256295144B3E678 | 100% OFF | 1000/999 | expired |
| - | 9/3/2023 | 23EC26C03FD14F419E9A | 100% OFF | 1000/806 | expired |
| - | 9/13/2023 | FB32E68A4D85F8C76387 | 100% OFF | 1000/778 | expired |
| - | 10/4/2023 | 47C06E7DDAADEAA5AF74 | 100% OFF | 1000/910 | expired |
| - | 10/29/2023 | AFA654E4526B86E27009 | 100% OFF | 1000/659 | expired |
| - | 11/3/2023 | 329A77D4372E8CD5DD80 | 100% OFF | 1000/977 | expired |
| - | 11/14/2023 | 87A49DAA971BFA706BD0 | 100% OFF | 1000/998 | expired |
| Kevin2001 | 11/22/2023 | 731C796C4633D7859812 | 100% OFF | 1000/837 | expired |
Charts
Price
Rating
Enrollment distribution
4/21/2021
course created date
4/25/2021
course indexed date