Java for Beginners - Learn all the Basics of Java
Learn Java programming with various java projects- Understand key Java elements and be able to create basic java apps
Programming Languages
category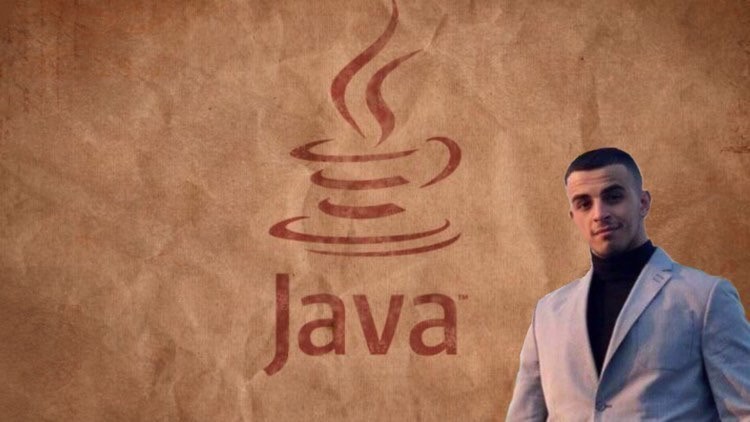 What you will learn
Learn how to use Java the right way
Understand complex functions in Java
Be able to use Java on a daily basis
Create your own basic programs with Java
Learn at your own rythm with different practical exercices at each course
Learn Different Tips and Trics to improve your programming skills
Description
Learning the how to program in any programming language can be very complicated especially if you never did any programming before. Programming in java is not different, but this course is here to help master this programming language. If you :
- Need to learn the basics of this programming language for work
- Are in school and need to understand certain Java concepts
- Want to create various projects with this programming language
- Simply are curious about this topic
Then you will probably love this course. Not only you will learn all the basics of java programming but you will also have a lot of practice throughout the course. Indeed, but the end of this course you will have a solid basis of Java programming and will be able to create on your own various Java applications.
The structure of the course
The way this course is created and structured is really made to help you learn all this basics of this programming language. From installing the right tools and writing your basic lines of code to creating more advanced apps, this course has everything you need to start your java programming journey. Also, this course has been made to cover all the basic concepts around Java programming. This way, you will understand the logic behind this programming language and will be able to create applications on your own. Indeed, if you have never programmed before, the hardest part is really to understand the programming logic and this course has everything you need to succed in java programming.
Also, this course is built around a simple logic of learning by practice. In other words, this course is not only theoritical and it contains a lot of practice to allow to understand in depth this programming language. Indeed, the best way to learn something is by practicing it this is why this course contains many exercices and examples to help achieve your goal of learning how to program with Java.
For who is this course designed
There is a lot of different Java courses that exist all over the internet. But, this diffferent, all the concepts that are presented are simplified to help you understand them in depth. Also, each element that is presented comes with various programming examples this way you will be able to practice everything. In other words, if you have never did any programming in your life and always wanted to start somewhere then you will probably love this course. The way this course is presented and structured is here to help you have a solid understanding of java programming by the end of this course.
Why should I take this course
If programming with java is something that you always wanted to learn, then you should definitely take this course. The first thing that this course will teach you is understanding the programming logic and how to use it with Java. Also, you will learn different Java concepts as well as create various Java appliactions and projects
There is no risk involved in taking this course
This course comes with a 100% satisfaction guarantee, this means that if your are not happy with what you have learned, you have 30 days ​to get a complete refund with no questions asked. Also, if there is any concept that you find complicated or you are just not able to understand, you can directly contact me and it will be my pleasure to support you in your learning.
This means that you can either learn amazing skills that can be very useful in your professional or everyday life or you can simply try the course and if you don't like it for any reason ask for a refund.
You can't lose with this type of offer !!
ENROL NOW and start learning today :)
Content
Introduction
Introduction
What is Java and course structure
Setting Up everything
Let's start
Writing our first lines of code
Understanding Data types
Creating and using variables
Basic math operations
Scanner method and String
Scanner method, numbers and boolean
Java operators
Comparing in Java
The basics of the IF function
Practicing with the IF function
Creating a car selector Part 1
Creating a car selector Part 2
Basic Data storage
The basics of loops
Writing simple loops
Creating a car color finder
Creating an average to GPA converter
Creating a basic test
Collection lists and maps
The basics of lists
The basis of maps
Introduction to class and objects
Final Project Part 1
Final Project Part 2
Final Project Part 3
Final Project Part 4
Final Project Part 5
Conclusion
Reviews
Your course is very knowledgeable but the Editor background is dark due to which it is really difficult for me to see what your are typing. I have to zoom in too much to see.
repeting "System.out.println()" and if else seatment multiple times is not enough to teach someone programming. It's a waste of time.
well everything in this course is deep easy to understand and I getting all the points taught during class
content is pretty less for begineers but the final project is awesome for begineers to practice basics along with loops and conditional statement.
Amarjeet
November 30, 2022
Although this is very basic course in java but helpful for those students ,who started coating journey first time
This course lacking of slides with more clear and detailed explanation of how these technologies works under hood. Every lesson explained hurriedly and superficially. From my point of view, this course isn't suitable for beginners in programming.
Extremely basic. If you are a total beginner, then it's going to be fine for you. However, the "Introduction to class and objects" is totally useless. It shouldn't have been even included. You would imagine that the final project would be a nice introduction to OOP by example creating a project based on classes, methods, etc. It is rather a summary of conditionals and String comparisons.
Being a course for beginners, it was a little complex when the instructor mentioned static class, objects, etc in the beginning without explaining.
great teacher and taught with such a good example but the only thing is i didn't get to study class and objects examples that it
According to basics it could have been more in depth, for instance the topic classes and objects: only one line definition is definitely not sufficient for beginner to understand .
I think that was a good course but sadly, I expected that the instructor would use the list and collections learned in the previous class on the final proyect.
It's good experience in udemy courses. I would like to thank to udemy team for this course because I have improve my skill of java programming. So thank you so much.
It was good basic experience of java programming and the way of explanation also been good and the code which lecturer is executing was easy to understand and more efficient. Overall it was Good
I learned so much about the java language in this course. I recommend everybody should do this course. Thank you
This course is a great introduction to Java for those without prior coding knowledge. The instructor does a great job of going slow and stressing on important points. I would have loved to find this course in the beginning of my coding journey. For intermediate programmers out there say in Python or C, this course is not as helpful as it should be. Certain things are never explained and data structures are only mentioned and not really showcases in order to show their immense usefulness. If you're an intermediate programmer, most of what you'll learn is syntax. That being said, the course is still extremely good at what it does and I feel more confident to do Java programming exercises.
Coupons
| Submit by | Date | Coupon Code | Discount | Emitted/Used | Status |
| --- | --- | --- | --- | --- | --- |
| - | 1/13/2021 | AB8EEC2A7CCEE4C28A3D | 100% OFF | 40000/12855 | expired |
| Angelcrc Seven | 1/19/2021 | 15BE98708D1394B125B7 | 100% OFF | 40000/8151 | expired |
| Angelcrc Seven | 1/24/2021 | FE033C8E7074B40B4605 | 100% OFF | 40000/6453 | expired |
| Angelcrc Seven | 2/2/2021 | BCC25F64A564F9C9EF4A | 100% OFF | 40000/4005 | expired |
| - | 2/10/2021 | 2C95CBB780D99A42734C | 100% OFF | 40000/3215 | expired |
| - | 2/17/2021 | 02F25AC3B58EA0B26DF0 | 100% OFF | 40000/3964 | expired |
| - | 3/1/2021 | F8C6519232A506DCE2AB | 100% OFF | 40000/3438 | expired |
| Angelcrc Seven | 3/10/2021 | FB3A26662EDE27DEC436 | 100% OFF | 40000/5875 | expired |
| medo3abed | 3/22/2021 | 697DF8232CEBF4F208D1 | 100% OFF | 40000/6185 | expired |
| - | 4/1/2021 | 68BEFF50FA4C7C7FB12B | 100% OFF | 40000/3667 | expired |
| - | 4/9/2021 | 824FA8892AA41B99EDCE | 100% OFF | 40000/2960 | expired |
| - | 4/19/2021 | F1411C5E39D73CF4152E | 100% OFF | 40000/5548 | expired |
| ANUBHAV JAIN | 5/2/2021 | 6C88E6A2EA079973E324 | 100% OFF | 40000/8349 | expired |
| - | 5/10/2021 | E35D76A98C569B514B44 | 100% OFF | 40000/7690 | expired |
| Angelcrc Seven | 5/21/2021 | EF70CA176BFD7E1C0642 | 100% OFF | 40000/5857 | expired |
| - | 6/2/2021 | A3F7AFE4B790DB3AD1D6 | 100% OFF | 40000/4814 | expired |
| - | 6/22/2021 | 67C7FCB98283B81189D6 | 100% OFF | 40000/414 | expired |
| - | 8/5/2021 | 8BD89E8B8946417959C8 | 100% OFF | 40000/5148 | expired |
| - | 8/30/2021 | 2FF154EA2485C8DCB33A | 100% OFF | 40000/3169 | expired |
| - | 9/9/2021 | 4E1DF6E47FBE3EB03B8D | 100% OFF | 40000/3130 | expired |
| - | 9/17/2021 | C8AEB7DACF2CB7EE169B | 100% OFF | 40000/3159 | expired |
| - | 9/25/2021 | EEDE4D32A81F3ABD559D | 100% OFF | 40000/3027 | expired |
| Angelcrc Seven | 10/3/2021 | COURSEROCKS.COM | 100% OFF | 40000/2294 | expired |
| Angelcrc Seven | 10/23/2021 | 684D44F8A601526D66C8 | 100% OFF | 40000/2908 | expired |
| - | 11/5/2021 | 1BD9A26C0CCCB770CF91 | 100% OFF | 1000/785 | expired |
| Angelcrc Seven | 11/13/2021 | 959F5BDDC2D88AA0843B | 100% OFF | 1000/203 | expired |
| ANUBHAVJAIN | 11/20/2021 | 23820B023E60FE2DB1F9 | 100% OFF | 1000/357 | expired |
| Ignacio Castro | 12/3/2021 | 38DBC6161493EA070A2F | 100% OFF | 1000/981 | expired |
| - | 12/13/2021 | A0085F8A6932A4DA26AA | 100% OFF | 1000/821 | expired |
| Angelcrc Seven | 12/27/2021 | 45FBA437B24E21C742AD | 100% OFF | 1000/683 | expired |
| - | 1/6/2022 | AFC53D5B315CD8868994 | 100% OFF | 1000/998 | expired |
| Angelcrc Seven | 1/13/2022 | 327A6613091C41931F93 | 100% OFF | 1000/891 | expired |
| - | 1/27/2022 | D3FCD5D6789272BDBDCB | 100% OFF | 1000/891 | expired |
| Angelcrc Seven | 2/4/2022 | 62823D3022D70AD4B942 | 100% OFF | 1000/973 | expired |
| Angelcrc Seven | 2/12/2022 | 0D1C6ADA628F51372D11 | 100% OFF | 1000/781 | expired |
| Angelcrc Seven | 2/23/2022 | 1305308CE8D64ECAF53F | 100% OFF | 1000/734 | expired |
| - | 3/3/2022 | 46F6F6A33B47741F3A3C | 100% OFF | 1000/827 | expired |
| - | 3/16/2022 | C87BDB503C835DFB39C1 | 100% OFF | 1000/980 | expired |
| - | 3/31/2022 | A420312069A47A7549AA | 100% OFF | 1000/696 | expired |
| Angelcrc Seven | 4/4/2022 | 97DB7A5564F3F5FD2675 | 100% OFF | 1000/816 | expired |
| - | 4/16/2022 | DDB5CFF17974A4C64B8D | 100% OFF | 1000/920 | expired |
| - | 4/25/2022 | 645486018046F60E42A6 | 100% OFF | 1000/863 | expired |
| Ahmed.fayek.saad | 5/6/2022 | 9FD94316112D28C8869F | 100% OFF | 1000/901 | expired |
| - | 5/14/2022 | 7A62EBF585DBFB8A5C30 | 100% OFF | 1000/799 | expired |
| - | 5/26/2022 | 8624EA4D677988710A66 | 100% OFF | 1000/701 | expired |
| - | 6/4/2022 | 3B5689F1185923C74DA8 | 100% OFF | 1000/913 | expired |
| - | 6/17/2022 | 02FFC2BB5532C703A892 | 100% OFF | 1000/981 | expired |
| - | 7/1/2022 | 5453056B1F09785362FD | 100% OFF | 1000/835 | expired |
| - | 7/15/2022 | CB0E6A58A96449FFBF7B | 100% OFF | 1000/970 | expired |
| - | 8/5/2022 | E702D7237BCF6EF75673 | 100% OFF | 1000/772 | expired |
| - | 8/14/2022 | 9EA14F62114EE3DCC2CD | 100% OFF | 1000/955 | expired |
| - | 8/25/2022 | ED1FAFDF0F02DF92E324 | 100% OFF | 1000/936 | expired |
| - | 9/4/2022 | 056319962E47890D602D | 100% OFF | 1000/843 | expired |
| - | 9/13/2022 | C415FCCD54159A70D4F6 | 100% OFF | 1000/866 | expired |
| - | 9/22/2022 | E29E47174BBBF1246030 | 100% OFF | 1000/986 | expired |
| - | 10/4/2022 | 9ACD0F39428711D010B1 | 100% OFF | 1000/884 | expired |
| - | 10/13/2022 | EDAA09A79CD6D7BBA06F | 100% OFF | 1000/808 | expired |
| - | 10/22/2022 | 41D5C40B537846218071 | 100% OFF | 1000/689 | expired |
| - | 11/4/2022 | B17C46139F289840416F | 100% OFF | 1000/636 | expired |
| - | 11/14/2022 | 271681003A47B3340956 | 100% OFF | 1000/922 | expired |
| - | 11/22/2022 | 50368A3B70FD9C8D9B10 | 100% OFF | 1000/943 | expired |
| - | 12/5/2022 | 0DBE4AB6C217714E6399 | 100% OFF | 1000/914 | expired |
| - | 12/12/2022 | E8021B327306FDC7785F | 100% OFF | 1000/973 | expired |
| - | 12/23/2022 | 646BED26AC92322FEE63 | 100% OFF | 1000/983 | expired |
| - | 1/3/2023 | 0798318E50A4891C5E98 | 100% OFF | 1000/824 | expired |
| - | 1/25/2023 | 3348B7DC074EBB92A405 | 100% OFF | 1000/666 | expired |
| - | 1/29/2023 | CE2CAC3423A4DA90C8F5 | 100% OFF | 1000/856 | expired |
| - | 2/4/2023 | 8F3B2F9CE95C1CBB10E2 | 100% OFF | 1000/952 | expired |
| - | 3/5/2023 | 6A1C04EE578A73C795A8 | 100% OFF | 1000/976 | expired |
| - | 3/14/2023 | CA343F35DEEC74F26941 | 100% OFF | 1000/771 | expired |
| - | 3/24/2023 | AEE982542D86327262A8 | 100% OFF | 1000/836 | expired |
| - | 4/4/2023 | 3A2CBD30E8245DFD17C3 | 100% OFF | 1000/784 | expired |
| - | 4/16/2023 | C5D89C93EBCDD751774E | 100% OFF | 1000/959 | expired |
| - | 4/29/2023 | 2BDBECA4C8D8B11B2072 | 100% OFF | 1000/985 | expired |
| - | 5/5/2023 | 1C217695B3B5EDC4D838 | 100% OFF | 1000/992 | expired |
| - | 5/19/2023 | F16D9B312B17389A07A2 | 100% OFF | 1000/818 | expired |
| - | 5/25/2023 | 6AD677331356A6D38996 | 100% OFF | 1000/917 | expired |
| - | 6/5/2023 | 465492A4ACBEC211AA4F | 100% OFF | 1000/805 | expired |
| - | 6/19/2023 | 818662E75B6057827196 | 100% OFF | 1000/650 | expired |
| - | 6/27/2023 | 778D97B9FA8409AC3D78 | 100% OFF | 1000/979 | expired |
| - | 7/5/2023 | 79E028B0A1CC90694513 | 100% OFF | 1000/926 | expired |
| - | 7/15/2023 | 73853FC6AE24DDD5AE32 | 100% OFF | 1000/941 | expired |
| - | 7/28/2023 | 90E13782E0358DB82C77 | 100% OFF | 1000/868 | expired |
| - | 8/8/2023 | 6EE49067BF1D5847D382 | 100% OFF | 1000/962 | expired |
| - | 8/17/2023 | 96AE6B696E30CDD47007 | 100% OFF | 1000/960 | expired |
| - | 8/31/2023 | BE093A11F299FFCEE5DA | 100% OFF | 1000/669 | expired |
| - | 9/14/2023 | 7479333DE8D8004C7529 | 100% OFF | 1000/981 | expired |
Charts
Price
Rating
Enrollment distribution
1/10/2021
course created date
1/13/2021
course indexed date