IT Support Technical Skills Helpdesk
Hands-on Technical skills for IT Support Learners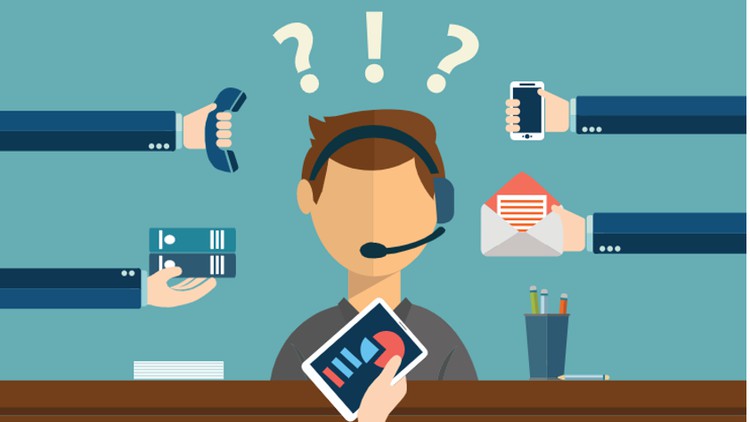 What you will learn
active directory
desktop support
tech support
helpdesk
Description
This course is designed to give you a good understanding on IT Support. The course has live real-world hands on training that you can to use in a work environment.
This course will give you the basic knowledge, skills and confidence to being learning IT Support.
The course is designed to help you get familiar with real world technologies used in a work environment.
You will learn the below in this course
What is active directory.

How to share folders.

What is office 365.

How to fix your resume.

What is windows 10 and how to troubleshoot it.

What is a ticketing system and how to get it for free.

How to unlock accounts and reset passwords on active directory

How to access a client with MFA 2 factor authentication

Exchange mailbox access.

How to give someone access to a calendar.

How to answer a phone call with a client.

How to remote into someone machine/pc.

How to troubleshoot hardware issues.

How to apply to jobs.

How to troubleshoot outlook issues.

How to troubleshoot mobile devices.

How to troubleshoot mac/android devices.

What is RSAT Tools?

How to fix an issue with a computer that fell off the domain
Who is this course for:
This is for someone brand new starting out in the job market who has little to entry level skills. This is the perfect combination for someone who read the comptia a+ and wants to learn more about what you see on the job market. Reading the A+ and taking this course will make you well rounded.
Content
Introduction
Who's Kevin (Brief Intro)
Support
What is IT Support?
What is a home lab?
What is Active Directory
How to answer phone calls? Talking to people.
What is a ticketing system?
How to Remote into a user machine?
Share Drive Permissions
Windows 10 troubleshooting as Helpdesk
MDM How to set up company email?
Printers (Troubleshooting Printer Issues)
Office 365
How to get office 365 for free?
Office 365 (Understanding mailboxes)
Office 365 (Understanding Office 365 Groups)
Path of the tech
Path of the tech part 1
Path of the tech part 2
Path of the tech part 3
Path of the tech Part 4
Preparing For Jobs
Embrace Rejection
Resume (putting it all together)
Preparing For Job Interviews
Things To Look For When Applying For Helpdesk Jobs (Red Flags)
Conclusion
IT Mindset
Conclusion (Ending)
Reviews
Great practical hands on training for those seeking entry level IT position without prior experience. I now feel confident and prepared to apply for jobs and for interviews.
Amazing! It was a very knowledgeable course for a beginner like me who is trying to break into IT thanks!
So far the course is very easy to understand and follow along with. I am new to Helpdesk and this is helping me to understand a lot.
I love the content, and the creator is a huge voice in the community for helping those with Active Directory and Help Desk skills. I just wish it was a little more like a presentation and less like a live stream. Some people may appreciate that, but it caught me off guard with the (I assume) stream chats that would be commented on by Kevin at times. Also, the powerpoint is fine but even if it could be in presentation mode that would have a greater feel of professionalism rather than viewing the editable slide. I'd still recommend this course to anyone for the functionality and knowledge.
This course has a lot of information packed into it. I used a free coupon offered by the instructor, but the quality of the information offered would have been worth paying for. Most subjects are packaged into 10-to-35-minute sessions, with the exceptions of 'What is Active Directory' and 'The Path of the Tech Part 4'. With these segments, it may be easier to absorb if the learner pauses between the sub-subjects presented. Most helpful to me in this course were Section 5 (Preparing for Jobs) and the job search and resume section in 'Path of the Tech Part 4'. Thanks for the free course, Kevin, and I look forward to more of your courses.
yes, totally motivational. Gives me an encouragement as being from a different background than IT. but want to grow in IT industry.
He does a great job making you better prepared for an IT helpdesk job. Kevtech's help got me 5 interviews within my first week of job hunting.
its amazing to come into tech world but i believe i still have a long way to go. and with this video i really learn a lot.
Great course. Perfect course who is jump into IT Support. Good cover on customer service. As an IT especially Support, not just technical skill you need to grasp, but you need to understand how to communicate with users. Recommended course.
Kevin is incredibly well versed in the field of IT. The way in which he communicates the material makes the learning process very accessible.
I am already going through the active directory and windows server things like this in my lab sessions during my postgraduate study. but, at that time I don't realize that those topics are very much essential to getting an IT job. Now when I saw all your videos I was pleased you explained really well, and I remembered all my previously learned topics. Thanks, Kev
Best delivery of technical and other relevant skills needed to land IT jobs from scratch to advanced.
I like the way you break things down - you use very common language to get your ideas across and it makes it easier for anyone to be able to follow along.
This is a great overview of what to know before entering the field of IT. Kevin is great at pointing you in the right direction while explaining things you may not see on your own.
Kevin is very good coach, especially for newbies who needs guidance in this seemingly daunting task of breaking through… walking on unfamiliar paths. He is soo down to earth and straight forward, someone who will push but does not feel like he is pushing you… thankful too that he gives valuable info for free, he shares his knowledge and skills and won't make you feel less because the info is free! It makes that transfer of knowledge more meaningful! More power, Kevin!
Coupons
| Submit by | Date | Coupon Code | Discount | Emitted/Used | Status |
| --- | --- | --- | --- | --- | --- |
| Facialix | 6/4/2022 | E41DA744269EBF4C4086 | 100% OFF | 1000/587 | expired |
5/15/2022
course created date
6/4/2022
course indexed date
Facialix
course submited by