Instagram Marketing for Virtual Assistants
How to grow your Instagram account on autopilot
Digital Marketing
category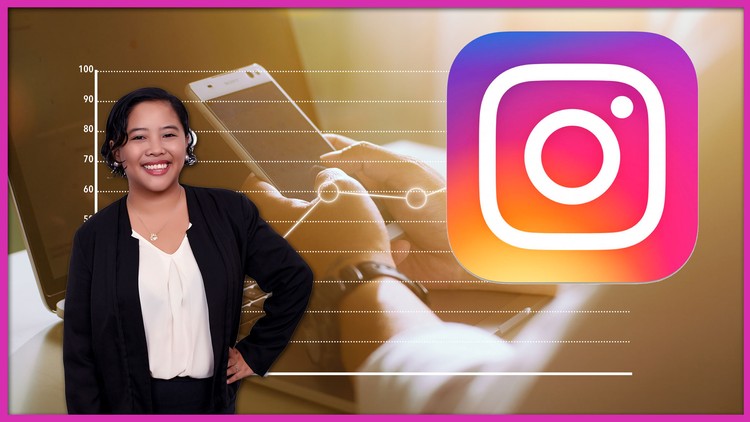 What you will learn
Build a powerful Instagram account, whether for personal or for business
Build the systems to automate your Instagram growth and content
Have your virtual assistant manage your Instagram account for you
Be able to relax, knowing your virtual assistant has your back and will build your brand
Description
It's CRAZY how many different "tips and tricks to growing your Instagram" articles and courses
are out there.
The thing is, YOU JUST DON'T HAVE THE TIME TO LEARN THEM ALL.
Much less actually be able to use the tips and tricks.
And to be consistent enough once you find the tips and tricks that work for your Instagram.
In this course, we will show you how to have your Instagram up and running without you, where your Virtual Assistant is automated and just runs it for you.
As someone who was a virtual assistant, I'll even show you HOW to find the RIGHT assistant, and make sure that they are actually good for you and your brand.
We'll have a step by step process, so you can even have your VA study this course too!
This will include what you ACTUALLY need to do, not what everyone else says you need to do.
This will get rid of any need to keep reading other articles on Instagram marketing.
We're going to cover:
Instagram Basics
- Things you need to have in your profile
- Three types of accounts you can have (Personal vs Business vs Branded)
Content Creation
- Narrowing down what content you want to use
- Developing your content strategy
- Tools you need for developing content
Different types of content
- Difference between a post, story, IGTV, and Live
- Guide to Instagram Posts
- Guide to Instagram Story
- Guide to IGTV
- Guide to Instagram Live
What your Virtual Assistant can do
- Finding the RIGHT Virtual Assistant
- Recurring tasks they can do automatically
- Working with your Virtual Assistant
And so much more!
This is how you can SET and FORGET your Instagram account so it's completely running without you!
Content
Instagram Basics
Introduction
Creating Your Account
[Activity] Creating Your Account
Different Types Of Account
Convert your Personal Account into a Business Account
Building Your Brand
Summary
Different Types Of Content In Instagram
Introduction
Guide To Instagram Posts
Guide To Instagram Stories
Guide To Instagram TV
Instagram TV Cool Feature
Guide To Instagram Live
[Activity] Separate Out The Different Content You Can Use
Content Creation
Developing Your Content Strategy
The Tools You Will Need
[Activity] Create Your Own Topic Wheel For Your Content
Having Your Virtual Assistant Run Your Instagram
Introduction
Tasks Your Virtual Assistant Can Do To Grow Your Instagram Beyond Content
Selling On Instagram and Instagram Ads
Wrap Up
Next Steps
Help Your Fellow Students
[Bonus] How To Find the Perfect VA
Reviews
Learned about numerous tools that I wasn't utilizing. Great amount of info -perfect for business owners & VAs
This course was a refresher to Instagram. It taught me the different navigations and how to use this platform to the fullest. Thanks coach!
Awesome course outline. The course is a good way to start using Instagram as a mechanism to grow a business. I also liked how the course include how much a Virtual assistant could help in running an Instagram business account.
learned a lot here. I will start to fix my instagram account so i can use it for my business. Thanks Coach Lean
I really like the instructor, she has a lot of knowledge, and is very passionate about this subject! I bought this course on sale and I am really happy I didn't end up paying the full $200, I'm not sure it's worth that much imo. I also found the title of the lesson a little misleading, I thought it would be directed *towards* VA's , to get new clients by learning and offering this skill. I still learned a lot that I can implement for my own business.
Coupons
| Submit by | Date | Coupon Code | Discount | Emitted/Used | Status |
| --- | --- | --- | --- | --- | --- |
| - | 12/5/2019 | 2553E6E3C94452F227C4 | 100% OFF | | expired |
| Lee Jia Cheng | 3/13/2020 | MARCH15INSTAGRAM | 100% OFF | | expired |
| Angelcrc Seven | 6/29/2020 | IMVAEXPJULY022020 | 100% OFF | 40000/1281 | expired |
4/7/2019
course created date
11/20/2019
course indexed date