Humor Writing: How to Think, Write, Speak, and Be Funnier!
Great for Writing & Public Speaking: Learn the Techniques Professional Humorists Use to Create Consistently Funny Comedy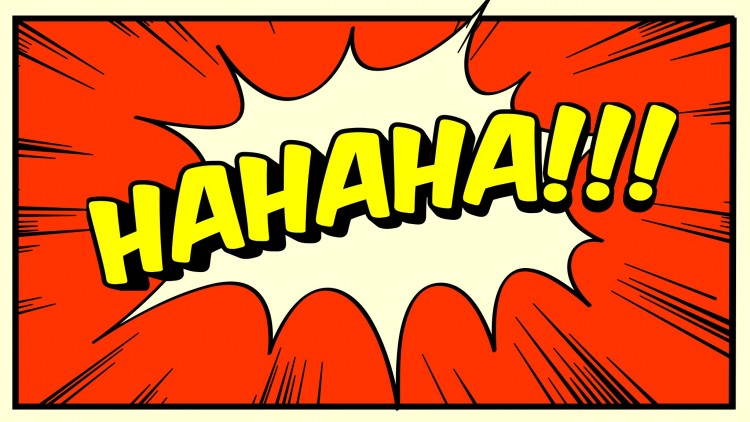 What you will learn
Master the techniques professional humorists and comedy writers use to create consistently hilarious material
Learn how to find humor in nearly any situation
Discover how to take something that is funny, and stretch it to make it a lot funnier.
Understand how when you write or present humorous material, subtle things like word choice, word order, and pacing can make a profound difference in whether or not something is funny.
Learn how to observe comedic masters and learn from what they do.
Learn how humor can be used in nearly any form of writing or presentation to make it more captivating.
Description
Contrary to popular belief, a "sense of humor" is not a magical "gift" a few special people are born with. Humor and writing are skills anyone can develop.
In this online workshop, award-winning humorist and bestselling author Dave Fox teaches you how!
Discover the techniques professional comedy writers use to write consistently funny material. You'll learn how to think, write, speak, and be funnier.
Each lesson includes specific writing techniques and exercises to incite maximum laughs. We'll focus on writing humor columns, personal essays, and creative non-fiction, but the skills you learn can be applied to writing genres of all sorts -- fiction and non-fiction -- as well as stand-up and sketch comedy, cartooning, movie scripts, and more.
Full-blown comedy might or might not be your goal. Perhaps you want to take more serious forms of writing — fiction, feature articles, blog posts, travel writing, children's stories, personal memoirs … even office memos, cover letters, or devilishly sexy personal ads — and sprinkle in some giggles. Whatever genres you write in, this class will help you infuse more laughter into your work.
This course is also wildly useful for people who do any kind of public speaking, who want to keep their audiences awake and riveted to what they are saying.
So come join us in this fun and inspiring (and occasionally weird) workshop, and stretch your comedic potential to cackle-inducing new levels!
Some of the topics we'll cover include:
The universal element present in all humor

Proven tricks to create or strengthen your comedy

Giving your jokes maximum impact with the right words and timing

Stretching your punch lines to make them punchier

Streamlining your phrasing so your punch lines don't get swallowed up in flabby verbiage. (Mastering this skill will make a vast improvement in all of your writing.)

Learning from your favorite professional humorists

When and why to throw away your best joke

Publishing your humor

How to not be that annoying guy at the party with the lampshade on his head
What's Included:
Lots of fun and super-informative video lessons.

Links to lots more videos on YouTube that illustrate specific concepts you've learned. (That's right! You can watch "Saturday Night Live" sketches and a clip from the iconic "Soup Nazi" episode of "Seinfeld" ... and call it studying!

A free e-book of humor essays referenced in the videos

A teacher who's a best-selling author, an award-winning humorist, and a professional writing and life coach who loves helping people become hilarious.
I am utterly positive you will not find a humor writing course of this quality anywhere for such a low price! (And if you disagree after checking it out, Udemy offers a 30-day, no-hassle, money-back guarantee.)
So hey! What are you waiting for? Dive in today and start making people laugh so hard, milk will come out of their noses ... even when they're not drinking milk.

"[Dave Fox is] the best writing teacher I have ever had. Talented, funny, approachable, and structured."
– Leslie in Surrey, England
"Dave Fox is an amazing teacher who will give you online feedback as if you were sitting right next to him."
– Joan in Bakersfield, California
Also check out my other courses on Udemy:
Globejotting: How to Write Extraordinary Travel Journals (and still have time to enjoy your trip!)

Travel Writing: Explore the World and Publish Your Stories

Deep Travel: Have Adventures No Guidebook Can Tell You About

The Writing Mind 1: Defeat Writer's Block & Write Confidently

The Writing Mind 2: Overcome Distractions & Get More Written
Content
How to Write, Think, and Be Funnier
Welcome! (Don't Panic! This is Going to Be Fun!)
Let's Tackle the World's Big Myth About Humor (Yes you CAN learn to be funnier!)
How to Study Humor (Without Slipping Into a Stupor of Drooly Boredom)
Slither Into the Brains of Your Favorite Humorists and Harness Their Brilliance
The Universal Rule for Absolutely Everything That's Funny
Finding Funny: Humor is Everywhere. You Need This Important Tool to Capture It
Welcome to Our Online Comedy Lab!
Comedy Lab: Meet Your Virtual Mentor
Comedy Lab: What's So Funny? (And Why?)
Comedy Lab: Humor Hunting
Free E-Book: "Read at Your Own Risk" (Humor columns referenced in this course)
Section One "Cheat Sheet" Summary: A one-page review of what we've learned.
Set-Ups and Punch Lines
The One-Two Punch: The Two Key Components to Being Hilarious
The One-Two Punch in Action: "Almost Live" and "Saturday Night Live" clips
Punching at the Right Moment: Why Good Jokes Flop -- And How to Fix That
Your Hero Up a Tree: Professional Humorists Use This Formula to Craft Wild Tales
The "Hero Up a Tree" Technique in Action: SNL's "Luvahs in the Hot Tub" sketch
Tweaking Your Words: How Specific Details Can Take You from Bland to Hilarious
Comedy Lab: Rough It!
Section Two "Cheat Sheet" Summary: A one-page review of what we've learned.
Beginnings, Silly Putty, and Endings
Blast Off! - How to Reel In Your Readers Immediately
Dive In!
Shaping Your Hot, Hot Body ... with Silly Putty!
The End: Spiders Down the Drain & How to Take Advantage of Short Attention Spans
Comedy Lab: Stretch Your Silly Putty
Section Three "Cheat Sheet" Summary: A one-page review of what we've learned.
Twelve Techniques for Making Things Funny (And Funnier)
The Twelve Techniques: Your Bag of Tricks to Draw From When Writing Punch Lines
Parallels: The Fine Art of Incongruity
Binky the Rat
Parallels in Action: Eddy Izzard's Death Star Canteen (The Lego Edition)
Takes-of-Three and U-Turns: How to Yank Your Audience Where They Least Expect It
Bad Math: Why Some Numbers are Funnier than Others
The Fine Art of Telling Lies (Dave Barry's Not Making This Up?)
Twisted Interpretations: How to Get Your Readers Naked
Uh-Oh! (How to Build Comedic Tension)
For Better or Worse: Superiority, Inferiority and False Bravado
Superiority in Action: Glove and Boot's "Vertical Video Syndrome"
False Bravado in Action: Stephen Colbert vs. Google
Repetition and Callbacks: Lessons From the Soup Nazi
Repetition in Action: Seinfeld's "Soup Nazi" episode.
Comedy Lab: Punch It Up!
Section Four "Cheat Sheet" Summary: A one-page review of what we've learned.
Tightening and Pacing
Don't Drown Your Jokes! - Why Fewer Words Mean More Laughs
Prune Your Words and Tighten Your Tales for Maximum Impact
Why You Should Always be Willing to Throw Away Your Best Joke
Timing is Everything: How to Use Comedic Pauses in Both Spoken and Written Humor
How to Scream: Crank Up the Volume in Your Punch Lines!
Survival Tips for Public Speakers: What to Do if Your Audience Doesn't Laugh
Comedy Lab: Tighten Up!
Section Five "Cheat Sheet" Summary: A one-page review of what we've learned.
Expose Yourself!
Where, Why, and How to Publish Your Humor
Dot-Comedy: Launching Your Humor Writing Career on the Internet
Publishing Your Humor in Newspapers and Magazines
How to Play the Odds and Get Published
Go Be Funny! This is Your Final Lesson but the Party is Just Getting Started!
Comedy Lab: Polish Your Final Draft
Comedy Lab: Pitch Your Story
Section Six "Cheat Sheet" Summary: A one-page review of what we've learned.
Reviews
The perfect place to learn about humor writing! So many courses teach you to write for stand-up. This class teaches you how to write funny prose. How to write funny for people reading and not listening or watching. I've gone over this class multiple times, and I keep learning. This class is Amazing.
As humour should be, so is the structure of this course: unexpected ways of seeing and writing about things.
Great content presented in an encouraging way! Humor writing can be learned and Dave shows exactly how to get there.
Salomón
September 22, 2022
I took this course because I began a comedy strip series and want it to...not suck. The course blew my expectations away, giving me invaluable lessons in comedy and writing. 1,000% recommend to anyone who wants to improve their humor, and I will be on the lookout for whatever Dave offers next.
I am enjoying it. I am taking my time. It's a lot of information to absorb. That and I am almost a senior citizen.
I had no idea I would be able to lean humor. I have a public presentation in 2 weeks. By listening to this so far, I think it will be possible to interject some humor. I have never done this before. I have envied people that could
I am happy because finally, I went out of a comedy course with stuff that I could use, and it was fun too. Even though I am like not patient, I still was able to watch a course of slideshows and didn't get bored because of the way it was presented. Thank you
The tutor concepts are in simplest form for novice writer. It's Cool ! - Recommend course for those wishing to pursue career in writing.
It seems as though this course was put together, and then forgotten, but still being sold. I came across a broken link and the audio in the last section was messed up. I could have bought a book for the price I paid for the course.
It was fun! Exercises are really helpful. A tip for all, take it slow, you don't need to complete it fast. Enjoy, as you will, the course and have fun with exercises.
Dave does a fine job in explaining the core concepts of joke construction and execution. Although many of his own examples I never found to be (very) funny, I was able to piece together the meaning and intent behind them, as they are never so abstract or too subtle and hard to understand. The course was also somewhat fun in its presentation and informative in regards to looking for work.
I like the technical aspects of this course - the video scripts, the comedy techniques, the narration. The problem is most examples are the author's own work and almost all fell flat with me - not well written, only mildly amusing and lacking inspiration. So, it causes me pause .... are these techniques any good? EDITED. Just dropped the rating another star because I couldn't get a refund. Apparently I watched too much.
Yazeedkamal
December 4, 2020
My friends thought I was joking when I told them that I was watching a joke-writing course But in fact it is something important to every person. The speaker's voice was calm, relaxing, and humorous as well But as an Arab person I followed this course through Google Translate Because I do not know English well, and there are many examples that I did not understand just because I did not belong to the culture of the speaker !! In any case, thank you. I will give the course five stars, and I give the speaker 15 stars.
Short, sweet and funny! I loved the course. It flows easily and it is like an "inception" lesson. He uses the humor writing techniques while he present the humor writing techiques! Loved it!
I thought the course had a lot of useful information. Some of it was obvious to me, but perhaps less so to some others. I didn't laugh once at any of the writer's excerpts from his own work, or any of the humor he injected into the course. However, that's a matter of taste, and obviously he's been very successful. I might love some of his work if I read more. I still think a lot of his ideas were useful.
Charts
Price
Rating
Enrollment distribution
9/20/2014
course created date
11/20/2019
course indexed date