How to VLOG 2023 : Complete Beginners Course +YouTube
How to film, edit, come up with ideas, branding, get views and earn fast! I did it, see exactly how I did here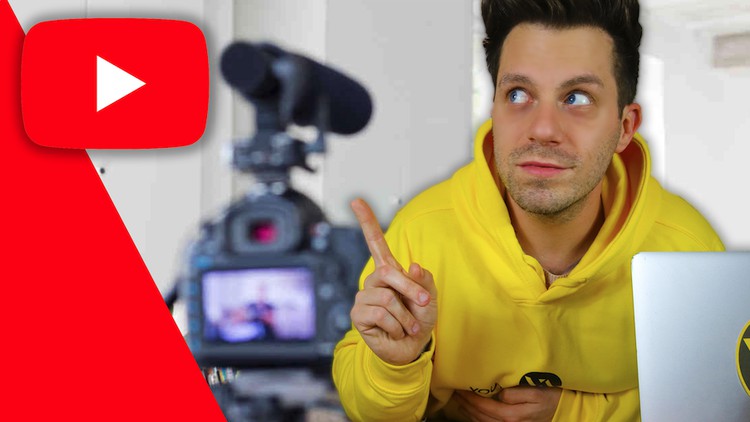 What you will learn
How to Vlog and be a part-time of full time vlogger
How to come up with Ideas for Vlogs
What to vlog about for maximum growth
How to Film Vlogs (with any camera or phone)
Structuring a Vlog
Editing a Vlog
See my analytics from YouTube to see how to grow a vlog fast
How to make money with your vlog
Branding yourself and vlog
Description
This course has everything you need to know about vlogging, from a current vlogger! How to film; plan a video, what's needed in a successful video, come with me filming and editing as well as all the extras of how to create a YouTube channel and your branding.
I have my own channel, i've had two actually and I am constantly testing what works and what doesn't online, trends, video styles, lengths to see which are more successful, which get more views, subscribers and make more money for my channel.
Learn from everything I did and get this hands of course on how to create vlogs and the extras for how to upload and succeed on YouTube or take these learnings for filming, editing, planning and add them to your own site, facebook, instagram or more!
Note: If you have the YouTube Beginner to Pro course by me, the sections in here about how to create a channel are the same. This course is packed with so much for someone looking on how to actually film, edit and plan a vlog, what's needed; and then the how to actually create a successful YouTube channel is extra on this course. This is a one stop course for all vlogging, theoretical and practical... from someone doing it full-time right now!
Content
Introduction
Introduction: Why Me & What You'll Learn in this Course
What is Vlogging Now and Can You Still Do it in 2022?
How to Know What to Vlog About
How to Find What To Vlog About (Trends vs Making Money vs Your Knowledge)
Equipment & You
Basic is Better, it's a Vlog not TV, but...
Cameras
Audio
Lighting
Editing Overview Software (Free & paid)
Presenting and being in front of camera (important and not what you think...)
Your Vlog
Introduction: Your Vlog... think about this..
Branding is Key
Packaging Your Vlogs
Video Style
How to Film a Vlog (overview)
Come & Vlog With Me
Planning Your Vlog (topic and pre-shoot plan)
Come & See Me Vlog & How I Do It LIVE
Editing That Vlog & Music (see me edit and what I do)
Packaging (Title & Thumbnail - SO Important)
See the Final Vlog We Just Made Together
YouTube Specifically (& why use it)
Why Use YouTube Over Other Sites (& Your Options)
How YouTube Works & How It (and You) Make Money
Set Up YouTube Successfully Step-by-Step
Introduction
How to Create a Channel
Channel Art
Channel Description
Channel Layout
Channel Trailer
Setting Up Monetisation (to make money from your videos)
YouTube Layout Explained: YouTube Studio
Your "Packaging" is EVERYTHING! Uploading for Maximum Success
Overview - What are we talking about here?
Titles
Description
Tags
Cards
Endscreen
Thumbnails
Other Social Medias (FB and Instagram)
Time of Day Release is Important!
Uploading a Video step-by-step
Using Your Analytics to Grow
Making Money
Video Views and making money from Ads
Affiliate Links
Selling Products
Sponsored Posts
Reviews
The course starts out slow but when you get to scripting and producing the vlog shots like you said it keeps it interesting . Keeping in mid I have purchase another one of your courses some similar content
Watching the before, during and after - in real time - is such a game changer for me. Now I can totally visualize what I need to do to make interesting vlogs quickly.
defiantly was a good match for me. i really did enjoy every minute of the class. vlogging and editing just got a whole lot interesting.
really good! I skipped forward to section 4 which is seeing the actual filming, the practical, how to plan a vlog, go out film it and edit it, it worth it just for that. Now I am going through the theory at the beginning and it makes so much sense, can see you know what you are talking about
Section 1 was talking and talking. Not much substance. The same topics were repeated again and again in the lecture.
Everything is on point just that I needed to rewind over and over again to understand line. Now taking is difficult but it's good ?
i have been watching dan on youtube on and off for a few years now and to be honest i always found him to be irratating haha, HOWEVER! after watching this course i now know that its a projected character/personality to keep viewers engaged. This course is GREAT, it honest and it extremely well presented! The information is up to date, dan is very transparent and shows in depth prove of earning potential. id recommend this course to anyone thinking about starting a vlog !
Świetny kurs dla osób totalnie zielonych w kwestii prowadzenia kanału na YouTube. Polecam nie marnować czasu i od razu wdrażać wszystko to, o czym mówi DAN. Polecam!
I have just started it as i was introduced to it by a friend of mine and i am liking the courses offered here at Udemy,i am hoping to get wealth of knowledge here Thank you
Dynamic, fast paced course with valuable information for those starting their Youtube journey. A number of tips and hacks that I found useful and will apply to my videos. Great investment considering the price paid. Thanks Daniel :)
Enjoying this course so far. Super engaging and I am learning so much already I had no idea I didn't know....that is when you know your course is amazing. Thank you, I am looking forward to the rest of the course!
great info on making vlogs, and in-depth explanation of starting a youtube channel. Definitely worth the price.
Dan's energy is amazing. It inspires you to make better and better videos. The critical assessment and cheat sheets make it all the more better
Thanks for the YouTube extras. Just seeing you blog on the street makes it clear for me how to do it and film with editing in mind to have a good engaging videos. Thanks for this
So good! The info about YouTube and seeing how to vlog... it's worrying try to think of how to do it but Dan really shows how
Coupons
| Submit by | Date | Coupon Code | Discount | Emitted/Used | Status |
| --- | --- | --- | --- | --- | --- |
| Angelcrc Seven | 4/1/2022 | BDD887A50F40C268C6D8 | 100% OFF | 1000/979 | expired |
| Angelcrc Seven | 4/8/2022 | 967437A289FC9C1C3B82 | 100% OFF | 1000/999 | expired |
| Angelcrc Seven | 4/14/2022 | 2F840DADFD052832D19F | 100% OFF | 1000/878 | expired |
| - | 5/18/2022 | 33DE73929573083DAB84 | 100% OFF | 1000/881 | expired |
| - | 5/25/2022 | 5B8E8F4AB5F3E2622AD8 | 100% OFF | 1000/915 | expired |
| - | 6/6/2022 | D7739F7B18940DD831DB | 100% OFF | 1000/977 | expired |
| - | 6/21/2022 | C0EF367C47F51A6FE92A | 100% OFF | 1000/991 | expired |
| - | 7/12/2022 | 5E3BB76E69EDE75F6305 | 100% OFF | 1000/968 | expired |
| - | 7/21/2022 | CB292BE3B024DA343BCF | 100% OFF | 1000/875 | expired |
| - | 8/2/2022 | D8D3D65FCDBB1256472F | 100% OFF | 1000/999 | expired |
| - | 8/12/2022 | FCBC81D2BA692381B92D | 100% OFF | 1000/974 | expired |
| - | 9/2/2022 | B1009F0B61A2839AA80B | 100% OFF | 1000/871 | expired |
| - | 9/19/2022 | A48E34383E4341BAB804 | 100% OFF | 1000/973 | expired |
| - | 10/5/2022 | D98D3113DB6613B1F687 | 100% OFF | 1000/945 | expired |
| - | 10/13/2022 | 96C099A3294CF841A089 | 100% OFF | 1000/852 | expired |
| - | 10/26/2022 | 5656ADED78BFABF09E7C | 100% OFF | 1000/956 | expired |
| - | 11/7/2022 | AF106528B67719511108 | 100% OFF | 1000/971 | expired |
| - | 11/15/2022 | CA304E31B4B303BA2E31 | 100% OFF | 1000/983 | expired |
| - | 12/4/2022 | D6036E0C782157636681 | 100% OFF | 1000/998 | expired |
| - | 12/18/2022 | E04E33E4D81DB15B8A7F | 100% OFF | 1000/998 | expired |
| - | 1/13/2023 | 8F1F1BC2F865E9ACC0BE | 100% OFF | 1000/981 | expired |
Charts
Price
Rating
Enrollment distribution
3/23/2022
course created date
4/1/2022
course indexed date
Angelcrc Seven
course submited by