How To Trade Order Blocks, Order Flow and Fair Value Gaps
How To Trade Order Blocks, Order Flow and Fair Value Gaps with Qml
Investing & Trading
category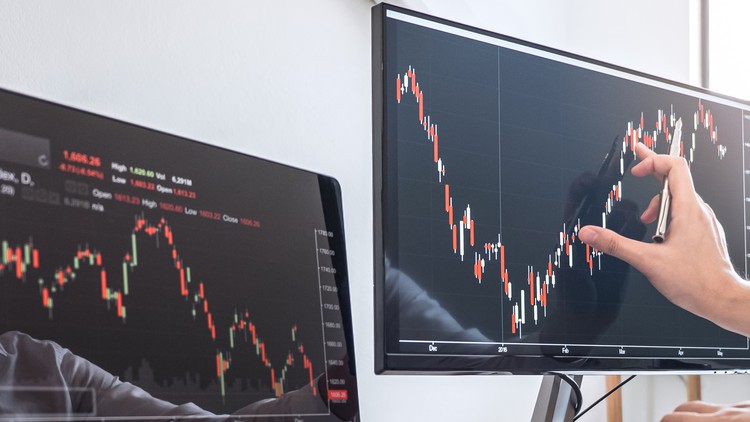 What you will learn
How To Trade Mitigation Block and Breaker
How To Trade Order Blocks, FVG, Liquidity Voids and QML
How to trade advance qml with supply and demand
Order Flow Trading
Swing Trading Strategy
How to trade qml with Ftr
Description
Welcome to our comprehensive trading courses, designed to equip you with the necessary knowledge and skills to excel in the world of trading. Our courses cover a range of essential trading concepts that are vital for success in the financial markets. Whether you're interested in stock market trading, index trading (such as Nasdaq), synthetic index trading (like Vix 75), or forex trading, these concepts are applicable across various trading domains.
The curriculum includes the following key trading concepts:
Order Block Trading Concepts:

Understand the fundamentals of order blocks and learn how to effectively trade them.

Discover strategies to identify and capitalize on order block opportunities.

Mitigation Block and Breaker Trading Concepts:

Gain insights into breaker and mitigation blocks and their significance in trading.

Learn proven techniques to trade these concepts and maximize your profitability.

QML Trading Concepts:

Acquire a deep understanding of QML (Quantitative Market Logic) and its application in trading.

Master the techniques to effectively trade using QML strategies.

Advanced QML Trading :

Explore advanced QML trading techniques, combined Institutional trading | and smart money concepts.

Enhance your trading skills by incorporating both concepts into your strategies.

QML Trading with Order Blocks:

Combine the power of QML and order block trading to gain a competitive edge in the markets.

Learn how to integrate these concepts seamlessly for more accurate and profitable trades.
Our courses have been carefully crafted with passion and dedication to help you on your trading journey. It's important to note that institutional trading concepts differ from retail trading concepts. Therefore, we encourage you to focus solely on institutional trading concepts to avoid confusion and develop a well-rounded understanding of the markets.
Upon completing these courses, you'll emerge as an informed trader, equipped with the knowledge and skills necessary for successful trading. We encourage you to backtest and evaluate the concepts you learn to gauge their effectiveness. Additionally, these trading concepts are applicable across different time frames, allowing you to adapt them to your preferred trading style.
Embark on this educational journey with us, and we wish you a prosperous and fulfilling trading career.
With warm regards,
Ghosttraders
Content
QML Trading Trading Concepts
QML STRUCTURE
Advance QML Trading
Order Block Trading Concepts
What is an Order Block In Forex Trading?
Order Block Entries , SL and Tp
Order Flow Trading
Trading Order Blocks ,FVG ,Liquidity Voids and QML
How To Trade Mitigation Block and Breakers
How To Trade Mitigation Block and Breakers
Reviews
It would have been better if you have used multiple charts rather than sticking to only one pre-made chart
I can not hear the course :( It looks like it might be good but I seriously can not hear anything it is not my sound device as i can hear many other lectures quite well. is is especially quiet on some of the later sections of the course. it would be easy to take the audio files and remaster them by applying a limiter and boosting the gain. the content is good when you can hear it
Simple, uncomplicated way to make easy money from not only forex, but also in any instruments in trading. 5 STAR may be a shortfall of the value in the contents. Just my little input.
I was searching for block order and I got all information here. learnt new concept about trading market. Thank You.
Great content keep it up! Looking forward to pass my prop firm challenge been trading for 3 years now with not much results.
He doesn't even say what QML stands for or how to identify it. He talks about H and HH, L and LL. The QML line is drawn in but no explanation on how to define it. I appreciate the intentions to give this free course. Perhaps those experienced traders can follow along. I can't so I am not going to watch the rest. I bought Pham's course - he assumes you know nothing and gives very clear explanations.
Was searching for this luckily got this for free but content is really worthy. Thank you very much for sharing this course
i cant believe this course is free, so much value and the instructor gets straight to the point no wasting time.i have learned so much more than i did on my paid courses.thank you so much sir.
The best course on order blocks and qml trading that i have taken so far this year.and surprisingly its free;i wish i found this course early before paying $300 for a course that didnt even given me half of what i have gained here,thank you so much man .i recommend this course!!
Charts
Price
Rating
Enrollment distribution
7/15/2022
course created date
7/25/2022
course indexed date
Angelcrc Seven
course submited by