Podcast Storytelling Masterclass
Storytelling is truly one of the most authentic ways to connect with, keep and grow the audience
Social Media Marketing
category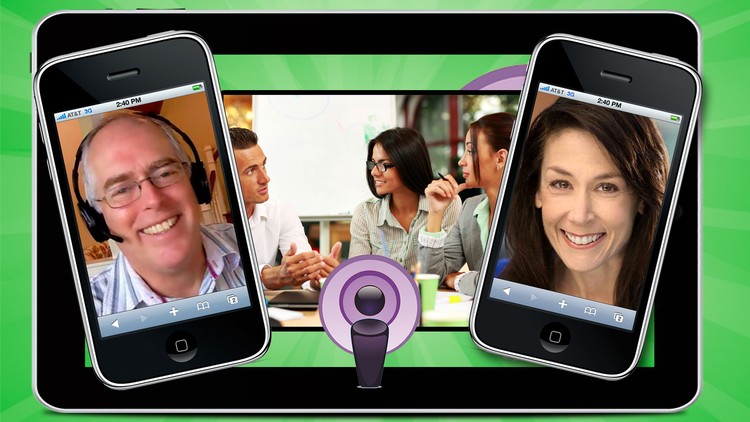 What you will learn
Effectively Use Stories to Engage Your Audience
Description
In Podcast Storytelling Masterclass, we will cover some of the nuances that make your podcast stronger.   The elements for storytelling are specific and dive deep into the actual delivery of the podcast and how to meaningfully connect that material to the audience.   
Stories are how we connect to others.  Storytelling has always been popular but is truly one of the most authentic ways to connect with, keep and grow the audience.  People relate to experiences, good, bad and indifferent.  Facts are not how to engage people, stories are.  But, there are some important elements to know about telling stories in order to maximize their potential in your podcast.  In this section, we'll cover how to really make an impact with your stories. 
In addition, this course covers the element of storytelling and how to why it's important to create stories that resonate with the audience as well as key techniques to help the guest, if an interview podcast, tell stories that the audience relates to. 
Every listener hears the story differently.  Each listener has their own experiential and emotional responses with the imagery you present, and so, each listener imagines and responds to your story in their own unique way.
In this course, you will learn:
Why stories are important
How to use stories in podcasting
How to pick the stories
How to use stories instead of questions in a podcast interview
How to help an interviewee use stories as response instead of simple answers
And much more!
Stories are an important tool to connect with the audience.  In order for stories to be the most effective, it becomes key to select the right story for the audience and include the parts that the listener will resonate with and connect to the most.  Stories are also an incredible tool for interviews and getting the best answers and stories out of a guest on the podcast show.
Tracy and Scott are excited to bring you this course. It will improve your Podcasts and help you connect deeper with your audience as your show grows more popular. 
Content
Introduction
Introduction
Why stories are important
Your Instructors: Scott Paton and Tracy Goodwin
Introduce Yourself
Stories Drive Your Podcast and all Your Social Media
Introduction
How to Use Stories
What Stories Should You Share?
How To Use Stories in Podcast Interviews
Key Phrases to Draw Out the Best Stories in Your Guests
[Activity] Create a List of Relevant Topics
[Activity] Practice Writing Sentences Instead of Questions
Story Quiz
Wrap up
Next Steps
[Bonus Lecture] Continuing Education
Help Your Fellow Students
Join Our Facebook Groups
Reviews
This is forcing me to leave a review much too quickly. My review of just the first 2 sections is, that I haven't learned anything yet, and the hosts are extremely cheesy, like this is a children's show. But hopefully it will get much better.
I am student of Scott Paton and Tracy Goodwin in different courses. Now with my podcast NAPOCAST, for now only in Portuguese, I have applied the techniques I learned with these brilliant teachers. Thank you!
This is a useful course with a lot of great information on story telling for your podcast. Thank you.
Some good information on storytelling for podcasting, but all in all I'd wish the courses to have a bit more structure. It feels more like a podcast as a course. Which perhaps seems to be quite ironic, I know - should a course obout podcasting be more like a course or a podcast... Anyways I'd like it to be more course-like :-)
A lot of the information presented is basic storytelling. There are some good hints and tips buried and would recommend a rewatch to pick out the way the presenters use their own tips in the way they present the course. Some technical editing needs to be tightened, as well as an odd noise which intrudes right at the end of the final lectures. I feel that I dropped in on a conversation rather than sat in on a class. I appreciated the change of voice - it kept me engaged. The fact that over 3000 students were enrolled and there wasn't a single Q&A post 9I posted two) is worrying and might reflect on what others felt about the course.
The content was good. Had a few stops and starts in their conversation. It was interesting that what they taught, how they got their point across, was through their own storytelling. I'll for sure be taking a lot of this through to my own podcast.
Tracy and Scott do a great job of showing how storytelling draws in your audience and connect them. I enjoy their teaching styles and am getting good insights into how stories can work in my podcast.
Coupons
| Submit by | Date | Coupon Code | Discount | Emitted/Used | Status |
| --- | --- | --- | --- | --- | --- |
| Lee Jia Cheng | 2/14/2020 | 48AE9DD31CE04EF02C53 | 100% OFF | | expired |
| - | 4/28/2020 | EXPIRESAPR29 | 100% OFF | 40000/739 | expired |
| Angelcrc Seven | 6/26/2020 | PSMEXPJUNE282020 | 100% OFF | 40000/211 | expired |
| - | 5/20/2022 | PSMEXPMAY242022 | 100% OFF | 1000/974 | expired |
| - | 6/10/2022 | PSMEXPJUN142022 | 100% OFF | 1000/968 | expired |
3/15/2016
course created date
8/1/2019
course indexed date