Speaking on the Telephone: Confidently Speak on the Phone
Tips and tricks to sound comfortable, confident and relaxed on any phone call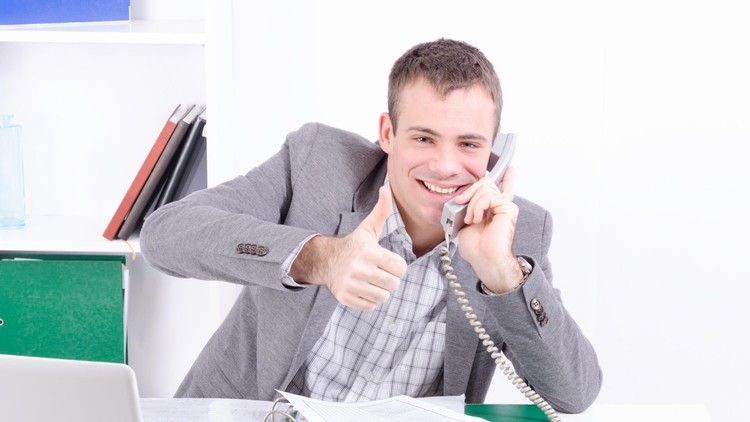 What you will learn
Speak on the telephone with confidence and authority
Communicate effectively on all phone calls
Talk with clarity on calls
Description
Speaking on the Telephone: Confidently Speak on the Phone
Imagine yourself speaking with total confidence and ease, every single time you make a telephone call. You can be relaxed, authoritative and easy to understand on the phone.
In this "How to Speak on the Telephone" class you will learn how to communicate effectively on business calls, teleconferences and other presentations made by phone. You can prepare for important phone calls, just as you would for important speeches or in-person presentations. With proper guidance, anyone can learn how to speak effectively over the telephone.
Imagine that every time you speak on the telephone you know that you sound confident, authoritative and knowledgeable. Wouldn't it be nice to know that people understand you and remember your key messages anytime you speak on the phone?
In this How to Speak on the Telephone course you will learn the following:
* How to sound confident
* How to use notes
* How to rehearse important calls
* How to use your voice effectively
This course is delivered primarily through spoken lectures. Because the skill you are learning is speaking related, it only makes sense that you learn through speaking.
The skill you will learn in this class is not primarily theoretical or academic. It is a skill that requires physical habits. That is why you will be asked to take part in numerous exercises where you record yourself speaking on video, and then watching yourself. Learning presentation skills is like learning how to ride a bicycle. You simply have to do it numerous times and work past the wobbling and falling off parts until you get it right.
This course contains numerous video lectures plus several bonus books for your training library.
TJ Walker has been coaching and training people on their presentation skills for 30 years. Now, through the power of Udemy's online platform, he is able to give you the same high quality training that he gives in person to CEOs, Fortune 500 executives, and Presidents of countries. Only you can now receive the training at a tiny fraction of the normal fee for in-person training.
How long this course takes is up to you. The longest part of the course involves you speaking on video, critiquing yourself, and doing it over until you like it. But if you get to the point where you love how you look and sound when you present it will be well worth the time spent. And having this skill will save you time for all future presentations in your life.
You can begin improving your presentation skills right now. You may have an opportunity to speak out as soon as tomorrow, so why waste another day worried that your presentation skills are not up to high standards. Please enroll today.
Sign up today for this course today.
Course updated on July 28, 2015
There is a 100% Money-Back Guarantee for this course. And the instructor also provides an enhanced guarantee.
TJ Walker has more than 100,000 courses enrollments from more than 14,000 online students around the globe.
Content
Speaking on the Telephone Will Become Easy
You Will Become Great on the Phone
Please Introduce Yourself
7 Steps For Getting the Most Out of this Course
Here is How to Assess Exactly What You are Doing Right and Wrong
Audit
Cold Calls Don't Work But...
Instantly Sound Better By Never Using Speaker Phones
Practice
Record Your Own audio
Assignment: Testing Your Communication To Make Sure It Works.
Exciting New Update to this Course
Multiple Rehearsal in Audio
Strangers
Friends
Using Notes
Stand and Smile
Voicemail
Uh and Um
Practice Every Time
Housekeeping Matters
Your Questions Will Be Answered Here, In Video
Who is TJ Walker?
Bonus Update - You Should Get on the TikTok App Now
Conclusion
Time to Give TJ a Piece of Your Mind
Conclusion
Final Bonus Lecture: Huge Discounts on Other TJ Communications Courses
Reviews
I was hoping this course would have included, customer service calls. How to sound helpful and professional when taking calls from customers. The course material is also a bit dated. IE: Tik Toc is described as a "NEW" social media platform that everyone should use.
It would be better .. if you share some voice modulation or examples for which a person/ client feels more connected or shows interest in us.
Solange
September 20, 2022
Oui,cela correspond à mes attentes.J'ai appris de nouvelles choses qui m'aiderait à mieux communiquer avec mon entourage.
TJ rocks! Here he made me learn and practice good reharsal for all types of phone calls, also the nasty ones... Great course, thanks!
Amazing course ..we need this course .Though we are very good in tech skills ,but sometimes we face challenges while talking in phone. Thanks Tj for making this course Srilaxmi
Thank you for providing such a good study course and help understand the basics and also provide good relevant contents for better clarity.
I have found this course extremely useful to help to improve communication to patients. I have already started to practice the tips given by TJ Walker for recording the voice and critique yourself. I would like to thank TJ Walker for all the efforts he has put in for this extremely useful course.
helped me a lot to understand my previous mistakes, and to understand how can i fix them in the future
Very good tips and advice. I'll definitely be implementing what I can to help increase my confidence on the phone.
I thought the speaker was on spot with the examples he was giving for the listeners. He had great points about what you needed to do and how to go about teaching yourself how to be a better speaker.
I doubt many would actually record themselves and will probably skip this suggestion. A bit cheesy but overall good.
It is a bit more general than I expected. I expected more straight forward things eg. SMILE when you talk, stand up eg.
Well presented by TJ and gets to the point. Really helpful practical advice. Highly recommended. 10/10
I really enjoy taking TJ's courses. He is very well spoken and verbalizes many of the questions that we wonder about when it comes down to actually doing the deed (speaking on the phone). He has some very good advice. Now all I got to do is follow it! :/
Jonathan
November 23, 2015
...you were right TJ, I do not enjoy listening to myself speak. However, your suggestion of recording yourself speaking certainly helps. The course was to the point with very useful information.
Coupons
| Submit by | Date | Coupon Code | Discount | Emitted/Used | Status |
| --- | --- | --- | --- | --- | --- |
| - | 4/19/2020 | SPIICCC | 100% OFF | 40000/7906 | expired |
| - | 10/12/2020 | 5AC1E25FA51719009AD1 | 100% OFF | 40000/2713 | expired |
| - | 12/24/2020 | 2B0819822AB3AFC2D4B6 | 100% OFF | 40000/2603 | expired |
| SADBOY | 1/14/2021 | 2D0B713E2482A34519E2 | 100% OFF | 40000/4269 | expired |
| - | 2/8/2021 | E19A88C4F74E5E6F064D | 100% OFF | 40000/4903 | expired |
| Ignacio Castro | 5/27/2022 | 9B4D676F23ADACF39032 | 100% OFF | 1000/924 | expired |
| - | 8/29/2022 | 10BC48ACC1CC2C9A347B | 100% OFF | 1000/943 | expired |
| - | 8/31/2022 | 3A34147A9CCD321A6349 | 100% OFF | 1000/961 | expired |
| - | 10/25/2022 | 6F83BEC37D05DC237215 | 100% OFF | 1000/862 | expired |
| - | 11/1/2022 | E962EEB2740B69A0270B | 100% OFF | 1000/601 | expired |
| - | 11/15/2022 | ABA4C99F2A6454E18CB0 | 100% OFF | 1000/988 | expired |
| - | 11/28/2022 | CEE174B1D12682621E69 | 100% OFF | 1000/994 | expired |
| - | 12/8/2022 | 3118C82B603D75253BDA | 100% OFF | 1000/293 | expired |
| - | 12/25/2022 | 804F67CDCE2A5B2B970A | 100% OFF | 1000/656 | expired |
| - | 12/30/2022 | B38CF4741BEB6B1280BF | 100% OFF | 1000/582 | expired |
| - | 1/7/2023 | THANKS023 | 100% OFF | 1000/930 | expired |
| - | 1/24/2023 | B5CE71E21F65BE9BA8EE | 100% OFF | 1000/461 | expired |
| - | 1/31/2023 | DD5E70B6F4AAC0AC9495 | 100% OFF | 1000/398 | expired |
| Angelcrc Seven | 3/6/2023 | THANKS004 | 100% OFF | 1000/975 | expired |
| - | 5/12/2023 | 2B5EB378EA272F678962 | 100% OFF | 1000/225 | expired |
| - | 5/19/2023 | 6740F10DE3105FFE4250 | 100% OFF | 1000/193 | expired |
| - | 6/15/2023 | 3C427CBA0B5A7DA8FCC9 | 100% OFF | 1000/347 | expired |
| - | 6/27/2023 | 81C9CCC6D2CE5934EAC7 | 100% OFF | 1000/250 | expired |
| - | 7/19/2023 | E724C98707ACA28A33D6 | 100% OFF | 1000/286 | expired |
| - | 7/31/2023 | 4BF06838E4A64225C2A9 | 100% OFF | 1000/842 | expired |
| - | 8/10/2023 | 30F75948F5958CDE1EDC | 100% OFF | 1000/334 | expired |
| - | 9/18/2023 | 31A6848ECAD0CDFBD792 | 100% OFF | 1000/236 | expired |
| - | 9/24/2023 | 80B2F67D89CA8DF8B552 | 100% OFF | 1000/148 | expired |
| - | 10/15/2023 | D702A2F6B88ECA65FBC9 | 100% OFF | 1000/537 | expired |
| - | 11/19/2023 | D075E227D9DCDA5196A3 | 100% OFF | 1000/525 | expired |
Charts
Price
Rating
Enrollment distribution
11/12/2014
course created date
4/19/2020
course indexed date