Media Training -Radio: How to Speak Effectively on the Radio
Media Training: You can speak effectively and with confidence on any talk radio or news radio program
Career Development
category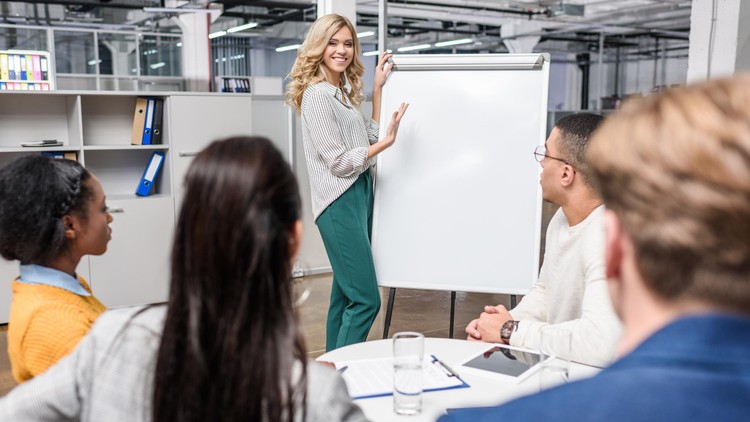 What you will learn
Speak and present on the radio
Be interviewed on radio
Appear on talk radio and news radio interview programs
Speak in memorable sound bites
Description
Media Training for radio appearances. Imagine yourself speaking confidently and authoritatively on any radio program, whether you are the host or the guest.
How to Speak on Radio
In this "How to Speak on Radio" Media Training course you will learn how to talk effectively and be interviewed on a news or talk radio program. Speaking on the radio is a form of public speaking and most people fear public speaking. This course will help you come across your very best in every interview, so you won't have to worry about whether you sound nervous or uncomfortable. Students will learn about the following items:
1. Messaging
2. Sound bites
3. Differences between TV and radio
4. How to deal with difficult hosts
5. Ins and outs of talk show callers
6. ways of getting invited back on the program.
7. How to sell or promote on every talk show appearance.
TJ Walker has hosted talk radio shows on 7 different national networks and has been a guest on more than 2000 news talk radio programs. He has also conducted Media Training sessions around the globe for authors and experts about to go on radio tours.
Enroll in this Media Training course today.
There is a 100% Money-Back Guarantee for this course. And the instructor also provides an enhanced guarantee.

"5 Stars! I'd recommend this course to any of my clients going on the radio. If you follow TJ's tips, you'll ace every interview!" Dan Janal President PR LEADS
What others say:

"TJ Walker's single-minded devotion to presentation has made him the #1 expert for executives seeking guidance on speaking to the public and media." Bob Bowdon, Anchor/Reporter, Bloomberg Television
"TJ Walker is the leading media trainer in the world." Stu Miller, Viacom News Producer
(TJ Walker's Media Training Worldwide) "The world's leading presentation and media training firm."Gregg Jarrett, Fox News Channel Anchor
Content
You Have a Voice for Radio
Be a Star Guest for Any Radio Interview
Knowing Exactly What You Want Before Every Radio Interview
Please Introduce Yourself
You Will Create Winning Media Messages
Creating Messages That are Important and Interesting to You, Host and Audience
Mastering the Art of the Sound Bite
Becoming A Good Guest
Using Phones the Right Way
Assignment: Testing Your Communication To Make Sure It Works
Exciting New Update to this Course
Studio versus Phones
Ready for Attacks
Advanced Tip Promo
Practicing your Interview Skills
1st Rehearsal
2nd Rehearsal
3rd Rehearsal
Air Checks
Conclusion
Conclusion
Time to Give TJ a Piece of Your Mind
Housekeeping Matters
Who is TJ Walker?
Bonus Update - You Should Get on the TikTok App Now
$10,000 Guarantee This Course Will Make You a Better Communicator
Your Questions Will Be Answered Here, In Video
Bonus Reading
Media Training A to Z
Media Training Success
1001 Ways to Wow
Final Bonus Lecture: Huge Discounts on Other TJ Communications Courses
Reviews
I really enjoyed this course. The program in media offered me momentum to continue studies in this field. I would like to see more of TJ's videos and share his expertise: Announcing, how to refine one's voice, what to practice with voice training. How to write a script. Where can I obtain script examples? Also I am interested in podcasting. Will TJ cover some topics on podcasting? Thank you so much!
So far, I have gained information that is pertinent to my learning objectives. It's a great, straight to the point course
Excellent trainer and expert of the field, T.J. Walker is powerful and great in passing enthusiasm for excercise and you see immediate results if you do what he asks. Excellent indeed, highly recommended. Thanks T.J. your time is really valuable.
TJ Walker's training is really good. I am a radio presenter and even though this course seemed to be more focused on a person going for an interview there are tips that will definitely improve my presentation skills
I'm sorry, but this was way more basic than the topic titles suggested. I was looking for real tools of the trade. This was more of a "So you wanna be on radio? Here's a glimpse!" I don't mean to be glib about it. It's just that I have books that say the same thing. Most people with a heart for radio -whether they've done it before or not - picked up most of what was said here, just by being an avid listener - to radio and people. - Sorry.
I'd recommend this course to any of my clients going on radio. If you follow TJ's tips, you'll ace every interview! Dan Janal President PR LEADS
Coupons
| Submit by | Date | Coupon Code | Discount | Emitted/Used | Status |
| --- | --- | --- | --- | --- | --- |
| - | 4/27/2020 | PEEK10 | 95% OFF | | expired |
| Lee Jia Cheng | 5/19/2020 | 2A5194DBAD764ABA8E24 | 100% OFF | 40000/5066 | expired |
| - | 10/29/2020 | 455D2FA6B100BA01CD9D | 100% OFF | 40000/2810 | expired |
| - | 11/23/2020 | E3FF43825C69687C9188 | 100% OFF | 40000/2642 | expired |
| Angelcrc Seven | 12/8/2020 | EBD4EC3C48829A6E69A9 | 100% OFF | 40000/1402 | expired |
| SADBOY | 1/14/2021 | 2287E60F7054409A69BC | 100% OFF | 40000/3422 | expired |
| Ignacio Castro | 5/26/2022 | 86500133986321B5A185 | 100% OFF | 1000/972 | expired |
| - | 8/29/2022 | A5FEB8B66F9FA3E6B2C3 | 100% OFF | 1000/983 | expired |
| - | 10/12/2022 | 6B6A3BE4F9886C5DDC2B | 100% OFF | 1000/823 | expired |
| - | 11/2/2022 | 49C396369671011B2EEA | 100% OFF | 1000/355 | expired |
| - | 7/22/2023 | AD38877B225157E9B438 | 100% OFF | 1000/724 | expired |
| - | 8/19/2023 | 9207AB242B7AD285C8E9 | 100% OFF | 1000/262 | expired |
| - | 8/27/2023 | C0C9B605E06ED1186471 | 100% OFF | 1000/315 | expired |
| Muhammad | 9/11/2023 | 54D525D845B343975206 | 100% OFF | 1000/645 | expired |
Charts
Price
Rating
Enrollment distribution
11/19/2014
course created date
4/27/2020
course indexed date