Conference Calls-You Can Present Well On Any Conference Call
You can present information in an interesting, memorable and engaging manner on all teleconferences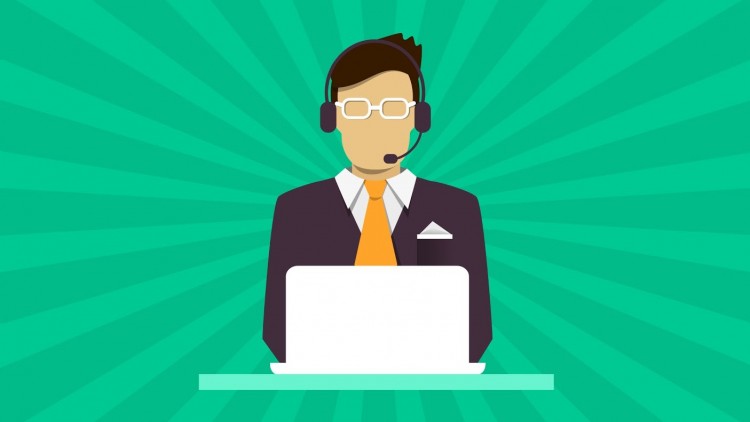 What you will learn
Present on conference calls
Present forcefully and confidently on telephone calls
Speak effectively on conference calls
Description
Conference Calls-You Can Present Well On Any conference Call
Imagine knowing that you can be great every time you present on a conference call. Wouldn't it be comforting to know that you have the ability to make people understand you and remember your key points anytime you give presentations on conference calls?
In this "How to Present on Conference Calls" course you will learn many practical tips, plus dos and don'ts on how to speak effectively in telephone meetings. Teleconferences can seem deceptively easy and yet it can be hard to present in a way that captures and keeps attention from all the participants. Speaking on the telephone presents unique challenges, i.e., you can't see your audience or if they are paying attention. But teleconferences remain an important part of most organizations' communication procedures.
This course is structured around a series of lectures. The trainer is speaking to you and asking you to record yourself speaking in mock conference call exercises. learning how to speak more effectively can only be done by speaking more and by listening to yourself.
In this course you will learn the following:
* Common conference call blunders to avoid.
* Best practices for preparing to present on conference calls.
* How to keep listeners engaged to your call, even when you can't see your audience.
* How to use notes effectively while on a conference call.
Why wait any longer? You may have an opportunity to speak on a conference call as soon as tomorrow. so why not do what it takes now so that you will be great for your next presentation opportunity.
Your trainer, TJ Walker, has been coaching executives how to present more effectively on conference calls for decades. Now, for the first time, you can receive the same training he gives to Fortune 500 executives and world leaders, but at a small fraction of the price.
Content
You Can Be As comfortable Presenting on Conference Calls As Talking to Your Best
Get Your Audience to Do Exactly What You Want Them to Do
Sound Twice as Engaging By Never Using Speaker Phones
Please Introduce Yourself
Selecting Winning Messages
Examples
Notes
Make Your Audience Love You By Engaging Them
Assignment: Testing Your Communication To Make Sure It Works.
Exciting New Update to this Course
The Foolproof Methods of Eliminating Nerves Before A Conference Call
Tips for Becoming a Great Phone Presenter
Audio Record
More Record
Peer Feedback
Listen to Your Conference Call
Housekeeping Issues
7 Steps For Getting the Most Out of this Course
Who is TJ Walker?
Your Questions Will Be Answered Here, In Video
Conclusion
Conclusion
Time to Give TJ a Piece of Your Mind
Bonus
Bonus Update - You Should Get on the TikTok App Now
More on Presentation Goals
More on Telling Stories
Bonus Reading
Secret to Foolproof Presentations
Final Bonus Lecture: Huge Discounts on Other TJ Communications Courses
Reviews
By attending this course I have learnt a lot about presenting well on Conference call it will definitely help me to polish my skills
90% of the content is either waffle or some kind of promotion for other services/products. Very little useful advice. Felt quite dated.
Some tips are like reminding me not to do this and not to do that. Teacher is really friendly and English usage is good to understand to us.
I am enjoying this course so far. Looking forward to finishing it. I love how simple the videos are and they focus on one main topic. It is easier to write down the answers in the Q and A session and I did not see the link to the Facebook group that is set up for this course. Could you post that someplace? Thanks so much for doing this course, TJ.
I really like the tips for the conference call. I feel that the previous points could be completed in one 15 min video.
I learned to be more confident and have a story to tell so it could be referenced to the point I am presenting.
Based on what I covered in this course, it has been really informative, considering I have to take part in conference calls and sometimes have to even present during the call.
I believe the tips are good, but I'd suggest illustrating them with more practical examples so that we can have a reference. Like for the 3 statements to get the message across the audience, for instance. There could be some kind of case study (like call for introducing or presenting an overall status of a project) to guide the whole tutorial, even bad examples. Besides, the background of the video calls more attention than the presenter. I'd rather see no blinking screens behind him. When I saw it, I thought the presenter was some kind of TV presenter or journalist.
It pointed out general things valid for each call. Remembering it will help to get better performance in those calls.
I haven't seen any groundbreaking advice so far. The one about not using a speaker phone is odd, it's most times unlikely that you can leave your team and do the call in another room, especially if you are with the client.
Enlightening. I would get rid of the distracting background as it detracts from the. speaker. For Teleconferencing, they recommend no quick motions
Coupons
| Submit by | Date | Coupon Code | Discount | Emitted/Used | Status |
| --- | --- | --- | --- | --- | --- |
| Lee Jia Cheng | 4/12/2020 | KAMONLY | 100% OFF | 40000/6496 | expired |
| Lee Jia Cheng | 5/10/2020 | 7A70202323C3820BCA0F | 100% OFF | 40000/4668 | expired |
| Lee Jia Cheng | 6/17/2020 | F1DBACFDABAE8F7AFA70 | 100% OFF | 40000/2779 | expired |
| - | 9/10/2020 | F1426BC821D2A9F58628 | 100% OFF | 40000/2329 | expired |
| - | 10/12/2020 | 4CB7AFF61C50EB0BA0FB | 100% OFF | 40000/2528 | expired |
| - | 12/1/2020 | 2899D68DAA261F02A6A7 | 100% OFF | 40000/1353 | expired |
| - | 12/24/2020 | DC27FE2000F2F82C37C5 | 100% OFF | 40000/1543 | expired |
| - | 1/19/2021 | 3962F0D991E304A9214E | 100% OFF | 40000/1609 | expired |
| - | 2/8/2021 | AD389D4747B6C5ED1EF7 | 100% OFF | 40000/2549 | expired |
| Ignacio Castro | 5/27/2022 | 0FF864F315F7C1AAE57C | 100% OFF | 1000/974 | expired |
| - | 7/29/2022 | 7390EB17AFFDABF7223D | 100% OFF | 1000/929 | expired |
| - | 11/8/2022 | B1C58AD6C1B26F209B57 | 100% OFF | 1000/943 | expired |
| - | 11/12/2022 | F926A0731D825B3EB35C | 100% OFF | 1000/994 | expired |
| - | 11/28/2022 | 822F8C5E0E5C29CD7998 | 100% OFF | 1000/881 | expired |
| - | 12/8/2022 | 69FEA4EBE107BF6F4B56 | 100% OFF | 1000/220 | expired |
| - | 12/25/2022 | DF5A0DA3AA375BE5C3FA | 100% OFF | 1000/362 | expired |
| - | 12/30/2022 | D84953CF09C9D0DEFD04 | 100% OFF | 1000/574 | expired |
| - | 1/10/2023 | THANKS009 | 100% OFF | 1000/983 | expired |
| - | 1/24/2023 | ECCF2327A098D6A122F2 | 100% OFF | 1000/347 | expired |
| - | 1/31/2023 | 9424330CC430C341BD7B | 100% OFF | 1000/256 | working |
Charts
Price
Rating
Enrollment distribution
11/11/2014
course created date
4/12/2020
course indexed date
Lee Jia Cheng
course submited by