Communication Skills: Be a Star Presenter on a Panels
Communication Skills - How to convey confidence and be memorable. You can be the star of every panel.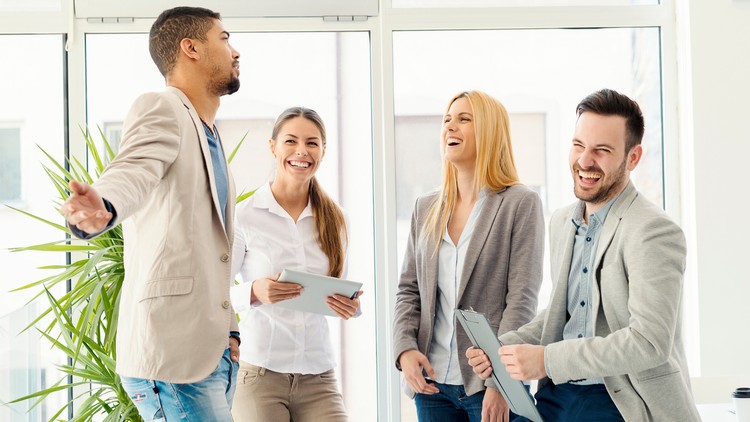 What you will learn
Present effectively on a Panel Group
Speak equally well sitting or standing
Rehearse effectively for panel presenations
Appear confident and relaxed when speaking on a panel
Description
Communication Skills are critical to career success. Imagine that you are captivating an audience of your peers while speaking on a panel at a leading industry conference. Wouldn't it be great to know that you can be compelling and memorable, regardless of whether you are giving a keynote speech or speaking for just five minutes on a panel discussion?
In this How to Present on a Panel Communication Skills course, you will learn the following:
* How to avoid the common pitfalls most executives fall into when speaking on a panel
* How to be understandable and memorable when speaking on a panel
* How to prepare and rehearse for a panel discussion
* How to stand out from the other panelists (in a positive way)
*How to display strong Communication Skills in any forum
This Communication Skills course is delivered primarily through spoken lectures. Because the skill you are learning is speaking related, it only makes sense that you learn through speaking.
The Communication Skills you will learn in this class are not primarily theoretical or academic. These are skills that require physical habits. That is why you will be asked to take part in numerous exercises where you record yourself speaking on video, and then watching yourself. Learning presentation skills is like learning how to ride a bicycle. You simply have to do it numerous times and work past the wobbling and falling off parts until you get it right.
This Communication Skills course contains numerous video lectures plus several bonus books for your training library.
TJ Walker has been coaching and training people on their Communication Skills for 30 years. Now, through the power of Udemy's online platform, he is able to give you the same high quality training that he gives in person to CEOs, Fortune 500 executives, and Presidents of countries. Only you can now receive the training at a tiny fraction of the normal fee for in-person training.
How long this course takes is up to you. The longest part of the course involves you speaking on video, critiquing yourself, and doing it over until you like it. But if you get to the point where you love how you look and sound when you present it will be well worth the time spent. And having this skill will save you time for all future presentations in your life.
You can begin improving your Communication Skills right now. You may have an opportunity to speak out as soon as tomorrow, so why waste another day worried that your presentation skills are not up to high standards. Please enroll today.
There is a 100% Money-Back Guarantee for this course. And the instructor also provides an enhanced guarantee.

What others say:

"TJ Walker's single-minded devotion to presentation has made him the #1 expert for executives seeking guidance on speaking to the public and media." Bob Bowdon, Anchor/Reporter, Bloomberg Television
"TJ Walker is the leading media trainer in the world." Stu Miller, Viacom News Producer
(TJ Walker's Media Training Worldwide) "The world's leading presentation and media training firm."Gregg Jarrett, Fox News Channel Anchor
Content
You Can Be a Great Presenter in Panel Discussions
Never Blunder the Way Most Panelists Do
Master the Ground Rules So You Will Shine
Please Introduce Yourself
Communicate Effectively By Focusing on Your Top Three Messages
Become the Master of the Short Story
Assignment: Testing Your Communication To Make Sure It Works
Exciting New Update to this Course
Other Tips to Make You Great - Sitting Standing Notes
Practice for Maximum Benefit and Minimum Time
1st Video Rehearsal
2nd Video Rehearsal
3rd Video Rehearsal
Send Video to Others
Look at Panelists
Record Actual Presentation
Building Your Long-term Reputation as a Star Paneilist
Conclusion
Time to Give TJ a Piece of Your Mind
Housekeeping Matters
7 Steps For Getting the Most Out of this Course
Who is TJ Walker?
Bonus Update - You Should Get on the TikTok App Now
$10,000 Guarantee This Course Will Make You a Better Communicator
If You Like to Learn by Reading
Your Questions Will Be Answered Here, In Video
Bonus Reading
Secret to Foolproof Presentations
Public Speaking Success
1001 Ways to Wow
Final Bonus Lecture: Huge Discounts on Other TJ Communications Courses
Reviews
An excellent and comprehensive course on very important points and qualifies you for the field The way of explanation is easy and fun and the examples are excellent
I actually enjoyed the course because most of the things we see as being unnecessary were being listed and outlined here. Personally have discovered some net techniques on how to give a perfect speech with my audience flowing with me.
thank you for the smallest information you've been told through your lecture I'm learning hoping to finish oll of your courses thank you
Thank you for the leaf's advice. Now I know how to do the next presentation even if I know no notes are better than have notes.
very nice. because his lecture presentation and communication is very well. definitely helpful for me. thank you so much
It was insightful. I did learnt a lot from the season and putting them into practice, wont just make me a good speaker but also a better version of performance
I learnt log of things through this course!! This course is very effective in professional sector. Thank you
The points are quite adaptable. I really love the idea of preparing vedios and judging yourself to be better.
Yes, It is a good experience for me. And about sessions, it is very informative sessions. I'm giving 4.5 stars because some words pronunciation is not well good or I'm not good to hear. Thank you for these sessions or such free course.
Yeahh its a very good course through which i have learn lot of new things in a very short perid of time ..which im sure benifit me in my future
It was an interesting lecture. No doubt my communication skill has been upgraded. I have downloaded TikTok as recommended and will start posting short videos of my speech.
Dhananjay
December 17, 2018
I love TJ's courses. I have subscribed to a few and each one is either filling my knowledge gap or helping me to hone my skill of public speaking and related communications.
This is probably the course on Udemy I finished the fastest (and yes, I did record myself three times etc. as TJ Walker instructed us to). I like how it was comprehensive and helpful without wasting precious hours and hours of time. While I still feel nervous about public speaking, I did notice I no longer say "uh" and "um" when giving my presentation. Thanks!
Coupons
| Submit by | Date | Coupon Code | Discount | Emitted/Used | Status |
| --- | --- | --- | --- | --- | --- |
| Lee Jia Cheng | 5/27/2020 | 59BC0663EDF335ACBD07 | 100% OFF | 40000/13849 | expired |
| - | 7/1/2020 | 090C82553BCFB1DF8C3E | 100% OFF | 40000/8728 | expired |
| - | 11/2/2022 | 1A54C3177E09FE82929E | 100% OFF | 1000/985 | expired |
| - | 11/3/2022 | F9751F4A866DFE0AB787 | 100% OFF | 1000/214 | expired |
| - | 11/27/2022 | 5440631BE61E8DA6E7B3 | 100% OFF | 1000/985 | expired |
| - | 12/10/2022 | 7FD77F5A20CBEE202FA2 | 100% OFF | 1000/987 | expired |
| - | 12/16/2022 | 29ABF685487B04A1B885 | 100% OFF | 1000/817 | expired |
| - | 12/28/2022 | C9F9DA2F8C963B209DDC | 100% OFF | 1000/423 | expired |
| - | 1/30/2023 | THANKS030 | 100% OFF | 1000/969 | expired |
Charts
Price
Rating
Enrollment distribution
12/4/2014
course created date
3/12/2020
course indexed date
Lee Jia Cheng
course submited by