Wedding Speech: You Can Give a Fantastic Wedding Speech
You can give an effective and memorable speech on that Big Day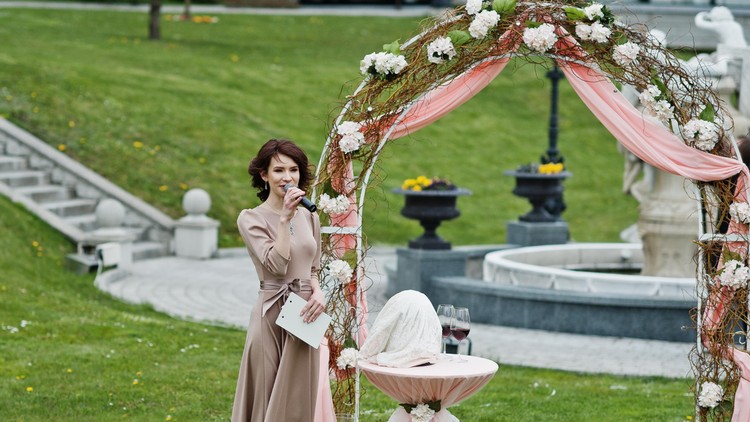 What you will learn
Give a Father of the Bride Speech
Give a Mother of the Bride Speech
Give any Wedding Speech
Give a Maid of Honor Speech
Give a Best Man Speech
Description
Wedding Speech: You Can Give a Fantastic Wedding Speech
Imagine that you are giving a speech on that big day and everyone is paying close attention. You are fun, funny, relaxed, memorable and everyone is hanging on to your every word.
This can be you!
How to Give a Wedding Speech In this "How to Give a Wedding Speech" course you will learn how to come across as comfortable, confident, and relaxed for any speech or presentation you have to give at a wedding or wedding rehearsal dinner. Weddings can be stressful times. This course will take the stress out of speaking in front of family and friends about an emotional and joyous moment in life. This course will teach you how to speak effectively for any of the following situations: Father of the bride speech Mother of the bride speech father of the groom speech Mother of the groom speech Groom speech to Bride Bride speech to Groom Best Man speech Maid of Honor speech.
Imagine giving a wedding speech where everyone is awed by your wit, charm, and confidence. Wouldn't it be nice to know you can speak effortlessly in front of friends and family to commemorate such an important day?
In this How to Give a Wedding Speech Course you will learn the following:
*How to appear confident and relaxed
*How to structure your speech
*How to remember what to say when you are nervous
*How to tell stories
*How to use notes without looking like you are reading
This course is delivered primarily through spoken lectures. Because the skill you are learning is speaking related, it only makes sense that you learn through speaking.
The skill you will learn in this class is not primarily theoretical or academic. It is a skill that requires physical habits. That is why you will be asked to take part in numerous exercises where you record yourself speaking on video, and then watching yourself. Learning presentation skills is like learning how to ride a bicycle. You simply have to do it numerous times and work past the wobbling and falling off parts until you get it right.
This course contains numerous video lectures plus several bonus books for your training library.
TJ Walker has been coaching and training people on their presentation skills for 30 years. Now, through the power of Udemy's online platform, he is able to give you the same high quality training that he gives in person to CEOs, Fortune 500 executives, and Presidents of countries. Only you can now receive the training at a tiny fraction of the normal fee for in-person training.
How long this course takes is up to you. The longest part of the course involves you speaking on video, critiquing yourself, and doing it over until you like it. But if you get to the point where you love how you look and sound when you present it will be well worth the time spent. And having this skill will save you time for all future presentations in your life.
You can begin improving your presentation skills right now. You may have an opportunity to speak out as soon as tomorrow, so why waste another day worried that your presentation skills are not up to high standards. Please enroll today
There is a 100% Money-Back Guarantee for this course. And the instructor also provides an enhanced guarantee.

Content
Celebrate the Big Day With a Few Words
Don't Overthink This! Just Spotlight the Joyous Couple
Please Introduce Yourself
Make Your Message One of Joy and Happiness
Here is the One Special Thing About the Bride or Groom
Be Lazy, Just Tell A True Story
What Not to Do
Booze It Up, But Only After Your Speech
Focus on Bride and Groom
Assignment: Testing Your Communication To Make Sure It Works.
Exciting New Update to this Course
Practice Just a Little
It's OK to Use a Cheat Sheet
Video Rehearsal
More Video Rehearsal
Feedback from Others
Conclusion
Conclusion
Time to Give TJ a Piece of Your Mind
Other Housekeeping Matters
7 Steps For Getting the Most Out of this Course
Who is TJ Walker?
Your Questions Will Be Answered Here, In Video
Bonus
Stories
Bonus Update - You Should Get on the TikTok App Now
Bonus Reading
Secret to Foolproof Presentations
Public Speaking Success
1001 Ways to Wow
Students Questions Answered by TJ in Video
Best way to NOT cry when delivering a wedding speech?
More Tips for wedding speeches
Final Bonus Lecture: Huge Discounts on Other TJ Communications Courses
Reviews
I love every bit of this. I love T.J. Walker's poise and confidence. I love his clarity and the way he presented his teachings. They are etched in my memory already.
Exceeds expectations. Much more than wedding speeches. It is about making good speeches and communicating better
I had to give a speech in my friend's wedding, and was terrified. I'm not going to say I made a stellar performance, but I got through it, which for me is pretty big. And this class made that happen, as it gave a fairly easy guide to what to say and how to say it. Really helpful, thank you!!
Coupons
| Submit by | Date | Coupon Code | Discount | Emitted/Used | Status |
| --- | --- | --- | --- | --- | --- |
| Lee Jia Cheng | 5/19/2020 | CBB0F1AC485CE066A31A | 100% OFF | 40000/3487 | expired |
| Lee Jia Cheng | 6/21/2020 | FBF10D77A2FAADE05FA9 | 100% OFF | 40000/4109 | expired |
| - | 11/26/2020 | D8F90EB0521B445BBD97 | 100% OFF | 40000/1974 | expired |
| Angelcrc Seven | 12/14/2020 | 029D65E6C8A5B29434E2 | 100% OFF | 40000/1776 | expired |
| - | 12/24/2020 | 3D0C7C93514725F133EE | 100% OFF | 40000/1055 | expired |
| - | 2/15/2021 | 7AB8DEAF4FCDFB13BFF4 | 100% OFF | 40000/2175 | expired |
| - | 8/29/2022 | AD15149BEBBFAF624A6A | 100% OFF | 1000/987 | expired |
| - | 10/24/2022 | 705645822561A13FF03D | 100% OFF | 1000/892 | expired |
| - | 11/5/2022 | E176001C400A57D7575E | 100% OFF | 1000/400 | expired |
| - | 11/12/2022 | 13917720A65D3ED1EE80 | 100% OFF | 1000/439 | expired |
| - | 12/8/2022 | 5D9C67EC59D0CE5DAE9D | 100% OFF | 1000/158 | expired |
| - | 1/7/2023 | THANKS023 | 100% OFF | 1000/982 | expired |
| - | 7/31/2023 | B3930BE7A338966CAB4D | 100% OFF | 1000/470 | expired |
| - | 10/15/2023 | 943961245067711C4878 | 100% OFF | 1000/121 | expired |
| - | 10/24/2023 | 0C7909798A23BA8B8C3C | 100% OFF | 1000/179 | expired |
| - | 11/19/2023 | 761722BE5938382164F0 | 100% OFF | 1000/670 | expired |
Charts
Price
Rating
Enrollment distribution
11/13/2014
course created date
5/19/2020
course indexed date
Lee Jia Cheng
course submited by