How To Draw VEHICLES for Kids and beginners!
Learn easy ways to sketch cars, trucks, tanks, and spaceships!!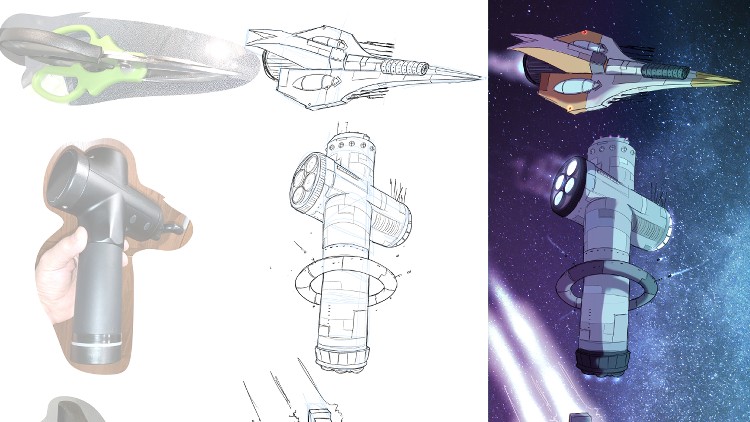 What you will learn
Basic linear perspective
how to draw basic shapes
how to draw vehicles using basic shapes
Description
Welcome to How To Draw VEHICLES for KIDS!!

This course is designed to take young and new learners through some of the basics of drawing all while helping them learn to copy, and then create, cool looking vehicles of all sorts!!

This course can stand on its own, but it is HIGHLY recommended that new learners study How To Draw BASICS for Kids as a prerequisite!
You'll note that the instructors are a parent/child team, so this course is definitely designed for kids in mind - that includes tempo, material, and language. At over 2 1/2 hours, this course is perfect for new artists of all ages!!! And of course, the banter with this father/daughter team helps to bring the student along in the process - feeling like one of the family.

So join us as we bring these new learners into a new level of enjoyment in their drawing passion.
This course is primarily designed for learners from 7-12, but may be enjoyed by all who are interested.

I notice that many of the reviews are from young students... and they are accidentally hitting an unintended review. Parents, please take a look at the review rating when you can and ensure it matches your intention.
Content
Introduction
Introduction
Perspective overview
Perspective - 1pt
Perspective - 2pt
Truck
Porsche
Jet
Tanks
Tanks Part2
Helicopter
Millennium Falcon
Space Ship - Speedster
Space Ship - Station
Space Ship - Gunship
Warm Up Exercises
Warm Up - Circles
Warm Up - Lines
Warm Up - Shading
Reviews
Excellent lessons that were clearly demonstrated and explained. I was greatly aided in understanding how to operate vehicles.
Another Awesome course by Ed! Perfect for kids, but heck, even I as an adult got a lot out of this one! I think it' great for kids and aspiring artists who need to revisit the basic foundations of drawing in perspective.
Drawing vehicles is hard! Even for experienced artists. Ed works his magic and yet again delivers a course which delivers incredible information in manageable chunks. This course is also co-presented by his daughter Joey, she illustrates alongside her father. This is a great approach to help kids draw alongside someone their age. This is a course that's not just aimed at kids either - this is perfect for adults who want to learn how to draw vehicles or brush up on their skills.
I bought this course for my nephew and for myself because I wanted to know if you can teach an old hand something. I have to say the lessons are simple and well explained and the essentials are clearly to the point. If my nephew and I can even learn to draw through it, then anyone can. I am glad that I bought this course and would like to recommend it.
Great course very informative and very easy to follow along I am 60 year old man I bought the course by accident but I have really enjoyed it. I have done a few courses with this instructor and every course is informative interesting and so easy to follow along as well has great resources.
I've known Ed for a few years and this is one of his best courses to date. Its a great way for the more serious student wanting to improve their art abilities to do so. I'd recommend it for anyone wanting serious about wanting to improve their art, kid and adult alike.
If you haven't taken Ed's courses yet they are a MUST!!! Talk about perspective made simple! As an amateur artist, having never formerly been taught perspective this was without a doubt the missing piece! In combining this course along with the "drawing backgrounds and learning perspective" course I have not only gained a greater outlook with respect to landscaping/perspective, I was able to complete my very first comic book cover concept complete with a detailed/ angled city scape perspective from a "birds eye" view! What are you guys waiting for?!...Get on it!!!
This was a great course. I've always struggled with machines and vehicles. Most artists who teach these only show ways that work for them, but Ed explains the structure in a way that makes it easier to understand how to build an object. It also makes it easier to apply what I've learned to unique or custom vehicles aside from the examples in the class. Highly recommended!
Coupons
| Submit by | Date | Coupon Code | Discount | Emitted/Used | Status |
| --- | --- | --- | --- | --- | --- |
| - | 12/5/2022 | PROMOTESTDEC2022 | 100% OFF | 1000/853 | expired |
| - | 12/10/2022 | FREENOV2022 | 100% OFF | 100/79 | expired |
| - | 1/7/2023 | FREEDEC2022 | 100% OFF | 100/62 | expired |
| - | 1/24/2023 | 3F32B8B6ADC2E889013F | 100% OFF | 1000/702 | expired |
Charts
Price
Rating
Enrollment distribution
4/26/2020
course created date
5/22/2020
course indexed date