Time Management Public Speaking - Drastically Reduce Prep
Time Management Public Speaking: You don't have to spend hours preparing your public speaking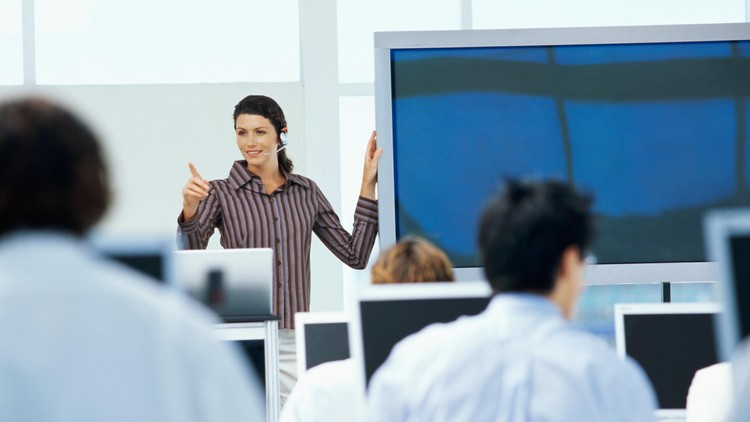 What you will learn
Drastically reduce time spent preparing speeches and presentations
Reduce stress surrounding presentations and speeches
Save time in speech writing and rehearsal
Become a better public speaker
Become a better presenter
Be a more confident communicator
Be a Great Speaker
Become a memorable speaker
Description
Time Management Public Speaking doesn't have to be wildly time-consuming. Imagine yourself delivering a fantastic speech or presentation, and you only spent minutes preparing in advance. You can appear to have spent dozens of hours preparing, even though you waited until the last minute. You can become great at public speaking while spending less time than your colleagues and competitors.
Time Management Public Speaking How to Drastically Reduce Time Spent on Speech Preparation and Still Deliver a Better Presentation
In this Time Management Public Speaking skills course students will learn how to eliminate wasteful and non-productive practices that many people follow when preparing speeches, talks, and PowerPoint Presentations. This course will help students focus on what is really important in creating and delivering speeches and how to avoid time-wasting traps. You can give a great speech without spending days and days in preparation. <
TJ Walker is a public speaking coach with more than 30 years of experience. He frequently works with busy political leaders and CEOs who don't have much time to prepare for their speeches but must give great presentations every time.
Enroll in this Time Management Public Speaking course today.
"5 stars! The presenter provided gold nuggets and did not drag out this course for hours and hours. The information was relevant and hit the target in regards to public speaking." Udemy student Frank Molleda

"5 Stars! TJ highlights how presentation preparation typically goes off the railroad tracks - gather lots of data, prepare slides, churn back and forth on ordering, ranking, wording, etc. Worse yet, folks (even US Presidents) continue tweaking speeches at the last minute. TJ gives step by step details on the structured process to focus on your #1 objective - what you want the audience to ***DO*** after listening to your speech, and #2 - focus on no more than FIVE topics you want the audience to remember. Gone are the days with dozens of data points, stacks of mind-numbing slides with drab numbers and tiny text. Buy this course and discover how to have the audience focus on YOU and your PERSUASIVE PERSONALITY!" Udemy student Michael Nistler
"5 Stars! Simple Easy to Follow tricks of the trade. Once you do, you can actually have fun while giving your talk/presentation." Udemy student Fonda Clayton
There is a 100% Money-Back Guarantee for this course. And the instructor also provides an enhanced guarantee.

What others say about TJ Walker:

"TJ Walker's single-minded devotion to presentation has made him the #1 expert for executives seeking guidance on speaking to the public and media." Bob Bowdon, Anchor/Reporter, Bloomberg Television
"TJ Walker is the leading media trainer in the world." Stu Miller, Viacom News Producer
(TJ Walker's Media Training Worldwide) "The world's leading presentation and media training firm." Gregg Jarrett, Fox News Channel Anchor
This course will also help with the following topics: Speaking confidence, being a purpose driven leader, communicating to drive change, and pitching yourself.
If you are ready to reduce the time you spend preparing your presentations, then enroll now.
Content
Give a Great Speech Without Spending Lots of Time Preparing - Time Management
Let's Start Saving Time Right Away!
Please Introduce Yourself
Save Time by Focusing On Your Exact Goal
Give a Great Presentation And Nobody Will Care How Long You Took Preparing
Faster Ways to Come Up with the Perfect Messages
Tips on Final Preparation of Your 5 Messages - Time Management Public Speaking
Your Examples Will Resonate
Assignment: Testing Your Communication To Make Sure It Works.
Exciting New Update to this Course
Use This Cheat Sheet! Time Management Public Speaking
Create PowerPoint Quickly and Effectively
Practice
Video Rehearsal
2nd Video Rehearsal
Time Management Public Speaking Conclusion
Conclusion
Time to Give TJ a Piece of Your Mind
Housekeeping Matters (Not Essential-View Only if You have Extra Time)
7 Steps For Getting the Most Out of this Course
Who is TJ Walker?
$10,000 Guarantee This Course Will Make You a Better Communicator
Your Questions Will Be Answered Here, In Video
Update - You Should Get on the TikTok App Now
Bonus Reading
Secret to Foolproof Presentations
Public Speaking Success
1001 Ways to Wow
Here Is How You Can Get your Certificate of Completion for this Course
Here Is How You Can Get your Certificate of Completion for this Course
Final Bonus Lecture: Huge Discounts on Other TJ Communications Courses
Reviews
The tips and suggestions and examples of how to become a public speaker with calmness and confidence. Keep it short, sweet and precise with the information you are sharing with the public and or co-workers.
My name is Autumn Sexton. I feel like I have always had trouble with public speaking. Although my job does not require me to publicly speak, it is always a good skill to learn.
I love the example of building a house and what it would look like without a plan. I work with a team, mostly. Brainstorming is always good to me- Narrowing down the 5 key points has been a challenge. This step-by-step is helpful. I will share this with my officemates.
Michelle
November 25, 2022
I enjoyed the structure of the sessions. However I believe that whilst the instructional time was complemented by practical work, the impact would have been better if you actually demonstrated or showcased an example of a best practice process illlustrating your teachin at the end, or as you proceed through the sections, that demonstration/application that you show us that would be excellent teaching.
Oumaima
September 21, 2022
This course is absloutely helpful i'm enjoying every second, i'm currently preparing for my critical thinking presentation and those tips saved me a plenty of time, thank you TJ
Very useful tips to increase the value of my presentations & public speaking opportunities, conveyed in a rather compelling way!
Yeah, that was really in my match. Literally, I was totally doing the opposite of this content and I suffered audience loss and Jokes on me :( .
This has been a very helpful course. The idea of having a 5 or less points in mind to discuss or present, and not need to have each work written out ahead of time is great. Thank you for directing me to practice my speaking and video my self, very humbling...but helpful
The instructor was engaging and understandable. This was worth the hour time it took to complete. I would like to listen on other conversations that he does.
I was only able to view about a third of the videos. It is very frustrating. I was interested in the course but am disappointed in not being able to watch all of it.
It was an interesting course; there are some interesting points to consider when preparing a speech or presentation. As an engineer, these are useful since it is not always simple to summarize or be away from data/results.
Interessante, esempi pratici, suggerimenti concreti per migliorare un aspetto critico della vita lavorativa
The best course on udemy for improving your soft skills. It was short and crisp. The lectures motivates me.
I do many speeches at Toastmasters and spend lots of time preparing. These ideas will help me shorten the preparation time.
Simple Easy to Follow tricks of the trade. Once you do, you can actually have fun while giving your talk/presentation.
Coupons
| Submit by | Date | Coupon Code | Discount | Emitted/Used | Status |
| --- | --- | --- | --- | --- | --- |
| - | 7/1/2020 | 4040211AFA263746A876 | 100% OFF | 40000/4219 | expired |
| - | 11/19/2020 | B573D691CB8657060A70 | 100% OFF | 40000/4597 | expired |
| - | 12/10/2020 | 2F2C937E8D7DB839BC2D | 100% OFF | 40000/3913 | expired |
| - | 1/11/2021 | 803DA88E27DBAE07E0BA | 100% OFF | 40000/5028 | expired |
| - | 5/28/2021 | 2DD82E019477D3328B63 | 100% OFF | 40000/5094 | expired |
| Ignacio Castro | 5/26/2022 | 88BCC4DAE1FB8FDB82F9 | 100% OFF | 1000/969 | expired |
| - | 7/29/2022 | B641CB18CC667E28F0B7 | 100% OFF | 1000/949 | expired |
| - | 8/18/2022 | D1E3BE9449B59D482EB6 | 100% OFF | 1000/997 | expired |
| - | 8/29/2022 | 44518734166DDA359010 | 100% OFF | 1000/970 | expired |
| - | 9/19/2022 | EC73B44A67A9E3A3CCF7 | 100% OFF | 1000/697 | expired |
| - | 10/24/2022 | 50ECD2311147857F98D5 | 100% OFF | 1000/875 | expired |
| - | 10/29/2022 | 965F3EA6E344CC2A6F47 | 100% OFF | 1000/791 | expired |
| - | 11/5/2022 | 78E6DC3E51321251BED0 | 100% OFF | 1000/859 | expired |
| - | 11/12/2022 | 0071AA84565C9743168B | 100% OFF | 1000/900 | expired |
| - | 12/22/2022 | 1DC13E4E803549EBBA7D | 100% OFF | 1000/932 | expired |
| - | 1/8/2023 | 88CE5809275144BC6668 | 100% OFF | 1000/425 | expired |
Charts
Price
Rating
Enrollment distribution
11/17/2014
course created date
7/1/2020
course indexed date