Charisma: You Can Develop Charisma
Charisma - You can learn to speak like a Charismatic leader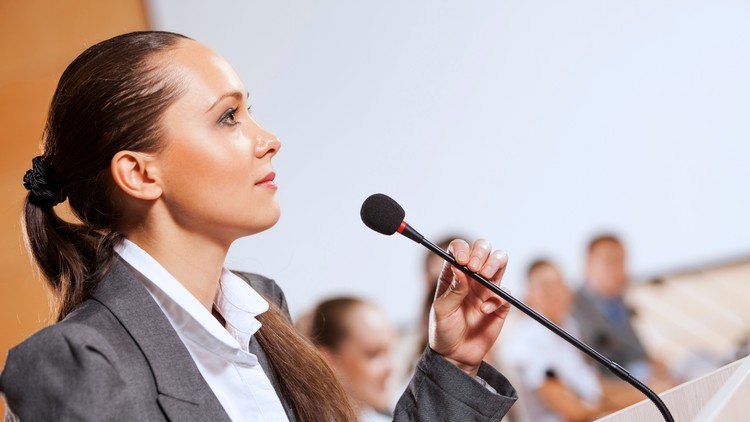 What you will learn
Project charisma
Speak confidently and be described as having charisma
Convey leadership
Be seen as a Purpose Driven Leader
Communicating to Drive Change
Big Picture Thinking - Thinking Like a CEO
Delivering bad news to customers
Description
Charisma can be yours. Imagine yourself speaking in front of a large crowd, and everyone is hanging on your every word. All eyes are focused on you. People want to know what you are thinking and what you will say next.
How to Develop Charisma
In this "How to Develop Charisma" course you will learn the number one secret of all great, charismatic leaders. And that secret is to be a highly confident, engaging and memorable speaker. Ordinary men and women are boring data dumping speakers and presenters. Being an interesting, confident and memorable speaker is actually quite rare, so those who become excellent speakers are often deemed to have charisma. Possessing extreme beauty or handsomeness is not something that can be taught, but learning how to speak in a captivating energizing manner can be taught. And this course will teach you how to become a great speaker in the least amount of time possible.
TJ Walker helps world leaders develop Charisma by teaching them how to be great speakers. Walker has trained Presidents of countries, US Senators, Prime Ministers, Members of Parliament, Premiers, Fortune 500 executives, NFL stars and Miss Universes.
Enroll in this Charisma course today.
There is a 100% Money-Back Guarantee for this Charisma course. And the instructor also provides an enhanced guarantee.

"5 Stars! This course was highly useful, as all information shown in it were crucial to public speaking and speech-craft. I would recommend it to every person interested in subject." Udemy Student Hubert Korczak
"5 Stars! Because he is so good at what he doing. I feel like he understands me and my problems completely. and giving sensible advice." Udemy student Khluod Alzahrani
"5 Stars! TJ Walker seems incredibly helpful, and his simple tips and guarantees make me feel comfortable and knowledgeable. I would love to have a full day of training from him, but I'm going to attempt to watch my videos over and over again but I decide that is necessary. Thank You TJ." Udemy student Tedari
"5 Stars! Very interesting course a must see. Think when can explain points and why do it make me learn better new things, best is useful for any area of life." Udemy student Fredrik Karlsson
"5 Stars! very detailed and structured, as well as a simple call to action. Just the idea of videoing yourself is worth the price of the course" Udemy student Lee vallely
"5 stars! I want to deliver more punchy presentations and speeches. I went through this wonderful course last night and wrote my 5 key messages, putting together stories for each now. TJ's videos are great very clear, he develops his points fully and engagingly. I'd highly recommend this." Udemy student Laurie Ruffino
"5 Stars! Finally, someone who is himself a great speaker teaching how to speak in public. The steps are simple, doable and, as with any performer, practice is key - but TJ Walker has a twist on the "practice" part. After taking this course, anyone will be able to do well if the steps are followed." Udemy student Lorraine Arams
" 5 Stars! I was looking for a course that would help me improve my communication and presentation skills and this course was exactly what I was looking for. Very practical, very much straight to the point. Following the main keypoints discussed is essential to improving in this area. Udemy Milen Trendafilov
" 5 Stars! This is a very great Course on developing charisma and public speaking skills" Fortune Mayokun Onileowo
"5 Stars! I was curious from the start . The content is relevant and seems easy to apply with constant practice." Chioma Keke
" 5 Stars! This is brilliant course. And really helpful in achieving charisma!!!" B Mohamed
"5 Stars! Very useful and professionally designed course. One should enroll for this course to improve their speaking and presentation skills." Shailesh Suvarna
What others say about TJ Walker:

"TJ Walker's single-minded devotion to presentation has made him the #1 expert for executives seeking guidance on speaking to the public and media." Bob Bowdon, Anchor/Reporter, Bloomberg Television
"TJ Walker is the leading media trainer in the world." Stu Miller, Viacom News Producer
(TJ Walker's Media Training Worldwide) "The world's leading presentation and media training firm." Gregg Jarrett, Fox News Channel Anchor
Join the Charisma: You Can Develop Charisma course now!
Content
Learn the Real Secret to Charisma
You Will Learn Specific Skills That Will Make People Think You Have Charisma
Your Confidence Will Soar Once You Learn to Speak With Charisma
Please Introduce Yourself Charisma Course
Simple Tricks to Becoming a Charismatic Speaker
Speak As Though You've Been Speaking to Large Audiences for a Decade
Achieve Your Goals in Every Speech
Your Stories Will Be Remembered for a Long Time
Assignment: Testing Your Communication To Make Sure It Works.
Exciting New Update to this Course
Your PowerPoint Will Enhance, Not Bore
Charisma Video Practice
Housekeeping Matters
7 Steps For Getting the Most Out of this Course
Who is TJ Walker?
$10,000 Guarantee This Course Will Make You a Better Communicator
Your Questions Will Be Answered Here, In Video
Charisma Conclusion
Public Speaking Conclusion
Building a Lifetime Reputation for having Charisma
Charisma Course Feedback
Bonus Reading
Bonus Update - You Should Get on the TikTok App Now
Secret to Foolproof Presentations
Public Speaking Success
1001 Ways to Wow
Media Training A to Z
Media Training Success
Final Bonus Lecture: Huge Discounts on Other TJ Communications Courses
Reviews
I am collecting & following TJ Walker's series of valuable insights, philosophy, and "how to's" of how to communicate effectively...with the secrets of being so well put together, well practiced, well rested, with information to convey so prioritized--that you can totally focus on and respond to the needs of your audience... Why wasn't this a core concept of for me to discover in my high school / university 60+ years ago? Oh how life would have been different! I am so excited and thankful to find it now! Teacher Training Curriculum must give priority to this as a life skill PRIORITY!
I expected a Charisma development course but I got a public speaking course and lots of repetitive statements stating he trained leaders, professionals, the president, etc... But what I remember is it's not what I signed up for
Great content and very encouraging speaker. Makes you want to get going and become a great public speaker!
It drags on and is too long, I wasted my money thinking I'd be able to pretend to be charismatic and confident instead I'm learning about power points which I don't require...
Another great course by TJ Walker. High quality course with very practical exercises to learn and develop a new skills such as how to be charismatic public speaker and confidence on stage. Thank you.
This isn't a course on developing charisma, it's a course on public speaking. Unfortunately, there are a lot of repetitions and the speaker fails to capitalize on many of his points. One of his points mid-way through is that your audience doesn't listen, so you can repeat yourself many times to get your point across- this is mildly frustrating as I feel the speaker fails to realize what he is doing. He pulls out his phone about ten times to pretend if you are boring, people will check their email. He thinks it's a clever joke. About a dozen times, he pretends to be a robot in an effort to mock monotonous speakers. He mentions many times he's worked with presidents, prime ministers, CEOS etc etc without relaying a single story from these supposedly grand teaching expeditions. Not ONCE does he talk about how to be charismatic.
Unfortunately, there is a lot of repetition. I am 1/4 of the way through and I am feeling slightly frustrated. Hope it'll improve as the course continues. My suggestion is to offer the course in 3-4 hours instead of 17,5 hours.
This course completely helped me to come out of my fear of public speaking. I have become more confident by practicing video day after day.
Michelle
December 13, 2021
Hi TJ! To improve this course, I'd suggest re-doing the first section where you're in the newsroom; reason being, the audio is too high in some and too low in others. Also, since the pandemic, many of us are speaking virtually rather than in-person so either update or add some content pertaining to presenting virtually. I'd also like to hear a bit more statistics to back up your tips and advice.
I loved how he is talking, being realistic, that he taught lots of successful people, and the confidence of how he is presenting
Who is like you. My mentor since I have known you 1 day ago. YOU WILL CHANGE MY LIFE FOR BETTER EVERYWHERE> You are Great and are what I have been missing.
Not totally what I was expecting when I enrolled a "Charisma" course. However, the presenter is totally engaging and I'm very excited to move forward with this course
I was curious from the start . The content is relevant and seems easy to apply with constant practice.
I was looking for a course that would help me improve my communication and presentation skills and this course was exactly what I was looking for. Very practical, very much straight to the point. Following the main keypoints discussed is essential to improving in this area.
Good content. Great delivery. I'm learning a lot and will definitely benefit from this. Thank you TJ!
Coupons
| Submit by | Date | Coupon Code | Discount | Emitted/Used | Status |
| --- | --- | --- | --- | --- | --- |
| - | 9/3/2020 | THANKSSEP | 89% OFF | | expired |
| - | 10/29/2020 | 6BDAE9933FB569BED8C1 | 100% OFF | 40000/5045 | expired |
| - | 11/26/2020 | 7E79699EC7C4F9EB4960 | 100% OFF | 40000/3060 | expired |
| - | 12/10/2020 | 36CCCCD5651808AA18FA | 100% OFF | 40000/4968 | expired |
| - | 1/11/2021 | C77C47CC5BACADEB4446 | 100% OFF | 40000/5436 | expired |
| - | 5/31/2021 | THANKS01 | 92% OFF | | expired |
| - | 10/26/2021 | 2321A4F90D79AA64D2E7 | 100% OFF | 40000/3000 | expired |
| - | 12/30/2021 | THANKS020 | 92% OFF | | expired |
| - | 1/20/2022 | THANKS022 | 92% OFF | | expired |
| - | 3/3/2022 | THANKS032 | 92% OFF | | expired |
| - | 5/1/2022 | THANKS051 | 92% OFF | | expired |
| - | 6/4/2022 | THANKS060 | 92% OFF | | expired |
| - | 7/19/2022 | THANKS092 | 92% OFF | | expired |
Charts
Price
Rating
Enrollment distribution
11/19/2014
course created date
4/18/2020
course indexed date