PowerPoint Presentations: Deliver a Non-Boring Presentation
PowerPoint can be effective, when used properly. Learn the secrets now.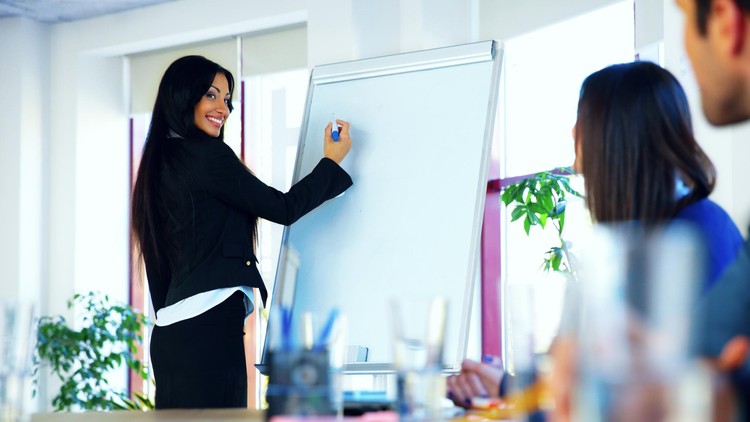 What you will learn
Deliver PowerPoint presentations effectively
Avoid the common mistakes that make most PowerPoint speeches deadly dull
Rehearse PowerPoint Presentations on video
Create and use more memorable slides
Description
PowerPoint can be used effectively! Imagine delivering a PowerPoint presentation and people are actually paying attention and following your every word and slide. Wouldn't it be nice to know how to use PowerPoint so that it enhances your ideas and your messages rather than forcing people to zone out?
In this How to Deliver a PowerPoint Presentation course you will learn the following:
* How to avoid the most common problems that destroy the effectiveness of PowerPoint Presentations
* How to use PowerPoint to make your ideas more memorable
* How to NOT use the PowerPoint slide as your own speaker notes
* How to rehearse your PowerPoint presentation on video
This course is delivered primarily through spoken lectures. Because the skill you are learning is speaking related, it only makes sense that you learn through speaking.
The skill you will learn in this class is not primarily theoretical or academic. It is a skill that requires physical habits. That is why you will be asked to take part in numerous exercises where you record yourself speaking on video, and then watching yourself. Learning presentation skills is like learning how to ride a bicycle. You simply have to do it numerous times and work past the wobbling and falling off parts until you get it right.
This PowerPoint course contains numerous video lectures plus several bonus books for your training library.
TJ Walker has been coaching and training people on their PowerPoint presentation skills for 30 years. Now, through the power of Udemy's online platform, he is able to give you the same high quality training that he gives in person to CEOs, Fortune 500 executives, and Presidents of countries. Only you can now receive the training at a tiny fraction of the normal fee for in-person training.
How long this course takes is up to you. The longest part of the course involves you speaking on video, critiquing yourself, and doing it over until you like it. But if you get to the point where you love how you look and sound when you present it will be well worth the time spent. And having this skill will save you time for all future presentations in your life.
You can begin improving your PowerPoint presentation skills right now. You may have an opportunity to speak out as soon as tomorrow, so why waste another day worried that your presentation skills are not up to high standards. Enroll in this course today.
"5 Stars! The content provided and the soft copy/pdf books provided me with the information I needed to be able to use my PowerPoint slides more effectively and to be able to catch the attention of my audience. it has pointed me in the right direction which I need to practice." Basil Chetty

What others say:
"TJ Walker's single-minded devotion to presentation has made him the #1 expert for executives seeking guidance on speaking to the public and media." Bob Bowdon, Anchor/Reporter, Bloomberg Television
"TJ Walker is the leading media trainer in the world." Stu Miller, Viacom News Producer
(TJ Walker's Media Training Worldwide) "The world's leading presentation and media training firm." Gregg Jarrett, Fox News Channel Anchor
This PowerPoint course is ideal for anyone searching for more info on the following: PowerPoint - power point - PowerPoint presentation - Microsoft PowerPoint - power point presentation - presentation - Microsoft PowerPoint - PowerPoint animation - ppt - animation. Plus, this course will be a great addition to anyone trying to build out their knowledge in the following areas: presentation skills
Content
You Can Deliver an Interesting and Effective PowerPoint, Without Boring People
You Will always Deliver a Great Speech, The PowerPoint is Beside the Point
Your Presentation Will Be Understood and Remembered By Your Audience
It is Your Presentation, Not a PowerPoint Presentation
A Guaranteed 2-Part Test for Your Slides
Assignment: Testing Your Communication To Make Sure It Works
Exciting New Update to this Course
How You Will Never Use Your PowerPoint Slides as a Teleprompter
Advanced PowerPoint and Visuals
Your Practice Will Be Efficient and Effective
1st Video Rehearsal
2nd Video Rehearsal
Course Update! Live Instructor Office Hours are Now Available
PowerPoint Slides Will Always Be Your Friend in the Future
Conclusion
Feedback
Housekeeping Matters
Who is TJ Walker?
$10,000 Guarantee This Course Will Make You a Better Communicator
Your Questions Will Be Answered Here
Bonus Reading
Secret to Foolproof Presentations
Public Speaking Success
1001 Ways to Wow
Final Bonus Lecture: Huge Discounts on Other TJ Communications Courses
Reviews
I really appreciate the way you share your knowledge. All the tips and principles were so simple and easy to follow. Thank you
I'm an engineering student who is seeking for jobs. This course is very helpful to me for improving my skills.
Franziska
October 26, 2018
I liked this course a lot as it's short, but precise and as the main important things to remember were repeated multiple times, so I can't forget. Unfortunately I stucked a bit as some of the sections were not loaded - might be a general issue at Udemy or something with my internet connection.
The experience was just okay....there wasn't depth in the delivery. i was expecting to see the instructor pull up power point slides as to what it should look like that while he spoke. i expected the instructor to be both practical and vocal rather that just being vocal.
I can relate to a lot of the topics discussed in this training - both positive things and not-so-positive things that I do or see other do while presenting. I am distracted by the monitors in the background. I don't see how these provide 'atmosphere.' I believe that a key factor in delivering a non-boring presentation also involves body language. The camera view in this training only shows TJ's top half - I can tell hands are moving, but can't see them move. Also, moving around while presenting is a good idea - walking from one side of the room to the other to engage more of the audience.
it gives me more encouragement & confidence on how to be a good communicator by having an effective PowerPoint presentation. His expertise & experience gives more influence to his student to pursue their dreams as a better person or effective communicator.
I thought that this course was a really good one and provided helpful tips that can be easily put into effect. There are a few things that could be enhanced though: - The closed captioning would benefit from being reviewed and corrected. There are some mistakes in it (words that are replaced by others). - From one chapter to another, parts are sometimes repeated. This made me feel that this course was compiled from videos that were pre-existing. While this is not a problem, editing the course to remove these repetitions would be good. Here is one example of a repetition: the intro of chapter 6 is the same as chapter one (how people think PPT is bad, the analogy with television etc). Also, it would make more sense to have the housekeeping notes be the first topic. Finally, I have two questions I would like to ask: - You mention that presenter's notes should be on a piece of paper and that the text should be removed from the slides. What about the notes section in PPT and the use or the presenter's view (slides as well as the notes are displayed to the presenter while the audience only sees the slides)? Do you think that this is a useful tool? - While I understand that this wasn't the purpose of this course, I would be very interested in learning some tips about body language while presenting and how to behave physically on a stage. Would you recommend any course about this specific topic? Thank you in advance for your feedback.
Yes, it is. I just think that the introduction was too long and the monitors in the back of the video are distracting. The same is true for the PDF files, too many words for a few valuable tips. Basically, what is true for PowerPoint, is true for every message: Less is More!
Overall this was a great presentation and is certainly memorable. That said, I felt that you could blend your real life experiences and examples with actual PowerPoint slide example (1 or 2), that convey the message in a more understanding and memorable way.
I do agree with the whole concept of not using bullets and using pictures instead. Does depend on your audience so a person needs to keep that in mind. Section 1 and Sec 2 (2-5) are basically repeated in Section 2 (6). Last 6 minutes are basically selling himself. Probably makes more sense to do the intro of who TJ is up front first. Oddly enough, even though it runs counter to what is presented, I think this could do with a real world example PowerPoint showing the types of images and such that are used. Or a video of a presentation using these techniques. Shows at being 5:51:48 long total length course, which is a bit misleading, but glad it isn't that long. The reading material and performing the steps outlined will take close to 6 hrs for sure. I have to say, I think I much prefer the reading material in PDFs over what is presented in video and maybe that's the point. Ideas for props is a good one.
A great speaker and teacher. I highly recommend that EVERYONE take this course. I have been through too many presentations where the presenters read word-for-word, the PowerPoint presentation. If those folks take some time and watch this video, then there may be fewer bored people in this world.
found the speaking tips really helpful but very little that was powerpoint specific... which I guess is the point. Would be helpful to have tutorials actually standing in front of examples of slides etc.. that he would use.
First want to disclose that I am a Udemy employee - I feel like several of the "tips" are repeated so there is not as much new information I am hearing. However, I can tell that this instructor has quite a bit of experience in this subject.
The content provided and the soft copy/pdf books, provided me with the information I needed to be able to use my power point slides more effectively and to be able to catch the attention of my audience. it has pointed me in the right direction which I need to practice.
Good course, but really nothing to do with powerpoint. Title should be HOW TO DELIVER A (COMPELLING/INTERESTING/INSERT ADVERB HERE) PRESENTATION
Coupons
| Submit by | Date | Coupon Code | Discount | Emitted/Used | Status |
| --- | --- | --- | --- | --- | --- |
| - | 5/16/2022 | 90EA6BDD53FB2D04357E | 100% OFF | 1000/968 | expired |
| - | 6/20/2022 | 5F0DC472B4BE7E1DBFCB | 100% OFF | 1000/925 | expired |
| - | 7/19/2022 | 82A8988A75E2768DBB5E | 100% OFF | 1000/922 | expired |
| - | 9/14/2022 | F7B5F89263F414733EEB | 100% OFF | 1000/922 | expired |
| - | 11/2/2022 | D3C758633EF135DBD5A8 | 100% OFF | 1000/998 | expired |
| - | 11/3/2022 | E3F026E7A71B2ED8070F | 100% OFF | 1000/962 | expired |
| - | 11/6/2022 | 56F400C4A8DB6FBFB8F4 | 100% OFF | 1000/873 | expired |
| - | 11/27/2022 | 5BFB2B59315706FF7A7A | 100% OFF | 1000/617 | expired |
| - | 12/16/2022 | 18D3E5514CF6C623080B | 100% OFF | 1000/997 | expired |
| - | 7/23/2023 | 01A4A605DBDEEED0B2D3 | 100% OFF | 1000/863 | expired |
| - | 8/13/2023 | B66B35A621714E78232C | 100% OFF | 1000/973 | expired |
| - | 8/29/2023 | 25C120669451A357D3B0 | 100% OFF | 1000/855 | expired |
Charts
Price
Rating
Enrollment distribution
12/5/2014
course created date
11/20/2019
course indexed date