How to Buy & Invest in Crypto for Beginners in 2022
Learn the Crypto Trading Basics to Invest in Crypto for the First Time
Cryptocurrency & Blockch
category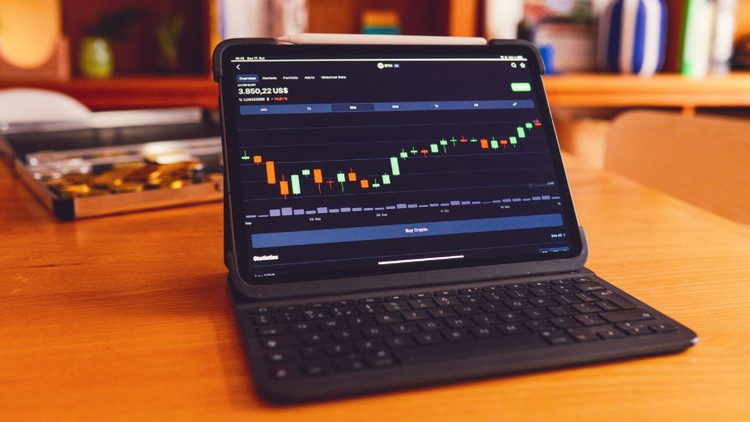 What you will learn
Buying Crypto With Crypto Wallets
Investing in Crypto with Trading Apps
Introduction to Trading Charts and Indicators
Introduction to Decentralized Finance
Description
No Previous Crypto or Trading Knowledge is required to start investing in Crypto in 2022.
In this course I'd like to teach you the basics of crypto trading so you get the tools and strategy to buy and invest in crypto for the first time. I'll be explaining the tools that I use and the apps you need to be able to buy crypto for the first time.
Please this course is for Beginners, do not buy the course if you already know how to read charts, how to buy crypto and the very basics !!
You will learn how to read the trading charts and how to use simple indicators to know when is the right time to sell and when is the right time to buy crypto currencies, at the end of the course you will be able to research crypto coins and buy your coins in trading platforms, exchanges and decentralized finance platforms like pancakeswap.
The course shouldn't take you longer than 40 minutes to complete, I encourage you to ask all the questions you need when you encounter any issue with the process. I'll be sharing downloadable documents with useful links and instructions for you to get personalized support with me in case you have questions.
Following this methodology you can trade coins like Ethereum, Solana, Cardano, Binance BNB, Zilliqa, Tron,, Ripple, Tether USDT, Dogecoin, Zcash, Verge, Monero, Dash, Matic and tokens like Shiba Inu, Dogelonmars, Safemoon, CAKE, Decentraland MANA.
This course doesn't offer financial advise, the content of the course is for educational purposes.
Content
Introduction
Introduction
Getting Into Crypto
Trading Apps and Wallets
Trading Apps and Wallets
Crypto Analysis
Crypto Analyis Tools
Trading Charts and Indicators
Trading Charts in Tradingview
How to Read the Trading Charts
Trading Indicators and Basic Strategy
Basic Trading Examples
Decentralized Trading and Binance Trading
Reviews
His explanation of everything is way too fast. For a beginner it is extremely difficult to keep up and understand.
Informative for a beginner. But it would be better if this course covers more. The course is too short and not detail enough for me.
Excellent course. Short and snappy! Easy to follow It helped me a lot to understand many things. Especially the session on the trading tools to understand the graphs and the tendencies. For this was great since it helps my strategy
12/21/2021
course created date
12/25/2021
course indexed date