Career Change: Become a Paid Expert in What You Love
Career Change - You can make a living as a well-paid expert, If you follow your passion the right way
Career Development
category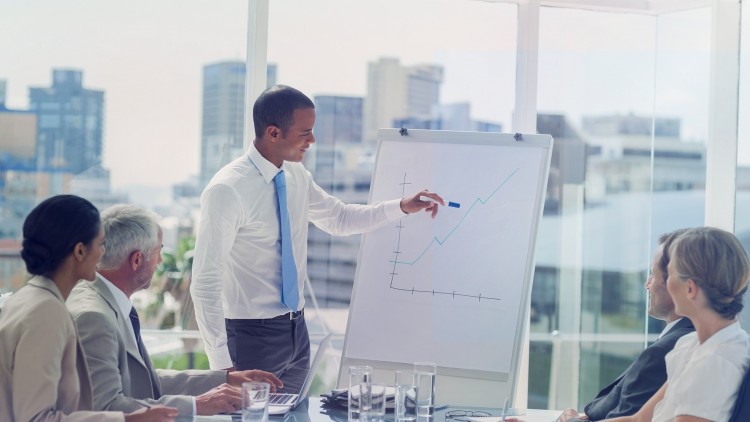 What you will learn
How to become an expert
How to pick a niche
How to create content
How to build a tribe
How to make money from your knowledge
By the end of the course you should have a plan for selling your expertise
Description
Career Change. You can live the dream. Imagine yourself waking up every Monday morning and every other morning with an eagerness to get to work. This can be you, once you learn how to harness your passions into a real business.
You don't have to have a career or a job filled with drudgery.
This Career Change course is for anyone who would like to become a professional expert. Specifically, if you are trying to earn money and make a living off of your intellectual capital, this course will teach you the steps you need to take in order to start. In a world swimming in facts and data, insight and expertise are increasingly valued and needed. Not everyone can become a rich and famous expert, but everyone can know the basic decisions that have to be made before it is even possible to become a highly paid expert. You can make money off of your passion and you can build a career based on expertise. This course shouldn't take more than a couple of hours to complete, but it will take much longer to have a successful career as an expert. This course isn't a get-rich-quick scheme, but it will give you a map for starting your career as an expert.
What will students achieve or be able to do after taking this Career Change course?
How to become an expert
How to pick a niche
How to create content
How to build a tribe
How to make money from your knowledge
By the end of the Career Change course, you should have a plan for selling your expertise
There is a 100% Money-Back Guarantee for this Career Change course. And the instructor also provides an enhanced guarantee.

"5 Stars! PHENOMENAL Course!!!! A wealth of information, TJ is a wonderful coach, presenter and is knowledge tremendously insightful!!! HIGHLY RECOMMEND!!!" Udemy student Jennifer LaGuardia
"5 Stars! Yes, the course is comprehensive and informative. TJ is as easy to listen to as an old friend. I love his approach to speaking and his relaxed, yet very professional style. The biggest takeaway for me is that realism he presents; he says what works as well as what DOESN'T work." Udemy student Les Gaines
"5 Stars! Thanks for your help and the interesting approach! It's motivating." Udemy student Wolfgang Hienstorfer
"5 Stars! Hey TJ. Thanks for your inspiration. I am actually recording myself, watching myself and giving myself feedback, I never would have done this without your courses." Udemy student Michelle Kingman
"5 Stars! Brilliant... MORE please! I'd love there to be an extension of this material, a program to continue the learning and develop your niche and expertise. So pragmatic and simple: so profound." Udemy student Marcus Chacos
Content
Selecting Your Winning Niche
Listen to Your Passion to Succeed - Career Change​
Your Real Business is...
You Can Be King of All Your Media
There are Live Office Hours With the Instructor for this Course
Please Introduce Yourself
Your Questions Will Be Answered Here, In Video
7 Steps For Getting the Most Out of this Course
Your Steams of Money
Developing a Tribe That Will Follow You Anywhere - Career Change​
Assignment: Testing Your Communication To Make Sure It Works.
Exciting New Update to this Course
Succeeding at an even Higher Level and Conclusion
Time to Give TJ a Piece of Your Mind
Bonus Reading
If You Like to Learn by Reading
Secrets to Foolproof Presentations
Public Speaking Success
Media Training A to Z
Media Training Success
1001 Ways to Wow
Bonus Update - You Should Get on the TikTok App Now
Questions from Students Answered by TJ in Video
How Does an MSW Break into Corporate Training?
How Long Does it Take to Be an Expert Public Speaking
Background
Who is TJ Walker?
Here Is How You Can Get your Certificate of Completion for this Course
Final Bonus Lecture: Huge Discounts on Other TJ Communications Courses
Reviews
The course is easy to follow/ understand. It also helped clear things and change my mindset. Thank you very much!
It is one of the best courses offered by TJ Walker. TJ is very clear and assertive in his teaching and takes care of his students by answering all their questions.
Not a good match for me at all. Maybe he says something useful between all those self-absorbed "I am doing so good" stuff. The essence of what I heard was 1. choose a niche, 2. choose a medium, 3. create a tribe.... and then I stopped. Because his explanation about how to build a tribe is to simply pick your niche and medium and the tribe will come. His way of talking makes me want to regurgitate.
Didn't expect an American corporate automaton banging on about finding a niche and exploiting it. I kinda guessed that would be what one would have to do. Also found it so annoying and distracting that niche was pronounced as a rhyme to "itch" and not "quiche".
The course is good, it is lacking some kind of a visual art, but nonetheless, this is a very helpful course for people who wants to be experts in their field of interest. I wish it was longer.
I was watching the third video and I'm blown away. I can't wait to leave a review at the end of this course. This course is WOW. I'm totally impressed. The instructor is really good at what he's doing. Well-done sir, you've really said a lot that's key in the third video and I'm gonna recommend this to anyone.
Oh my God! It was so .... awesome! I am really stunned by the first video where he talks about hobbies and things we are good at. Wow. I never heard that kind of advice before. Honestly, it will save a lot of my time to be more practical. Thank you!
So far, so good, I think it's good that the author communicates what kind of niches can bring money in, and stresses it enough not to spend time on it until the right niche is selected.
Shamsunnahar
June 19, 2020
my personal experience of taking this course is really good ..it gives some helpful information for starting my career..
There's some good ideas in here, but doesn't really explain the sales process other than building up an online profile via content.
too much introduction, the most important point in this video is 'figure out which expert can make money also you like to be'
Good advises but the material seems to be a little bit all over the place. There is not a solid regularity. But usefull nevertheless.
"You can make a living as a well-paid expert if you follow your passion the right way." What sort of claim is this? This is a clumsy course that must have some benefit to the author, who appears to have plagiarised the Japanese concept of Ikigai. It may be free but it wasted 20mins of my time.
I like this course. It is very clearly presented and it points out that hard work is a must to be an expert in an particular field. It also lists out the major attention points. Good to watch this course. Thank you, TJ.
Before the Internet came along, the best way to become seen as an expert was through earned media. But now things have changed. Social media allows anyone to publish material. But now that everyone is doing that, it's hard to stand out from the crowd. That's why I found this course so valuable. It shows you how to do it with video and how to use that to promote yourself. This course is a must for anyone who wants that genuine expert status.
Coupons
| Submit by | Date | Coupon Code | Discount | Emitted/Used | Status |
| --- | --- | --- | --- | --- | --- |
| Lee Jia Cheng | 5/22/2020 | 7F6DCCE909D65B451660 | 100% OFF | 40000/9013 | expired |
| Lee Jia Cheng | 6/17/2020 | 4B0C1B50128C7752F9FD | 100% OFF | 40000/7655 | expired |
| Angelcrc Seven | 10/2/2020 | F815B08519C8E6CA7379 | 100% OFF | 40000/2675 | expired |
| - | 12/4/2020 | F34FABD0BFBD030FAD3A | 100% OFF | 40000/2287 | expired |
| - | 1/4/2021 | BA0B3014DCDC565361D9 | 100% OFF | 40000/2754 | expired |
| SADBOY | 2/1/2021 | E184C6E027B058AEB08C | 100% OFF | 40000/2618 | expired |
| Angelcrc Seven | 9/22/2021 | F64874845CCD20CBD39A | 100% OFF | 40000/2370 | expired |
| - | 8/28/2022 | 5612467698671CDBE076 | 100% OFF | 1000/943 | expired |
| - | 9/5/2022 | 63782AF7943214344300 | 100% OFF | 1000/386 | expired |
| - | 11/8/2022 | C5439645B8F7FA5F5B9E | 100% OFF | 1000/913 | expired |
| - | 11/12/2022 | A9733580A267CB6E1276 | 100% OFF | 1000/992 | expired |
| - | 11/15/2022 | E36651A4B42FF585E978 | 100% OFF | 1000/578 | expired |
| - | 12/6/2022 | 472C68A7DF69CD82E8B7 | 100% OFF | 1000/907 | expired |
| - | 12/15/2022 | 69E3E480973FB77045BC | 100% OFF | 1000/435 | expired |
| - | 12/29/2022 | 196DA5910B853BDEDBDE | 100% OFF | 1000/983 | expired |
| - | 1/8/2023 | 7C024CD99E8AD2B5BE09 | 100% OFF | 1000/995 | expired |
| - | 1/16/2023 | A2CD6CF4CD58B606BE43 | 100% OFF | 1000/777 | expired |
| - | 1/31/2023 | CD266808F25295D65BB2 | 100% OFF | 1000/620 | expired |
Charts
Price
Rating
Enrollment distribution
8/4/2014
course created date
5/22/2020
course indexed date
Lee Jia Cheng
course submited by