Public Relations: How to Be a Government/PIO Spokesperson
Public Relations: You can communicate the messages of your agency to the media. Master every media encounter.
Career Development
category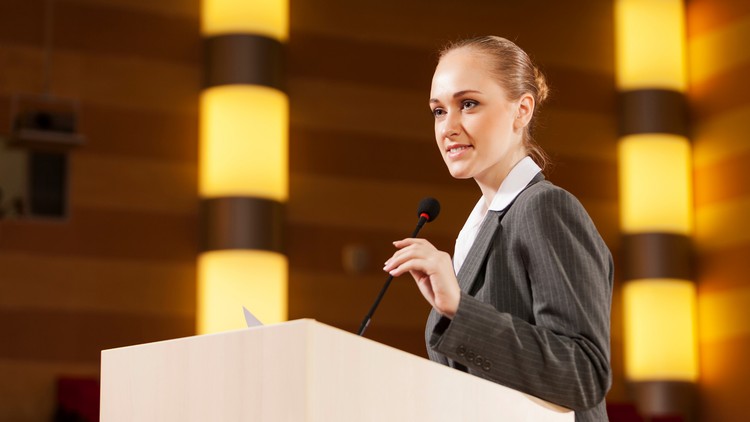 What you will learn
Represent a Government Agency or division in front of the media
Serve as a media spokesperson for a government agency
Handle a press conference
Speak in sound bites
Description
Public Relations. Imagine yourself fielding reporters' tough questions at a heated press conference, and you appear perfectly confident, authoritative and on message. You can get the exact messages and quotes you want about your government agency into the news media.
How to be a Government Spokesperson
In this "How to be a Government Spokesperson" Public Relations course you will learn how to communicate to the media effectively as a representative of a government agency or bureau. The media hold government agencies and government officials to a higher level of accountability. As a government spokesperson, you will face greater skepticism and even hostility from the news media.
This course will teach you four main skills:
1. How to look comfortable, confident and relaxed anytime you go on TV or in front of a camera.
2. How to shape a three-part, thirty second media message for each interview.
3. How to answer reporters' questions in a strategic, focused manner.
4. How to package your messages with sound bites so that you will know in advance exactly what quotes of yours will appear in the final story.
You will learn the fundamentals of how to be a Public Relations spokesperson by the end of this course.
TJ Walker has been a government spokesperson while working as the director of communications for the Florida Department of Banking and Finance and as a press aid to Members of the US Congress.
Enroll in this Public Relations course today.
There is a 100% Money-Back Guarantee for this Public Relations course. And the instructor also provides an enhanced guarantee.

"5 Stars! Thank you for a very well organized course. It will be easy to find the points or topics I might want to read or see again as a refresher. You have very practical tips along with good explanations for the how-to's." Udemy student Paula Wethington
What others say:

"TJ Walker's single-minded devotion to presentation has made him the #1 expert for executives seeking guidance on speaking to the public and media." Bob Bowdon, Anchor/Reporter, Bloomberg Television
"TJ Walker is the leading media trainer in the world." Stu Miller, Viacom News Producer
(TJ Walker's Media Training Worldwide) "The world's leading presentation and media training firm."Gregg Jarrett, Fox News Channel Anchor
Content
You Can Have 100% Control Over Your Message and Image
Communicating Your Messages Successfully, On a Daily Basis
To Be Believable and Credible, You Must Look Believable On TV
How to Look Your Best on TV - Overview
Please Introduce Yourself
How to Apply Makeup for TV Interviews
How to Sit for TV Interviews
How to Smile for TV Interviews
Assignment: Testing Your Communication To Make Sure It Work
Exciting New Update to this Course
How to Use Your Eyes During a TV Interview
How to Move Your Head for Video Interviews
How to Move Your Body for TV Interviews
How to Move Your Hands for TV Interviews
How to Sit in Your Chair for TV Interviews
How to Stand for TV Interviews
How to Dress for TV Interviews
Video Record and See Your Improvement
Creating a Winning Message
Message
How to Frame a Media Message
A Media Message Answers all Basic Questions
Media Messages Must be Interesting to Reporters
Media Messages Must Resonate with Media Audience
Your Media Message Needs to Benefit You
Three is the Perfect Number of Media Messages
Media Messages using a Venn Diagram
Have a Positive Media Message
Add Quantifiable Results to Your Media Message
What Problem are you solving, Media Message
Assignment - Create your own Media Message
Answering Questions in a media Interview
How to Answer Questions in a Media Interview Overview
Answering Questions
Answer One Question at a Time
Keep Your Eyes on Your Message Points
Do Not Repeat Negative Words from a Reporter
Tell Reporters 'I Don't Know'
Always Be Moving toward Your Message Points
Give Brief Answers to Tough Questions
Aim for All Three Messages In Every Answer
Re-Write the Reporter's Questions in Media Interviews
Don't Add One more thing at the End of the Interview
Don't try to Control the Interview
Speaking in Sound Bites
Soundbites
What is a Sound Bite Overview
Sound Bites Bold Action Words
Sound Bites Reporters Love Cliches
Sound Bites Emotion
Sound Bites Give Specific Examples
Sound Bites Absolutes
Sound Bites Attacks
Sound Bite Tools Humor
Sound Bite Tools Rhetorical Questions
Sound Bite Tools Pop Culture References
Three Easiest Sound Bite Tools
Reflections on Sound Bites
The 5 Outcomes of Every Media Interview
Udemy Sound Bite Homework
Sound Bite Practice
Video Homework
Final Interview Practice
Housekeeping Matters
7 Steps For Getting the Most Out of this Course
Before We Start, Here is the #1 Tip to Improving Your Communication Skills
Who is TJ Walker?
Your Questions Will Be Answered Here, In Video
$10,000 Guarantee This Course Will Make You a Better Communicator
If You Like to Learn by Reading
Bonus Update - You Should Get on the TikTok App Now
Conclusion
Conclusion
Time to Give TJ a Piece of Your Mind
Bonus Reading
Media Training A to Z
Media Training Success
1001 Ways to Wow the Media
Secret to Foolproof Presentations
Public Speaking Success
Final Bonus Lecture: Huge Discounts on Other TJ Communications Courses
Reviews
I'm really happy in doing this course! It gives me a lot of insights how to be a good speaker in front of media for the government
I have been facing media persons since long.. this course would diffidently boost and work as a capacity building tool. As being from a farflung area, i have no other learning tools or source other that such online course.. indeed very informative..thanks
TOP NOTCH ADVICE and CONTENT. Keep your ears to the ground and your eyes on the ball. Watch your mouth, and how u phrase your words. EXCELLENT lecture, more real life situations and examples will enrich the calibre of this course. Well presented. Keep up the good work.
I learnt a new thing about comportment on the camera and how not to answer an interview question in a press conference.
These advises and techniques are gems, a public administration officer or PIO should have. Often times being the face of an organization puts tremendous stress and pressure to the representatives causing immediate resignation or displacement whenever interviews or Q&As go wrong. This whole course dives into the specifics and roundabouts of such interviews and conferences.
This was a good course. I have taken multiple courses at conferences and read books on this topic. I enjoyed how this course was organized and felt like I learned new information that will help me give better interviews in the future.
The information/knowledge I'm gaining from this course is extremely applicable and pertinent to my line of work. Definitely appreciate the refresher!
It was a good match for me. I learnt every petty piece of stuff like makeup is significant in the interview as well as controlling one's own mouth is pretty much important instrument to manipulate the interview. But in some cases, I just felt that some points of this course could be clarified more by adding real-life interviews that indicates our erroneous response to the questions asked by the reporters.
I do many of these things automatically, but it helps to hear them spoken so I can relay them to my subject matter expert colleagues (scientists) so they are also prepared to go on camera.
I have thoroughly enjoyed this fast-paced and well-structured yet entertaining course. Thank you TJ! Hopefully, with practice, I can be just as comfortable and calm in any situation as you are. I will also suggest everyone follow TJ Walk on social media i.e Facebook, youtube etc, (and Tik Tok of course), he shares a one minute bit size habit changer video every day which has been very inspirational for me in the morning (due to time differences). Again, thank you TJ! Stay in touch!
This course has broaden my knowledge on how to frame, create my own media message, how to have a positive media message and also how to make my message more interesting to reporters by effectively responding to questions from media.
Both TJ Walker courses I have done need quiz components. This was better than the last one but does not test adequately beyond the uploads.
This was a great class. TJ hits all the "little things" that will make such a big difference in the success and effectiveness of your interviewing skills
I have had some media training and this course has, so far, exceeded my expectations. Touches on everything from style and presentation to the various essential professional skills. The expert training and advice( how to develop, compose, and deliver messages) will help me reach the next level.
Thank you for a very well organized course. It will be easy to find the points or topics I might want to read or see again as a refresher. You have very practical tips along with good explanations for the how-to's.
Coupons
| Submit by | Date | Coupon Code | Discount | Emitted/Used | Status |
| --- | --- | --- | --- | --- | --- |
| Lee Jia Cheng | 5/1/2020 | 897CCA1D06729258C4F8 | 100% OFF | 40000/3575 | expired |
| Angelcrc Seven | 8/16/2020 | 8A0F310F121F361C5C25 | 100% OFF | 40000/4134 | expired |
| - | 11/12/2020 | 776931EBA43AC777B666 | 100% OFF | 40000/2359 | expired |
| Angelcrc Seven | 12/27/2021 | C2580773588E980809DC | 100% OFF | 1000/862 | expired |
| - | 7/16/2022 | E3A208E0C6652EF02200 | 100% OFF | 1000/905 | expired |
| - | 11/5/2022 | 459BE81D24D81E0A6B8F | 100% OFF | 1000/967 | expired |
| - | 11/28/2022 | B6E6D510D6056EF719D1 | 100% OFF | 1000/949 | expired |
| - | 12/10/2022 | 9B898D8F8773FAF8B1F7 | 100% OFF | 1000/674 | expired |
| - | 12/25/2022 | F3A73E575261E1B1BC8C | 100% OFF | 1000/750 | expired |
| - | 12/30/2022 | 5AD04F88FC0686CFFD13 | 100% OFF | 1000/754 | expired |
| - | 1/7/2023 | THANKS023 | 100% OFF | 1000/991 | expired |
| - | 1/23/2023 | THANKS021 | 100% OFF | 1000/628 | expired |
| - | 1/26/2023 | C78FE26298F0DC32B73B | 100% OFF | 1000/288 | expired |
| - | 2/28/2023 | THANKS025 | 100% OFF | 1000/532 | expired |
| - | 2/28/2023 | 97D6B0799BF1658F95A2 | 100% OFF | 1000/219 | expired |
| - | 3/16/2023 | 8CC80A4568FEE8645EF6 | 100% OFF | 1000/186 | expired |
| - | 3/21/2023 | THANKS018 | 100% OFF | 1000/364 | expired |
| - | 4/1/2023 | 3115AE445D690A5FBDB8 | 100% OFF | 1000/164 | expired |
| - | 5/8/2023 | FAF26360EEA8662729BD | 100% OFF | 1000/243 | expired |
| - | 5/22/2023 | EBB6A270D37265106BA4 | 100% OFF | 1000/304 | expired |
| - | 6/27/2023 | 70CA92538528AFD385F4 | 100% OFF | 1000/173 | expired |
| - | 7/22/2023 | B44B7C7F0CB9653E59D7 | 100% OFF | 1000/395 | expired |
| - | 8/19/2023 | DB0FCD45787D1964B0D6 | 100% OFF | 1000/404 | expired |
| - | 9/11/2023 | 5BC1AAD0D32D96E759D9 | 100% OFF | 1000/317 | expired |
| - | 10/31/2023 | D8CE02D2D1C9327BE15B | 100% OFF | 1000/296 | expired |
| - | 11/29/2023 | 8DB3BBD79756FCD8D311 | 100% OFF | 1000/166 | working |
Charts
Price
Rating
Enrollment distribution
11/20/2014
course created date
3/12/2020
course indexed date
Lee Jia Cheng
course submited by