Home Workout Habits in 10 Min - Fitness for Busy-Lazy People
You Can Improve Fitness, Muscle Building, Fat Loss and Weight Loss by Doing a Simple and Short Home Workout Daily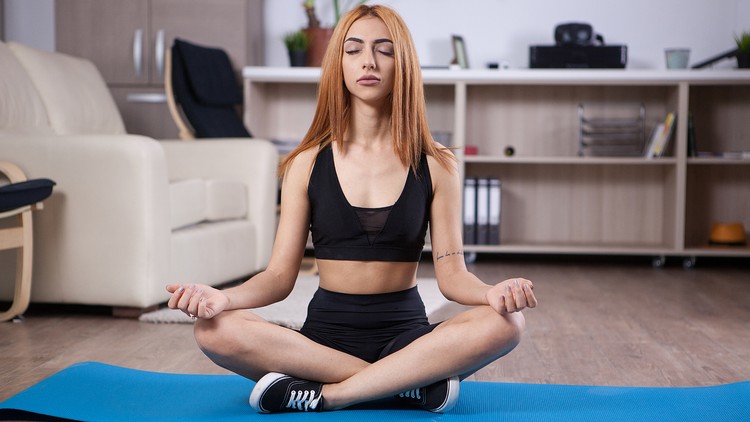 What you will learn
How to do a home workout
Make a home exercise routine
Do quick and efficient home workouts
Promote muscle building
Increase levels of fitness
Speed up fat loss
Aid weight loss
Description
Fitness - The 10 Minutes or Less Home Workout Habit for Lazy People
You Can Improve Fitness, Muscle Building, Fat Loss and Weight Loss by Doing a Simple and Short Home Workout Daily
If you're not ready to sign up for the next Iron Man competition but you are ready to get in better shape, in as little time as possible, then this course is for you.
You do not have to spend hours a day working out just to maintain proper fitness. It's possible to do a home workout on a daily basis in 10 minutes or less and still improve your fitness, even if you are a lazy person.
Instructor TJ Walker shows you unique techniques that he and other lazy people use to maintain fitness, build muscle, and promote fat loss and weight loss by doing simple home workouts.
Walker is also the innovator of the SelfieSpeak Programming method, SSP. Using the SSP method for building healthy habits can help you develop the regular routine of working out from home, even if you've never been able to do it consistently in the past.
"I can't help you get 6-pack abs overnight, or share with you a magic pill to lose 50 pounds, but if you want to start a new habit of working out daily at home, I can show you the easiest way possible." TJ Walker
If you don't have the time, interest, or ability to go to a gym across town, then it's time to start your own home workout program today. If you're ready to improve your fitness and your health, enroll today.
Here is what Udemy students say about this course:
"Thanks, TJ. This is the first lazy workout I have seen. I feel I can do this. Just a little bit per day. Everyday" Andy Hamdorf
"So well thought, Mr. Walker. I really like your philosophy about healthy living for the rest of us and actually doing exercise to create better awareness for our bodies. I enjoy every minute of your lectures, thank you for doing this, and all the best!" Michael Kaul
This Home Workout course is ideal for anyone searching for more info on the following: workout - home workout - gym - gym workout - weight loss - bodyweight. Plus, this course will be a great addition to anyone trying to build out their knowledge in the following areas: muscle building - fitness - fat loss - weight loss.
Content
You Can Improve Your Fitness and Well Being With Simple Home Workouts
TJ Walker Promo Video For Fitness Udemy Course
Quick Win! Let's Do One Rep Now
This Is Why It Is So Hard to Do Home Workouts
Here Is Why You SHOULD and SHOULD NOT Listen to Me
This Is How You Get The Most Out Of This Course
Home Workouts Can Lead to Better Fitness, Muscle Building, Fat Loss, Weight Loss
The Brushing Your Teeth Philosophy to Home Workouts
The Magic of the 10 Minute Workout
An Easy Exercise Program Anyone Can Do
This Works for Me Because I am Lazy
Stretch Your Way to Comfort And Keep Soreness Away
A Weird Looking Home Exercise That Makes You Feel Tension Free
Running Is No Fun But...
This Will Make You Feel 10 Feet Tall
Jumping Jacks Will Make You Feel Like a Kid Again
Push-Ups Are a Great Workout At Home or Anywhere
Pull-ups Can Be Intense!
Make Your Workouts Fun!
This Is A Fast and Easy Way to Lift Weights At Home
If You Get Serious About Push-ups, This Will Protect Your Wrists
The Weight Lifting Habit That Won't Bore You To Death
No Weights at Home? No Problem
Your Calf Muscles and Feet Will Never Be the Same
Be Your Own Thigh Master
Sit-ups In the Shortest Period Possible
The Right Way To Build Your Biceps
Dumbbell Bench-presses for You
Stretch, Strengthen and Empower with this Exercise
Lifting Weights for Your Legs and Back
More Weight Lifting for Your Legs
If You Have Room for a Treadmill...
Pick The Magic Number Of Steps for You and Then Stick to It
The Easy Way to Get More Steps In at Home
How To Remind Yourself Effortlessly to Do Your Home Workout Daily
Everybody Else Demands Your Attention - It's Time for You To Command Yourself
Get Ready to Make Your Own SelfieSpeak Program
This Is How I Brainwash Myself Into Doing Home Workouts Daily
Create Your Own SelfieMedia Program - a Picture is Worth 1000 Words
Here Is My Own SelfieMedia Program
SelfieText Programming - Your Checklist
Conclusion - Your New Home Workout Routine
You Have a New Home Workout Habit
You Must Come Up with the Perfect Home Workout - Just for You
Everything Can Get Strengthened and Improved, Even This Course
The Secret 10-Step Home Workout Solution
Congratulations and Good Luck to a Lifetime of Good Health
Reviews
A very motivated instructor and a lovely daughter who helps her father and trains with him. He has motivated me to pay more attention to my health. Thank you and I hope you achieve all your goals in life. Best Regards.
Alriaguciau
August 1, 2023
I guess I am Lazy because I am not as busy as I use to be. I need motivation. My Husband Steve passed away and I turned to booze, neglected myself and passed the time away doing absolutely nothing. TJ Walker is Fantastic and I feel motivated to get started with Living once again. Thank you for this program!
This course was the boost needed to condition my mindset to get back into exercise. Due to a hectic schedule working full time and going to school full time over the past four years, I convinced myself there was not enough time in the day to work out. Upon completing this course, I gained valuable insight into getting fit in just 10 minutes daily. No more excuses; thank you.
It's aweful that this instructor feels the need to spam me with over 2 dozen emails every day. He's not that important!
Concise and ideal for a busy lazy guy like me. It would have been nice to get a structured plan or examples for each body part focused on a particular day. I'll also appreciate bodyweight exercise for the arms, stomach etc.
Would have been better if it covered structured workout plans on daily/weakly basis. The course was quite basic but key take away is the third section. I agree that everyone should figure out their own ideal workout plan. It'll be great if there's a guideline to build the plan.
It's giving me a different point of view about working out below 20 minutes since everyone telling me that I need to workout above 20 minutes if I want to lose weight. I might be start to use those three methods now.
Instructor has wonderful insight and he makes it clear that it is important to do movement and to motivate oneself to be an advicate for oneself. He also say that the suggestions he mentions in the video are just that suggestions, and it is important to find exersices that you will want to do and keep doing.
Generally, I was thinking that, this course is only some videos that will help us to Build up our body structure, but after starting it, I got it, that's wow! Greatful for all us! Cause it's not only build up our bodys but it also set up the mind also that is more important than one, Even all are in just 10 minutes. It was Amazing!
Thank you sir for making this course. Best course for beginner ,who do not want to spend most time in exercising but to make healthy and fit body. The part i like most about this course is section 3 where he explains how to remind and make habit to do exercise on daily basis.
Thank you TJ! These short videos have been helpful. Your tips, tricks and tools are very useful, definitely will be using some of them. Best regards, Daniel
Course very inspiring, for me. I like the idea to make short time excercises every day, even 10 minutes, and everywhere. Do what you can, often. Very good and friendly. Thank you.
I like how the 10 min idea sounds, however, would like actually to have a more quantitative result on the impact. Bet there is already some study. Would motivate me more. Cheers!
Thanks TJ. This is the first lazy work out I have seen. I feel I can do this. Just a little bit per day. Everyday
The course helped me to elevate by exercise routine to be more focussed and crunchy. It will help me to gain maximum benefit with minimal time investment.
Coupons
| Submit by | Date | Coupon Code | Discount | Emitted/Used | Status |
| --- | --- | --- | --- | --- | --- |
| Lee Jia Cheng | 4/15/2020 | PICCUPRO | 100% OFF | 40000/4304 | expired |
| Lee Jia Cheng | 5/16/2020 | TJNEWSL | 60% OFF | | expired |
| - | 6/6/2020 | 797D668C8FD5CDACFC2A | 100% OFF | 40000/8305 | expired |
| AhmedELKING | 1/25/2021 | 985402B1E98AE4213359 | 100% OFF | 40000/4677 | expired |
| - | 5/31/2021 | F4581D7678F6E43A974F | 100% OFF | 40000/7425 | expired |
| Angelcrc Seven | 9/16/2021 | C8126601E0CA9B0C4307 | 100% OFF | 40000/1501 | expired |
| - | 1/7/2022 | THANKS015 | 60% OFF | | expired |
| - | 4/27/2022 | EDBA9A64AF6ECACE22CF | 100% OFF | 1000/998 | expired |
| - | 5/5/2022 | 2747A0CD808978E25BCC | 100% OFF | 1000/946 | expired |
| - | 6/15/2022 | 52C1637E56E36FD3670F | 100% OFF | 1000/984 | expired |
| - | 8/29/2022 | 021A9DAEECEB4E373CAA | 100% OFF | 1000/971 | expired |
| - | 10/2/2022 | DD55D907E9E7B232DF10 | 100% OFF | 1000/992 | expired |
| - | 10/9/2022 | CC9D96B27B78AA236D47 | 100% OFF | 1000/923 | expired |
| - | 11/27/2022 | B6515C583F842B1B96A7 | 100% OFF | 100/70 | expired |
| - | 5/17/2023 | 960A221DC7C4DA96146E | 100% OFF | 1000/723 | expired |
| - | 8/23/2023 | CCE39DF8E8EF369F1948 | 100% OFF | 1000/952 | expired |
Charts
Price
Rating
Enrollment distribution
4/7/2020
course created date
4/15/2020
course indexed date
Lee Jia Cheng
course submited by