Healing Your Root Chakra
Personal Growth via Root Chakra Clearing
Esoteric Practices
category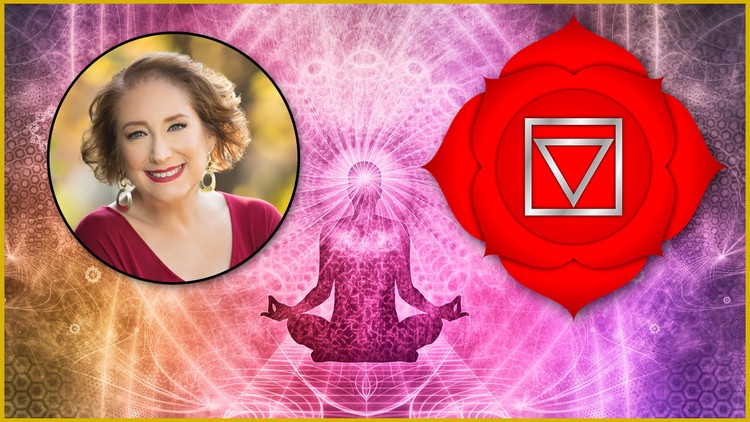 What you will learn
Heal birth trauma
Heal wounds from childhood
Remove self-sabotaging beliefs
Dissolve financial blocks
Description
This course covers a brief description of the chakra system with emphasis on the root chakra. We will dive deep into healing and keeping the root chakra strong.
You will experience: 
Healing with a sound/imaginal meditation.

Sanskrit mudra

Healing with gem stones.
You will clear:  Trauma at conception:
Birth trauma

5 negative beliefs you took on from your family of origin.
Benefits: 
Be free of fear

Be grounded

Know the right to survive and thrive
EFT and Healing Sessions
We can not do online sessions that are specific to your unique and individual needs, but we can do "Global" EFT and healing sessions. These sessions will get you started on your healing journey with the Root Chakras.
Global Healing Sessions include removing the following negative beliefs:
"You will fail just like I have."

"You are stupid."

"You are unlovable"

"The world is not safe."

"You do not have the right to survive." 

"There is not enough." 
The root chakra, or Muladhara, is our body's most primal and fundamental energy center, being located at the base of our spine, or groin area. Being associated with the color red, the root chakra regulates the energy associated with instinct, survival, and safety.
The root chakra is the first chakra. Its energy is based on the earth element. It's associated with the feeling of safety and grounding. It's at the base of the chakra system and lays the foundation for expansion in your life.
Enrol today!
Content
Introduction to Healing Your Root Chakra
Introduction
Who Joan Kaylor is, plus with disclaimer
What are the chakras?
What are the chakras?
Information held in the root chakra
Clearing trauma at Conception
Birth trauma
Why clear the root chakra
Why clear the root chakra
Clearing the root chakra through sound meditation
Clearing the root chakra through a mudra
Clearing the root chakra through gem stones
Clearing Root Chakra Sessions with Joan
Introduction
"You will fail just like I have."
"You are stupid."
"You are unlovable"
"The world is not safe."
"You do not have the right to survive."
"There is not enough."
Conclusion
Next Steps
Help You Fellow Students
[Bonus]
Reviews
Good and straightforward course on Root Chakras. A good place to start. Thank you for the exercises to work on, and the 3 options to apply.
What a wonderful energy that Joan emits in this course. She gives simple and effective guidance to start the journey on clearing and healing the root chakra. I am so excited to learn from her other courses!! Thank you, Joan♥️?♥️
Incredible course, with an awesome instructor and jam-packed with information! So much to learn and grow...
It's an awesome course. I felt healed at a deeper level while doing the meditations. Thank you very much for the course.
It's great so far.. The course is designed very well .Joan seems like a very experienced healer. It could be better with a little longer meditations.
To be able to understand a situation built on the root of its manifestation... The root. I am enjoying the course, thank you.
I felt very nice doing this course, learnt new way to use crystals, meditations are so much simpler and take less time. Thank you so much.
I enjoyed this course not knowing really what to expect. For me, it was an eye opener. I had no idea that you have to release the negativity before installing positive thoughts. Joan Kayler is a lovable lecturer! She's great! I found the resource with releasing negative thoughts only and not the one with installing the positive thoughts.
I had liked my Guru linking nerves and their energy with chakras and making it seem more scientific. There are better methods to teach medidation. I am wondering half way through on what did she teach? Zero!!
I am learning so much about all my struggles I have had and with my health and well being. The presenter is excellent and makes it easy to understand.
I knew I held some of the negative beliefs listed in this course. I had the opportunity to work on them and feel it helped me.
isabella
February 26, 2019
I like how present you are . You have helped my foot chakra i felt the difference on the first mediation.
Short sweet,straight to the point practical and so simple ,JOAN V. PROFESSIONAL IN GIVING THE INFORMATION WITH SIMPLESTY VERY ENCOURAGING AND ENGAGING , I ENJOYED THE COURSE VERY MUCH , YOU WILL FEEL THE CHANGE JUST FOLLOW THE INSTRUCTION ITS AMAZING THANK YOU VERY MUCH I AM SO SO SO GRATEFUL
Joan is really engaging and her compassion shines through her lectures. I will be on the lookout for more of Joan's classes
Coupons
| Submit by | Date | Coupon Code | Discount | Emitted/Used | Status |
| --- | --- | --- | --- | --- | --- |
| - | 12/16/2019 | A584714641BCEBA2FA20 | 100% OFF | | expired |
| Angelcrc Seven | 3/18/2020 | MARCH20CHAKRA | 100% OFF | | expired |
| Angelcrc Seven | 7/10/2020 | HYRCEXPJULY122020 | 100% OFF | 40000/2112 | expired |
| Angelcrc Seven | 11/3/2020 | HYRCEEXPNOV52020 | 100% OFF | 40000/2626 | expired |
| Angelcrc Seven | 12/16/2020 | HYRCEXPDEC182020 | 100% OFF | 40000/2544 | expired |
| Angelcrc Seven | 2/9/2021 | HYRCHEXPFEB122021 | 100% OFF | 40000/2662 | expired |
9/21/2018
course created date
11/20/2019
course indexed date