Healing Your Sacral Chakra
Live Life to the Fullest
Esoteric Practices
category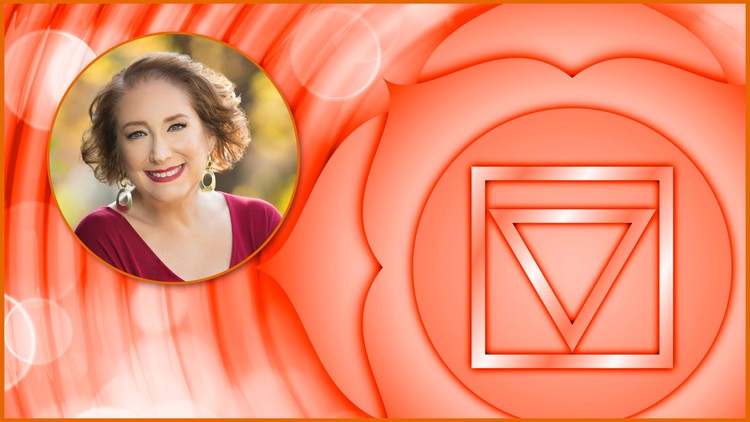 What you will learn
Feel their divine energy moving thru their bodies
Experience intimacy at a deeper level
Be more in touch with their sexuality
Description
Dive deep into healing and keeping the sacral chakra open and balanced. The sacral chakra is where we connect emotionally to ourselves and others. It is our current family, our business and personal relationships.
When open and balanced the sacral chakra is where we express our emotions, creativity, enjoy pleasure and have healthy reproductive and digestive systems. 
The sacral chakra, or Swadhisthana in Sanskrit, is located in the lower abdomen just below the coccyx or tailbone. The chakra color of the second chakra is orange, and its element is water. It is associated primarily with emotional responses and regulation and is often referred to as the seat of emotions. It is also associated with the sense of taste and with reproductive function.
"I enjoy life fully" could be the sacral chakra's motto. An open, balanced sacral chakra allows you to experience intimacy and love freely and fully, to be honest and non-judgmental about your desires, and to live as your authentic self without fear.
You will learn: 
Healing with a sound/imaginal meditation.

Sanskrit mudra

Healing with gem stones.
You will clear:    
Procrastination 

Low Libido

Co dependency

Neediness and the need for reassurance

Social anxiety

Inability to feel and express emotions or too much emotion.

And more...
Upon opening and strengthening the sacral chakra:
You will become more creative

Enjoy a more stable mood

Express your emotions easily

Enjoy pleasure

Have a healthy libido

Enjoy relationships

Healthy digestive and reproductive systems
Enroll today!
Content
Introduction
Introduction: Welcome to Healing Your Sacral Chakra
What are the Chakras?
Reasons to seek balance and clear Your Sacral Chakra
Healing your Sacral Chakra
Clearing the Sacral Chakra through Sound Meditation
Clearing the Sacral Chakra through a Mudra While Chanting VAM
Clearing the Sacral Chakra through Gem Stones and Crystals
Summary
Specific Sacral Chakra Healing Sessions
Neediness
Co dependency
"I don't deserve go out and have fun."
"I am afraid to tell my partner what I enjoy during sex."
Sex is a chore – not fun."
"I cannot express my feelings. I don't even know what they are"
"I cannot conceive."
Next Steps
Next Steps
Help Your Fellow Students
[Bonus] Moving Forward Faster
Reviews
So precise and informative, I learnt a lot about sacral chakra, thank you and yes I have increased my libido and I am able to talk to my partner now with openness and comfort
I really enjoyed your course, it has certainly made me more aware of things. I will get the crystals out! Thank you
I really appreciate Joan for her heart-felt clarity in speech and her direct and simple, yet dynamic and practical teachings that can be understood and applied by everyone. Thank you and bless you, Joan Kaylor.
I took this course not having any idea what it was about. I just thought it might be a fun learning experience. It turned out to be an interesting course. Unfortunately, I couldn't get access to the resource mentioned in the course, so I was a little confused at times. The instructor said this is part of a three part course and I hadn't taken the other two courses so maybe that was part of my confusion.
Kayla-Teri
February 7, 2020
It was a good course, but i think i will be exploring a course that includes information on all the seven chakras and how to balance them. I already have a basic understanding and practice yoga, meditation and i am a certified Holistic Life Coach. So chakras are quite important to my health, work and emotional stability
I felt the course is interesting to start. This course kept me fixed to my seat till the completion. Amazing, how and what Chakra control does to oneself.
Yes, it has been a good match for me. I've been aware for some time that my Sacral Chakra is not balanced and I'm very curious to learn more especially through a course rather than going down the rabbit hole that is the internet.
It feels like it is what I was searching for and I want to enjoy life to the fullest and be able to express my emotions safely and properly.
Before taking this course I did know a lot about chakras and specifically sacral chakra. I did advanced courses on Pranic healing and chakra healing previously. Yet , I felt I got lot of insight and help from this course. The thing that touched me THE MOST is
Coupons
| Submit by | Date | Coupon Code | Discount | Emitted/Used | Status |
| --- | --- | --- | --- | --- | --- |
| - | 12/11/2019 | D5D51137EF83D51E832F | 100% OFF | | expired |
| - | 2/5/2020 | EXPIESFEB8-8AM | 100% OFF | | expired |
| - | 11/3/2020 | HYSCEXPNOV52020 | 100% OFF | 40000/2533 | expired |
| Angelcrc Seven | 12/16/2020 | HYSCAEXPDEC182020 | 100% OFF | 40000/1735 | expired |
| Angelcrc Seven | 2/9/2021 | HYSCHEXPFEB122021 | 100% OFF | 40000/742 | expired |
10/25/2018
course created date
11/20/2019
course indexed date