Get Google Sheets as JSON data for web applications
Learn how to do more with Google Sheets integrate it the data into your own Applications get web app urls for the data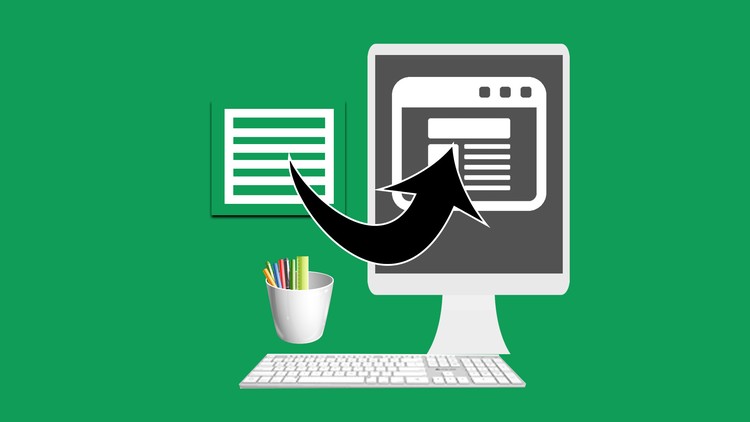 What you will learn
Output Google Sheets data in a JSON format
Create web URL for Google Sheet data
Import Google sheets data into web applications
Description
Google provides a powerful set of tools with Google Apps.   Google sheets is a great place to store data within a spreadsheet.  Did you know you can use that data on the web?
Great introduction to Google Sheets and Google Script

Publish your Google Sheet data to the web.
Use Google Sheets data on your own webpages
Output Google Sheet data as JSON and add it anywhere
You will be amazed at how easy it is to work with Google Sheets
This course provides ways to use the data for web development and more.  Course covers outputting the data as a web app.  This will give you access to the data using a URL which you can then share online.   Select either one sheet or all its up to you no programming is needed.
Web application use case, this part of the course covers more advanced ways of using the data.  We show you how the data can be output as JSON data, select any sheet get it as JSON data.   JSON, or JavaScript Object Notation, is a minimal, readable format for structuring data.  Its perfect for use within web applications.  Adding jQuery for easy AJAX calls. With Ajax, Web applications can send data to and retrieve from a server asynchronously (in the background) without interfering with the display and behavior of the existing page.   Source code is included as well as how to update it to get the content from your own Google Sheet.  

Minimal programming is required for this course, but a basic understanding is needed for the more advanced web application functionality.
Google sheets provides a great way to collaborate and use data online within a nicely packaged spreadsheet.  Now you too can use that data.
I'm here to help you learn more about web applications and ready to answer any questions you may have.
Join now and start doing some amazing things online!
Content
Introduction to Google Sheets Data as JSON
Introduction to Google Sheets Course
Course Resources and Setup
Google sheet Data publish to the web
Easy output of JSON feed containing Sheet Data
Example
Web application connecting via AJAX to Google Sheet
Sheet name output to HTML element
Loop data output to HTML
CSS styling Sheet output data in HTML
Add data to any web application
Course Review Overview
Source Code Examples and Links
Updated version to Get JSON data from Google Sheets
Source Code for Google Sheet fetch request for JSON data
Bonus Section
Updated new Endpoint and selection of Sheet data
Reviews
This is such a good, quick course! I've already used it to build two pages on my site! Thank you, Laurence!! You're a great teacher!
Great course, great instructor, great that he get's under the hood and explains what is going behind the scenes. Highly recommend this if you are just starting out.
Interesting approach. Security issues for public webpages stay unsolved. Teaching example could be better prepared to save some time. There is a little to much improvisation – but it shows how easy this approach works. Variations for Vanilla Script, PHP or even WordPress would be nice.
this course is great to show how powerful Google Sheets can be, for those who just learn about Web Services or APIs, and want to understand the simple idea of getting contents from the web and manipulate the data, this can be a good start. Consider this as the (R)ead in CRUD, looking forward for C*UD.
Yet again, Laurence has produced a detailed study of something extremely practical: a smattering of relevant theory along with real-life, useful coding. A huge thank you to Laurence.
7/14/2017
course created date
5/1/2022
course indexed date