Google Analytics, GTM. How to improve your marketing?
Learn how to increase your online marketing performance with analytical tools to effectively promote your business!
Analytics & Automation
category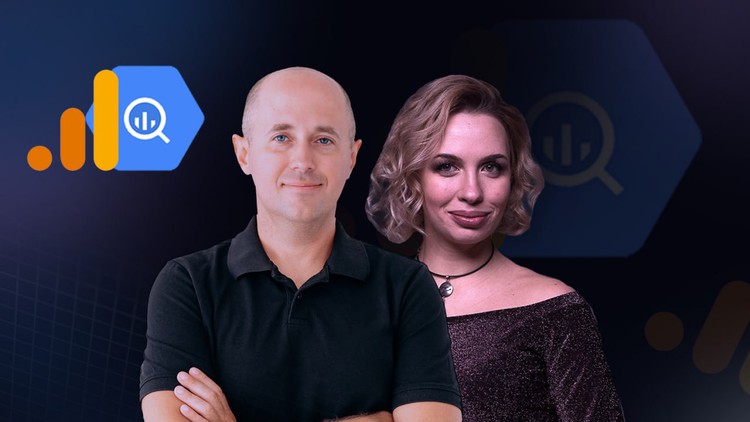 What you will learn
Make decisions based on data
Work with Google Analytics
Link your Google Analytics and Google Ads accounts
Customize goals and events
Understand reach, conversion, and transactional analytics metrics
Work with e-commerce modules
Set up data transfers for advertising costs
Create and understand automatic custom reports
Configure custom alerts
Customize segments
Customize filters
Set up calculated indicators
Description
Description
Web analytics is the pulse of digital marketing. Everything is measured, and everything is measurable. With Google Analytics and a call tracking system, you can clearly understand who your client is, how to improve your site, and which traffic sources are the most beneficial for your business.
What will you learn in this course?
After completing this course, you will learn how to work with and get the most out of your web analytics data.

What web analytics and why it's essential for your online success.

How to set smart goals that help your business grow

Basic and advanced tools to measure and understand website performance.

Have the ability to evaluate the effectiveness of advertising campaigns and optimize an advertising budget.

Learn how to use analytical marketing data to increase your business's profits.

How to analyze your content's impact on social media and beyond.

Understanding how well your website engages visitors and keeps them interested.

Practice transferring the data from Google Analytics to Google Sheets using API Connector by Mixed Analytics.

Find out more about valid reasons to replace GA4 with other analytics tools.

Practice collecting and interpreting data with Piwik PRO, a GA4 privacy-friendly alternative.

All about being a web analyst, what skills you need, and the tools you'll master.

Apply your newfound skills to enhance your marketing strategies effectively.



What do we offer in our course?
Structured lessons with practical exercises

A web analytics checklist

A free copy of my book "Cutting-Edge Digital Marketing. How to attract customers and increase online sales". In my book, I cover the following topics in depth: Internet promotion strategy, competitive analysis, web analytics, how to draw a portrait of your target audience, content plan formation, SEO, PPC advertising, promotion for social networks, email marketing, and case studies.



Why should you choose this course?
Why should you choose us over other online web analytics courses?
You will have the opportunity to learn about Google Analytics from the top internet marketing professionals.
We are industry experts! WebPromoExperts has over 12 years of experience in internet marketing. Our agency is a Google Premier Partner and a Facebook Marketing Partner.




I have personally obtained a vast number of digital marketing qualifications and certifications such as Google Analytics Individual Qualification, Google Ads Individual Qualification, Bing Ads Accredited Professional, Search Ads 360 Certified, and others.




During our career, we have launched over 1,500 successful marketing strategies and marketing campaigns.




More than 480,000 internet marketers have enrolled in our online courses, all of whom have successfully passed the Google Analytics and Google Ads certifications.




Our internet marketing courses are easy to understand. We train specialists for strategy, digital agency management, SMM, SEO, content marketing, PPC advertising, SERM, email marketing, web analytics, and other areas of digital marketing.




Upon completion of the course, you will receive a Google Analytics certification from Udemy.
What else do you get?
Lifetime access to the course and its updates

A certificate from Udemy upon completion of the course
Should you be worried?
Sign up now! Every second you wait can cost you leads and applications!
This course comes with a 30-day money-back guarantee!
Want to start learning about Google Analytics? Click the "take this course" button to begin developing your project today!
Content
What is web analytics?
Introduction
Web analytics checklist
What do we count? Performance indicators
Key Performance Indicators (KPI). Attraction and Interactivity
Key Performance Indicators (KPI). Conversion metrics
How to set up Google Analytics and Google Tag Manager
Web analytic systems and Google Analytics Tools
Google Tag Manager
How to Tag Links?
How to link accounts?
How to set up goals and events
Site search
How to set up analytics for ecommerce. Metrics
Ecommerce module
Call tracking
Understanding sequences
Setting up analytics
Calculated metrics
How to set up automatic custom reports and notifications
How to set up automatic custom reports
Performance analysis and custom notifications
How to create custom segments?
How to set up Filters
CRM system and transactional analytics
Final checklist for analytics setup
Lesson overview
How to Get Your Certificate?
Reviews
Narasimham
December 21, 2022
I am happy very happy take this course now a days digital marketing very demanding feild, vedio quality is very good and explaining is excellent. Thank you sir.
Amazing, in-depth easy explanation by the Author Anton Voroniuk! Just started the course and can't wait to learn all these things and get my skill-set sharpened on these Google tools!
Siddheshvar
August 4, 2022
Thank you sir for your proper guidelines & teaching.I would like to complete few more courses from you.
Excellent course but the practical on the Google Analytics software moves way faster than the audio so it makes it impossible for a beginner to catch up. It will be good if that can be fixed.
It was well organised but I would prefer to see more Google Analytics processes. For example it could contain more examples based on real case scenarios and show step by step how we can handle them. I think that, that extended speaking was making me lose interest at some point.
I learnt and still learning a lot Kudos Anthony Kindly release more of your free courses for us to benefit from THANKS
Most important step of any successful marketing plan is knowing exactly who your audience is. Using social media profiles can be an excellent way to connect and interact with your audience in a professional manner, whilst giving that all important personal touch. Many Business owners have been caught up with an outdated style of thinking when it comes to marketing. In today's ever evolving marketing landscape having a marketing plan that works for your business or brand is an increasingly important factor.
I hope this course will help me better understand how to monitor my online business and make right decisions on how to improve the business
Very important information that every marketer should learn it today. Clear explanation. definitely recommend especially if u are not familiar with Google analytics or struggling with it&
This was a very immersive and interesting course - a lot of self-learning to be done on your own to really understand and put together into practice workflow
The course is looking very good and interactive. All the major & minor terms of Google analytics are explained in very crispy and summarized way. Well done Anton and thank you very much for designing such a wonderful course in easy way.
The theory is good, well documented. The lecturer addresses many important topics. However, I am missing some of the technical setups. He does show examples of how to implement certain settings but does not clearly explain why are we doing this. For instance, I did not understand how to create an event & goal, what is the purpose, why do we have to define them here if we have already defined the conversion in Google Ads. Same applies to some other narrow topics, such as Google Tag Manager. Overall the course is good, but more detailed explanation to certain aspects is needed.
This course is a good match for me because I am studying business administration and I am very keen to take digital marketing as a full time job.
Accent was a little difficult to understand as a Brit, but with closed captions no issue. Decent overview and learnt a lot.
Couldn't concentrate on the information stream becuse of the lector's hands waving which is distractive and clumsy. And next thing is clumsy reading of the text: it would be definitely better to look at the charts, tables etc. but not at the lecturer who is reading all the time (and trying to do it quikcly putting wrong accents) and that was another thing which disturbed during the whole course.
Coupons
| Submit by | Date | Coupon Code | Discount | Emitted/Used | Status |
| --- | --- | --- | --- | --- | --- |
| Angelcrc Seven | 7/27/2021 | GOOGLEANALYTICS2707 | 100% OFF | 40000/11769 | expired |
| - | 8/2/2021 | GOOGLEANALYTICS0208 | 100% OFF | 40000/4179 | expired |
| - | 8/17/2021 | GAGA4GTM1708 | 100% OFF | 40000/2695 | expired |
| - | 8/24/2021 | GOOGLE2408 | 100% OFF | 40000/5936 | expired |
| - | 9/2/2021 | GOOGLE0209 | 100% OFF | 40000/1906 | expired |
| Angelcrc Seven | 9/14/2021 | GOOGLEANALYTICSGA4 | 100% OFF | 40000/2343 | expired |
| - | 9/21/2021 | GOOGLEANALYTICS21 | 100% OFF | 40000/2664 | expired |
| - | 10/11/2021 | WEBANALYTICS2021 | 100% OFF | 40000/2754 | expired |
| - | 10/19/2021 | ANALYTICS2021 | 100% OFF | 40000/1816 | expired |
| Anton Voroniuk | 10/25/2021 | GAGA4GTM | 100% OFF | 40000/1785 | expired |
| Anton Voroniuk | 11/9/2021 | GOOGLEANALYTICS0911 | 100% OFF | 1000/928 | expired |
| Anton Voroniuk | 11/16/2021 | GOOGLEANALYTICS1611 | 100% OFF | 1000/997 | expired |
| Anton Voroniuk | 11/23/2021 | BLACKFRIDAY | 100% OFF | 1000/725 | expired |
| Ignacio Castro | 12/6/2021 | GOOGLEANALYTICS0612 | 100% OFF | 1000/985 | expired |
| Anton Voroniuk | 12/13/2021 | GOOGLEANALYTICS1312 | 100% OFF | 1000/941 | expired |
| Anton Voroniuk | 12/20/2021 | GOOGLEANALYTICS999 | 87% OFF | | expired |
| Anton Voroniuk | 1/6/2022 | GOOGLEANALYTICS2022 | 100% OFF | 1000/985 | expired |
| Anton Voroniuk | 1/11/2022 | GOOGLEANALYTICS1101 | 100% OFF | 1000/968 | expired |
| Anton Voroniuk | 1/18/2022 | GOOGLEANALYTICS1801 | 100% OFF | 1000/940 | expired |
| Anton Voroniuk | 2/7/2022 | GOOGLEANALYTICS0702 | 100% OFF | 1000/988 | expired |
| Anton Voroniuk | 2/15/2022 | GOOGLEANALYTICS1502 | 100% OFF | 1000/961 | expired |
| Anton Voroniuk | 2/21/2022 | GOOGLEANALYTICS2102 | 100% OFF | 1000/974 | expired |
| - | 3/2/2022 | GOOGLEANALYTICS0203 | 100% OFF | 1000/802 | expired |
| - | 3/8/2022 | GOOGLEANALYTICS0803 | 100% OFF | 1000/997 | expired |
| - | 3/11/2022 | GOOGLEANALYTICS1103 | 100% OFF | 1000/933 | expired |
| - | 4/4/2022 | GOOGLEANALYTICS0404 | 100% OFF | 1000/952 | expired |
| - | 4/11/2022 | GOOGLEANALYTICS1104 | 100% OFF | 1000/844 | expired |
| - | 4/20/2022 | GOOGLEANALYTICS2004 | 100% OFF | 1000/914 | expired |
| - | 5/10/2022 | GOOGLEANALYTICS1005 | 100% OFF | 1000/987 | expired |
| Anton Voroniuk | 5/17/2022 | GOOGLEANALYTICS1705 | 100% OFF | 1000/954 | expired |
| Ignacio Castro | 5/23/2022 | GOOGLEANALYTICS2305 | 100% OFF | 1000/989 | expired |
| - | 6/2/2022 | JUNEGIFT | 100% OFF | 1000/939 | expired |
| Ignacio Castro | 6/10/2022 | GOOGLE1006 | 100% OFF | 1000/982 | expired |
| - | 6/16/2022 | FREEWEBINAR | 100% OFF | 1000/970 | expired |
| - | 7/6/2022 | GOOGLE0607 | 100% OFF | 1000/869 | expired |
| - | 7/15/2022 | GOOGLE1507 | 100% OFF | 1000/875 | expired |
| - | 7/25/2022 | JULYGIFT | 100% OFF | 1000/850 | expired |
| - | 8/1/2022 | GOOGLEANALYTIC0108 | 100% OFF | 1000/998 | expired |
| - | 8/11/2022 | GOOGLEANALYTIC1108 | 100% OFF | 1000/896 | expired |
| - | 8/29/2022 | GOOGLEANALYTIC2908 | 100% OFF | 1000/975 | expired |
| - | 9/5/2022 | GOOGLEANALYTIC0509 | 100% OFF | 1000/891 | expired |
| - | 9/9/2022 | GOOGLEANALYTIC0909 | 100% OFF | 1000/988 | expired |
| - | 9/16/2022 | GOOGLEANALYTIC1609 | 100% OFF | 1000/995 | expired |
| - | 10/4/2022 | GOOGLEANALYTIC0410 | 100% OFF | 1000/988 | expired |
| - | 10/14/2022 | COURSEUPDATES1410 | 100% OFF | 1000/743 | expired |
| - | 10/25/2022 | GA2410 | 100% OFF | 1000/996 | expired |
| - | 11/7/2022 | GA0711 | 100% OFF | 1000/994 | expired |
| - | 11/14/2022 | GA1411 | 100% OFF | 1000/948 | expired |
| - | 11/21/2022 | GA2111 | 100% OFF | 1000/995 | expired |
| Anton Voroniuk | 12/2/2022 | GA0212 | 100% OFF | 1000/967 | expired |
| - | 12/12/2022 | GA1212 | 100% OFF | 1000/960 | expired |
| Anton Voroniuk | 12/16/2022 | GA1612 | 100% OFF | 1000/960 | expired |
| - | 1/3/2023 | GA0301 | 100% OFF | 1000/992 | expired |
| - | 1/13/2023 | GA1301 | 100% OFF | 1000/964 | expired |
| - | 1/18/2023 | GA1801 | 100% OFF | 1000/984 | expired |
| - | 2/1/2023 | GA0102 | 100% OFF | 1000/997 | expired |
| - | 2/10/2023 | GA1002 | 100% OFF | 1000/736 | expired |
| - | 2/21/2023 | GA2102 | 100% OFF | 1000/635 | expired |
| - | 3/1/2023 | GA0103 | 100% OFF | 1000/945 | expired |
| - | 3/10/2023 | GA1003 | 100% OFF | 1000/796 | expired |
| - | 3/20/2023 | GA2003 | 100% OFF | 1000/971 | expired |
| - | 4/4/2023 | GA0404 | 100% OFF | 1000/876 | expired |
| - | 4/12/2023 | GA1204 | 100% OFF | 1000/499 | expired |
| - | 4/21/2023 | GA2104 | 100% OFF | 1000/407 | expired |
| - | 5/2/2023 | GA0205 | 100% OFF | 1000/425 | expired |
| - | 5/11/2023 | GA1105 | 100% OFF | 1000/311 | expired |
| - | 5/23/2023 | GA2305 | 100% OFF | 1000/304 | expired |
| - | 6/1/2023 | GAFREE106 | 100% OFF | 1000/395 | expired |
| - | 6/19/2023 | GA_FREE | 100% OFF | 1000/704 | expired |
| - | 6/26/2023 | GAFREE2606 | 100% OFF | 1000/972 | expired |
| - | 7/4/2023 | GAFREE407 | 100% OFF | 1000/984 | expired |
| - | 7/12/2023 | GAFREE1207 | 100% OFF | 1000/385 | expired |
| - | 7/20/2023 | GA2007 | 100% OFF | 1000/675 | expired |
| - | 8/1/2023 | 108FREE | 100% OFF | 1000/991 | expired |
| - | 8/16/2023 | GAFREE1608 | 100% OFF | 1000/983 | expired |
| - | 8/24/2023 | GA4FREE | 100% OFF | 1000/846 | expired |
| - | 9/4/2023 | WPE0109 | 100% OFF | 1000/947 | expired |
| - | 9/12/2023 | GAFREE1109 | 100% OFF | 1000/558 | expired |
Charts
Price
Rating
Enrollment distribution
6/28/2021
course created date
7/27/2021
course indexed date
Angelcrc Seven
course submited by