Google Analytics 4 Made Easy - Step by Step Success Guide
We only have 1 Goal. To Learn you How to Read & Understand your website's Google Analytics 4 data.
Analytics & Automation
category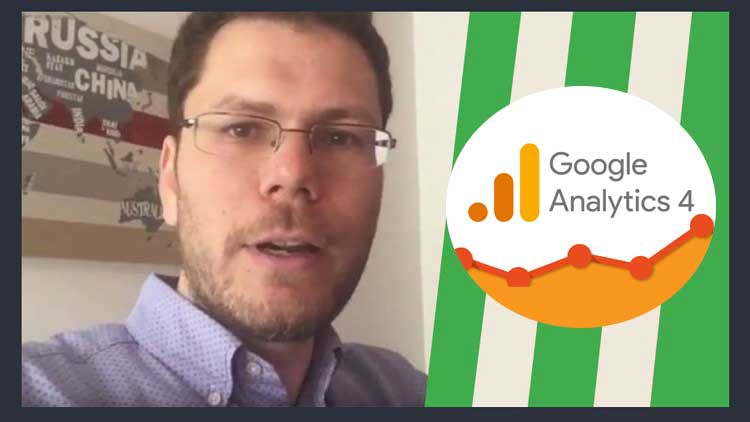 What you will learn
Understand the Key Analytics Metrics of GA4 to Define Success
Deeply Understand your Audience to be able to target it
Analyze the GA4 channels and find the best way they cooperate to convert your visitors
Analyze your Google Ads Campaigns to find the best and worst ROI
Analyze sales and products that will guide your sales
Description
GOOGLE ANALYTICS 4 INTERFACE & DASHBOARD - This is an Essential Course for Google Analytics 4.
During the Google Analytics 4 Training, we use an advanced method of analyzing our websites traffic, its visitors and their behavior using Google's new tool, Google Analytics 4. This course will give us a clear picture of our site as well as the strategy we need to follow.
The Google Analytics 4 course is designed to equip participants with the essential knowledge and skills to navigate and utilize the powerful features of Google Analytics 4 (GA4).
As the latest version of Google's flagship web analytics platform, GA4 offers advanced tracking capabilities and enhanced data analysis options that enable businesses to gain deeper insights into user behavior, optimize marketing strategies, and maximize website performance.
This comprehensive course provides a hands-on learning experience, guiding participants through the process of setting up, configuring, and effectively utilizing Google Analytics 4 to drive data-informed decision making.
Course Objectives:
Understand the key concepts and terminology associated with Google Analytics 4.

Learn how to set up and configure Google Analytics 4 for accurate data collection and reporting with your developer's help.

Explore the new data model of GA4 and understand the differences compared to Universal Analytics.

Discover the enhanced tracking capabilities of GA4, including events, conversions, and user properties.

Gain proficiency in interpreting and analyzing GA4 reports and insights.

Utilize advanced features, such as custom dimensions, audiences, and data export, to optimize marketing efforts.

Master the integration of Google Analytics 4 with other tools, such as Google Ads and Google Search Console.
Course Outline:
Overview of Google Analytics 4 and its benefits

Understanding the key differences between GA4 and Universal Analytics

Navigating the GA4 interface and account structure
Creating a GA4 property and linking it to your website or app

Configuring data streams and data collection methods

Implementing the GA4 tracking code and ensuring accurate data capture
Understanding the event-driven data model in GA4

Identifying and configuring key events and conversions

Utilizing user properties to segment and analyze audience behavior
Interpreting GA4 reports, including user acquisition, engagement, and retention

Analyzing user journey and behavior flow reports

Using the exploration feature to uncover actionable insights
Who Should Attend: This course is suitable for digital marketers, website owners, data analysts, business owners, and anyone interested in harnessing the power of Google Analytics 4 to make data-driven decisions and improve online performance. No prior experience with Google Analytics is required, but basic knowledge of web analytics principles would be beneficial.
By the end of this course, participants will have a comprehensive understanding of Google Analytics 4 and the skills necessary to leverage its advanced tracking and analysis capabilities. Armed with this knowledge, attendees will be able to make informed business decisions, optimize marketing strategies, and maximize the impact of their digital presence.
This is the only Google Analytics 4 Training created by an instructor who is also a Google PREMIER Partner, which is a title given to only 3% of Google Partners worldwide.
The Google Analytics Training is the most effective, straightforward & practical course on the market. Based on your comments, this is a Training that "Saves Money", "To The Point", "Deeply Explained", "Fast & Accurate", "Well Ordered" and "On Topic Only".
Our goal is for you to learn how to effectively use the Google Analytics platform in combination with Google AdWords and all other Channels (Organic, Social Media, Email Marketing, Referral) so as to aim towards performing campaigns that deliver a high ROI. That's why we combine a professional Analytics Course with professional personalised Analytics support.
Content
Google Analytics 4 - Goals, Setup & Strategy
Events: The core of Google Analytics 4
Conversions: Defining our goals in GA4
Automatically tracked events by Google
Scenario 1 - GA4 Account Creation & Installation by Developer
Installation by Developer and Access
Scenario 2 - GA4 Account Creation by Us & Installation by Developer
Creating a Google Analytics 4 Account
If Reports are not displaying as shown
Additional Events & Actions We Perform
Process of adding additional events & conversions
Configuration - Trick to measure even better
Connecting with Google Search Console and Google Ads
Verifying that everything is being measured correctly
Questions about Installation & Functionality
Can one day GA4 work while the other doesn't?
Is GA4 very different from Google Analytics Universal?
Will the old Google Analytics Universal be discontinued?
I have set up the new GA4, but I still see a notification that it will be discon
Can Google Analytics 4 be installed automatically?
Who should install Google Analytics 4?
GA4 Data Analysis & Insights
2 Types of Data
Home - The main data overview
Report Snapshot - Familiarizing with all Reports
Key Traffic Channels - Default channel
RealTime - Our site in real-time
Acquisition Pillar - Origin analysis
Exporting Tables and Conversion Rate
Download Demo Report for Practice (Channels & Conversions Rate)
Additional Filters for Additional Insights such as Age, Gender, Time, etc.
Download Demo Report for Practice (Channels & Age Metrics)
Important Metrics for E-commerce & Hotels
Download Demo Report for Practice (Average cart - Checkout / Session etc)
Measuring Advertising Effectiveness
Engagement - Metrics, Measurements, Tips
Monetization - Metrics, Measurements, Tips
Download Demo Report for Practice (Monetization)
User Attributes - Analyzing Visitor Characteristics
Download Demo Report for Practice (Interests)
Sales, Paths, and Sales Measurement Models
Download Demo Report for Practice (Conversions & Average Cart)
7/11/2023
course created date
9/3/2023
course indexed date