Git & GitHub Crash Course: Create a Repository From Scratch!
Learn how to create a Git repository, clone it, make changes, and submit changes to GitHub in less than 30 minutes.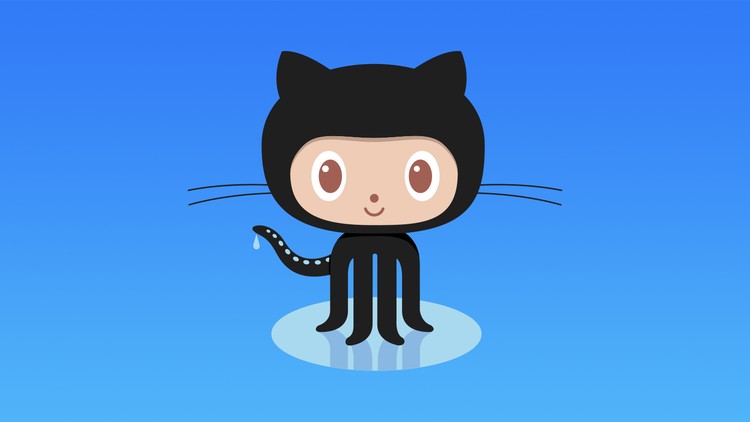 What you will learn
Create your first repository
Clone it to your computer and add files
Push your changes to GitHub
Learn how to see differences between old and new files
Learn how to do all of this on the command line, as if you were deploying code on a live server!
Description
Welcome to the 30 minute free Git and GitHub crash course!
Employers and developers everywhere are using Git. This is why you should learn it (and also because it's powerful and a really cool tool!)
Git is a powerful (and VERY popular) versioning tool for web developers. But it's hard to get started because there's a lot to know and everyone assumes you already know the basics.
Looking for a short course on Git?
Looking for a short course on GitHub?
Then this is the course you're looking for!
This course is perfect for a web developers who's next step is to learn Git and GitHub.
The core of this course is less than 30 minutes, and you'll learn:
How to create a repository

How to copy it to your computer

How to add files to your repository

How to send the changes to GitHub
Plus you'll learn:
Git fundamentals, and

GitHub fundamentals
You'll also learn the terminology that developers use, like: cloning, staging, committing, pushing and diff. And you'll learn WHY Git is so popular and HOW it's powerful. And we'll be using GitHub which is the Git-service brand name.
Not sure if you should pay for an 8 hour course on Git? Take this course first to get your feet wet.
P.S. You'll learn how to do all this through your command line... because one day you'll be deploying code on a server and you'll need to use the command line, it's the only way! This course will set you up for success! ;)
Content
Introduction
Introduction
Stream these videos in full HD!
Starting With Git and Github
Example Repo URL
A Quick Message
Adding Files and Staging Them
Committing Your Work and Viewing Differences
A Super Helpful Git Command!
Developer Support
Your Task
Test Your Terminology
Where To Go Next
Bonus material and where to go next
Reviews
yes, good pace, direct and to the point ... i now have the basics down and will use github (GITLAB mostly cos is private and free, thanks for the tip) ... i would recommend this course to anyone who doesn't know github, and needs to. The command line/terminal stuff is also a very nice feature i'd not even considered. Thanks Kalob :)
Vyacheslav
February 22, 2023
- git lg does not work on my Mac; - I had to use Google because login by name and password is disabled in 2021. I had to look up how to use SSH authorization. That is, the course does not even cover all the basic questions and is clearly already outdated. Unfortunately, money wasted.
Please allow screen shots or some other way to copy the syntax for the commands that are needed so we can more quickly take notes. Right now, it blocks that out (ex. snippet won't work), and I have to manually type everything into my notes, so the class is taking me longer. If screen shots isn't allowed, then please find another way to have comments in text form, that your students can copy & paste into their notes.
Course is awesome as it's free. I learned the basics but still it would be nice to have SSH Key demonstration.
I always want to learn Git,did not know where to go. Thanks so much now I am advance and knowledgeable. Five Stars for for Kalob Taulien. I enjoy learning and you explain where I understand.
it is a short course which gives you insight on from where to start and how to start. So that you can have some practical experience.
This is a course that actually uses Mac interface which are sometimes hard to find in the beginner section of learning and hence I am way more happy with the course and also the instructor teaches in a very appropriate manner and makes us understand every bit of git and GitHub, demonstrates everything graphically and in Commandline tools so that way it really helps
You are going a little bit fast especially for new students I know its Crash Course but still too fast.
So for so good, great communication, and explains everything step-by-step in a very simple way which i love.
Easy-going guy with a nearly melodic voice that softens the learning process in such a profitable way. So good, so far!
Does not explain how to install bash for ubuntu for windows, neither did the instructor remember the name of it
Abdulrahman
December 19, 2022
I really appreaciate the effort of my instructor and the entire management of udemy for making this course for us. It is very helpful
Not good as expected, not completed github functionalities, better tutorial found in youtube, lost my money
Mauricio
December 13, 2022
This is pretty good material. Delivered well. The instruction is clear and the instructor is very likeable
Good quick intro overall. Would have been helpful to cover some errors or problems users might experience. I ran into a couple as I followed along and had to research them to continue the course. Some of the commands needed were a bit different than what is covered in the video, which contributed to the problems I experienced. However, the git command line offers suggestions to help users and the repository shows the correct command line syntax.
Charts
Price
Rating
Enrollment distribution
6/5/2018
course created date
11/3/2019
course indexed date