Get 10x Returns: Make a Photo App With a Top-Performing Code
In the last 9 months I made $34,000 off apps while still a full-time college student. I'm excited to teach you how.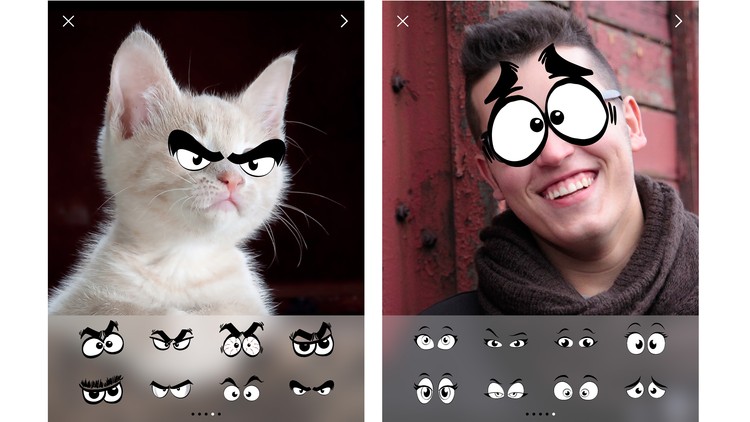 What you will learn

Contact viral artists for incredible free artwork and marketing.

Make icons and launch images in minutes.

Create an app on iTunes Connect.

Reskin a photo stickers app in less than an hour.

Write keywords and an app description to get views and downloads.

Find and use thousands of free vector art images and stock photos.

Produce your own iPhone and iPad screenshots, as well as an app preview video.

Integrate StartApp ads, submit your app to Apple, and start getting downloads and income.
Description

**Promo codes are no longer available for this app. I made promo codes a year ago to allow the first reskinners a chance to try out the source code. At this point, I have no intention of changing the price in the foreseeable future. The Udemy course is free. The source code is $39. This is the best value you will get if you want to make a photo app with my source code.** 

Starting with this code, I made a business earning $100/day with apps. With this code, you can launch your own successful photo/video app this week on the App Store.


"Hipstacam", originally made with this code, was featured in the Yahoo News article "8 Awesome Paid iPhone Apps You Can Get Free Right Now".
"StupidFox", originally made with this code, received 2,000+ likes and 100+ shares on it's first day on the App Store.
After over 100 transactions, I have received 100% positive customer feedback from anyone who has ever bought a code from me. Search Flippa for "WhartonApps".
You can test the source code we'll be working from on the App Store. It's iOS 8 and 64-bit compatible, and optimized for iPad, iPhone 6 and 6 Plus. Search the App Store for "Angry Eyes Photo Editor".
Both the Udemy video and the source code come with a full-refund, 30-day money-back guarantee.

This course will provide concepts, skills, and practical knowledge to produce your own stickers apps at $0 variable cost per app. I demonstrate everything in front of you on the computer.

You will also learn rarely-discussed ways to market your apps and monetize them.

In 3 hours from now, you can transform your app business, or get one started. There is still time to get in on the $25 billion app marketplace. With the 30-day money-back guarantee, you have nothing to lose, and everything to gain.

While you can learn about app reskinning by just watching the course, to get the most out of the course, I recommend getting the source code "Angry Eyes" and following along with the tutorial as you make your own photo stickers app.

Google "Wharton Animation Angry Eyes" to get the source code that accompanies this tutorial.
Content

Make an App

Save $1,000 Reskinning an App

Get Viral Artwork for Free

Make an Icon to Drive Downloads

Make an Attractive Launch Image

Generate 30 Custom Files in 3 Minutes

Create Your App in iTunes Connect

Add Stickers Into Your App

Set the App's Display Name

Change a Couple Quick Attributes

Start Making Money

Archive and Submit Your App, Learn How to Get 1,000+ Free Images

Test Your New App

Create Screenshots and Submit to Apple

Make Sure Apple Approves Your App

Choose Keywords to Help Users Find Your App

Write a Great App Description

Find Free Photos to Use for Screenshots

Make 5 Beautiful and Fun iPhone Screenshots

Resize Screenshots for other Devices

Upload Screenshots

Increase Downloads 40% with iPad and Submit Your App

Produce an App Preview Video

Stand Out On the App Store

Record a Preview Video

Edit Your Video

Add Free High Quality Music

Save Your Video for Other Devices

Render and Upload Your Videos

Conclusion

Course Update: Adding Chartboost and AdMob Ads + Making a Paid App
Reviews

This is hands down the best class I've taken on Udemy, and I've brought at least 20 classes. Brett is a great instructor and has been super helpful with answering questions and making sure that I fully understand this space. I've already brought other products from him and will continue to do so. If you are looking to understand better the process of reskinning and actually getting an app into the app store, this class is a must.

I loved this course and I have to say the teacher quickly explains all one has to do to get the app ready without a lot of extraneous details. He also is VERY helpful if you find yourself stuck and need to ask a question. Anyone wanting to develop a IOS app quickly should buy this course.

This is a great code, explanations are helpful, and the author gives great support. I'd recommend it!

Brett does a great job walking you through the steps. Several recordings go into detail about how to submit an app to the store, get artwork, and how to market your app to stand out amongst your competitors. Compared to other courses on Udemy I've taken, this is one of the best.
7/2/2015
course created date
5/31/2019
course indexed date