Create your own 2D game assets with Inkscape for free!
Design vector 2D game assets: animations, platforms, characters, backgrounds, buttons! 2D game design for beginners!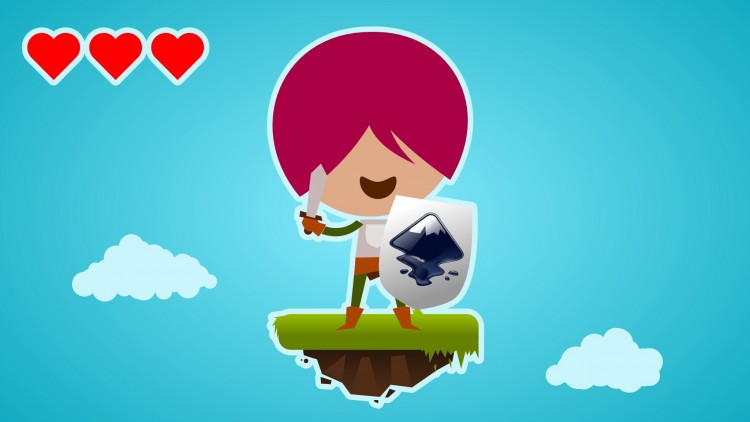 What you will learn
create characters, platforms, buttons and simple animations for your mobile game!
Create quality game graphics, that can sell on online marketplaces!
create 2d game graphics suitable for Yoyo games Game Maker, Gamesalad, unity 2d or any other program!
use the free design tool Inkscape and create much more than just game art
Description
While there are ample game assets available for download, you may still have trouble finding ones that fit the game you're building. That's when Inkscape, a free vectors graphic program, truly earns its stripes. Dive into this quick 4.5-hour course, and learn to create scalable, highly versatile game assets usable in 2D mobile games and much more.
All the assets created in the videos are yours with the course! That means 30+ unique elements to use in games or experiment with!

What will we create?
Create custom 2D game art in Inkscape w/ 4.5 hours of content

Craft art for animations, platforms, characters & more

Ensure your assets are scalable & versatile, usable on any device & at any resolution

Have stunning graphics on hand for use in any games

Improve your general game design skills with real life examples
And remember: I am here to teach and help you! If you have any question, just ask! I will add new courses and resources time-to-time!
Content
Welcome to Inkscape
Introduction
The user interface
Drawing in Inkscape
Drawing your first object
Working with multiple objects
Colors in Inkscape
Path operations - creating simple shapes
Gradients and groups
Modify path - the best way refine your objects
Use what you learned: draw a bomb in Inkscape
Inkscape HOTKEYS list!
Exporting
Export bitmap image
How and why to save to SVG?
GUI elements - creating buttons
First step - learn the text tool
Align and distribute
Button states
Buton variations
Creating platforms
Design a basic platform
Tiling platforms
Platform mutations
Design and animate game characters
Draw and move a character for a top down shooter
Design a a game hero!
Character poses
Practice animation: The blob!
Set up and understand a more complex walk cycle
Finish the walk cycle
Backgrounds for your game
Understanding backgrounds
Tiling backgrounds
Add foreground elements
Bacground variations
More tips and tricks
Modularity - be more creative and efficient
Inkscape 0.91 cheatsheet
A tip about different screen sizes and proportions!
Reviews
Estou aprendendo muito. Mas acho que melhora se a imagem da tela de trabalho do professor estiver mais definida. E também se os movimentos do cursor forem mais lentos (ou se o professor evidenciar bastante onde está levando o cursor).
Well explained from beginning to end. This course took me from 0 to almost superhero in a short space of time. Personally, I'm using this knowledge for a top secret project I'm doing that's in no way related to videogames. I'm benefitting hugely!
Francisco
January 15, 2022
It seems to be a very well thought-out course. I like the clear, lean instructions and the art examples
OK, a very good basic intro to Inkscape, but not too much detail about gaming Missing things like perspective, lighting, positioning, and a lot of the time, the instructor mumbles and goes off on his own direction doing stuff not explaining each step.
The resources to this course can be downloaded, but I cannot open them. Inkscape 10 (current version) dont like them. Maybe because the course is made for an older version of Incscape. Not everything explained are correct in Incskape, so one have to be alert and solve the discrepensies oneself. Things are going a bit fast, so one need to know Incscape in advance.
Cassandra
October 18, 2016
I found this course to be helpful and enlightening. The program, Inkscape, was very foreign to me prior to taking the course and now I feel like I understand how it basically works and could now apply my learning to future projects. The instructor starts off nice and slow and takes the time to go over the basics before moving on to more complicated pieces. He did a good job taking the time needed prior to moving on and applies what was learned early onto larger projects. He does go over basic animation within the program which was good, however I would not recommend this course if this is what you are interested in learning. Even István makes it clear within the lessons that he is not a animator and is only covering the basics. However, the lessons are still worth watching as he does cover more about character creation and utilizing the work you have already created. I am very pleased with this course. I took lots away from it and am looking forward to using this program in the future.
So far, it is pretty basic, and mostly things I've learned elsewhere, but the teacher is clear and explains well.
Really good course until now, I have learn a lot. The only think that makes it a bit difficult is the audio. It would be great if the screen shows the keys when you press them so I can know which shortcuts you used.
Edit: he also uses a lot of shortcut-actions without even mentioning what he is pressing, very poor introduction to the course and overall depth of explanation, which is why I lowered the review another half a star. Poor English and explanation, but uderstandable to a good ear. Too little lessons.
Despite a thick accent, Istvan Svep has made the process of turning basic vector shapes into recognizable art as easy as it gets. I've gone through this class a couple of times already and still come back to remind myself of the process or rediscover a tip that I had forgotten. While he doesn't go deep into art theory, or teach you to make particularly detailed art, his method will allow anyone to quickly create game assets that can stand alone for a simple style, or stand in for higher resolution work to come.
I thoroughly enjoyed the class, the instructor is obviously an expert with inkscape. I like the advice that he offers as a digital designer and all the time saving tips. I learned enough to start making a few things right away. It will take quite a bit of practice to get good, but I have all the tools I need from this class to keep practicing.
He is teaching in a simple way, but not too simplified. Giving you freedom to think, rather than turning into copy pastaing all he does.
I really liked this course. I was impressed by the possibility's of Inkscape and the ease of working with it. István did a great job on showing us step by step how to make great looking graphics. I can definitely recommend this course.
Very excellent flow of information. How to create objects is presented very well. I like the presenters style, pace and especially his creativity. The concept of modular design and creating multiple objects from one is excellent. The on screen action the instructor takes is usually with control keys and sometimes hard to follow. I have had to do a bit of backtracking. All in all, this course is well worth the time and money.
It was a nice demonstration of what Inkscape can do but it was hard to follow what actions were being taken to do the work. It would be nice if there was an overlay on the video that shows what key strokes or mouse clicks were being used. Some slower, step-by-step tutorials would help cement the ideas and concepts.
Coupons
| Submit by | Date | Coupon Code | Discount | Emitted/Used | Status |
| --- | --- | --- | --- | --- | --- |
| - | 10/3/2019 | FREEGAMES | 100% OFF | 500/367 | expired |
12/15/2014
course created date
10/3/2019
course indexed date