Gain 8 Essential Skills For Complete Personal Transformation
Are You Tired of Dry Theory and Want To Gain Practical Skills for Personal Transformation? This 8-in-1 Course is For You
Personal Transformation
category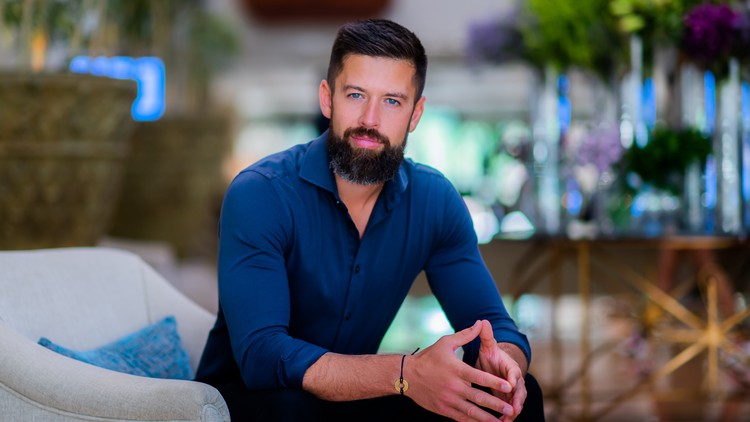 What you will learn
Build a Strong Foundation for Your Personal TRANSFORMATION with 8 Topics in 1 Course
Gain Confidence & Self-Esteem
Learn How To Present with Confidence and Charisma
Develop Diplomatic Assertiveness and Stop Saying YES when you want to say NO
Cultivate Your Everyday Leadership (even without an official leadership title)
Boost Your Communication Skills and Connect with People
Get Important Things Done with Strong Time Management and Productivity Mindset
Understand Body Language
Learn How To Set and Accomplish Powerful Goals
Description
Are you tired of feeling stuck in your personal and professional life? Are you ready to upgrade your skills and level up your game?

In this complete personal transformation course, I skip the dry, boring theory and focus on practical skills you can implement today. I will teach you the 8 essential life skills that will change how you think and show up each day.
I designed this program for those who want to start a powerful personal transformation journey but don't have tens of hours to take multiple courses.
I've combined the most powerful mindset shifts, strategies, and techniques to help you upgrade your confidence, self-esteem, presentation skills, diplomatic assertiveness, leadership skills, communication skills, productivity, and body language. All under one roof!
Say goodbye to dry theory and hello to practical skills that you can implement in your everyday life. Enroll now, and let's start upgrading your life together!

Below are just some of the things you can expect in this course. Also, bear in mind that I always update my content regularly and will be posting new videos throughout 2023!


Section 1: Confidence & Self-Esteem

Confidence is the foundation of all success. Without it, it's hard to achieve anything meaningful. In this section, you'll learn how to overcome self-doubt, increase your self-esteem, and develop a more powerful mindset.

With the skills you learn in this section, you'll become a more confident, self-assured person, ready to take on the world.

Section 2: Presentation Skills

The ability to present well is essential for success in today's world. Whether you're giving a presentation at work, speaking at a conference, or even just talking to a friend, the way you present yourself can make or break the way people perceive you.

In this section, you'll learn how to deliver compelling presentations that capture people's attention and keep them engaged.

You'll also learn how to overcome stage fright, speak with confidence and charisma, and how to use body language to your advantage. With the skills you learn in this section, you'll learn what to do to present yourself in the best possible light, no matter the situation.

Section 3: Diplomatic Assertiveness

Diplomatic assertiveness is essential for success in today's world. It's the ability to stand up for yourself while also considering the needs and feelings of others. In this section, you'll learn how to communicate assertively without being aggressive.

You'll learn how to handle difficult people and situations and how to create clear boundaries.

You'll discover how to communicate with others in a more assertive way and how to handle difficult situations with grace and ease.

You'll also learn how to communicate in a way that makes people want to work with you. With the skills you learn in this section, you'll be able to navigate any situation easily and gracefully.



Section 4: Leadership Skills

Have you been in a situation where you wanted to lead a project or a team but felt unsure of your abilities? Leadership is a skill that can be learned and developed, and this section will teach you how to become a more effective leader. I will give you the tools you need to take charge and drive results.

Section 5: Communication Skills

In today's world, communicating effectively is more important than ever. Whether you're communicating with your team, your clients, your customers, or your friends and family members, clear and effective communication is essential. In this section, I will teach you how to communicate in a way that is persuasive, effective, and builds trust. You will learn how to ensure your message is heard and understood.



Section 6: Productivity & Time Management

Are you tired of constantly feeling overwhelmed and unable to get things done? This section will teach you how to increase your productivity and manage your time more effectively. You will learn how to prioritize tasks and eliminate distractions. You will learn mindset shifts and strategies to work smarter, not harder.

Section 7: Understanding Body Language

Did you know that most of our communication is nonverbal? This section will teach you how to use body language to communicate more effectively and confidently. You will also learn how to use nonverbal cues to build rapport.



EXTRA Section 8: Setting and Achieving Big Goals

Are you tired of setting goals/objectives and not achieving them? This section will teach you how to set powerful, actionable goals and develop an intelligent plan of action to actually achieve them.

I hope that you are excited, and I will see you on the inside,
Jimmy
Content
Gain 8 Essential Skills For Complete Personal Transformation: INTRODUCTION
Introduction
Confidence 101: Build Your Self-Confidence and Self-Esteem
Confidence 101: Boost Your Confidence & Self-Esteem - Section Introduction
How To Stop Seeking Validation and Approval?
How To Stop Comparing Yourself to Other People?
Why Your Life is like a Movie and How To Regain Control of the main Character?
Stop Experiencing Constant Pressure and Feel More Comfortable in Your Skin
The F. Word - How To Deal with Your Fear of Rejection
Presentation Skills 101: How To Present with Confidence and Charisma
Presentation Skills 101: Present with Confidence and Charisma - Section Intro
What Makes Presentations Boring? What NOT TO Do
What Defines a Great Public Speaker?
The Truth About Anxiety
START HERE IF YOU HAVE LITTLE TIME (optional): "EMERGENCY" Pre-Speech Strategies
How To "TEST" Your Content
EXTRA: Watch This On The DAY of Your Presentation!
Correct Breathing: Why it's CRUCIAL for Alleviating Anxiety
POWERFUL ACTION STEP
Assertiveness 101: Become More Assertive while staying Diplomatic
Assertiveness 101: Develop Diplomatic Assertiveness - Section Introduction
Why & How To Rehearse Assertive Behaviour & the Phantom Pain Principle
People Respect Assertive People: How To Stop Seeking APPROVAL and VALIDATION?
Do You Overreact?
If You Agree to Everything By Default, Agree Once Again and WATCH THIS Please:)
What Are Boundaries? & Step-By-Step Process To Establish and MAINTAIN Boundaries
Assertiveness is NOT Arrogance: Critical Mindset Shift You Need To Adopt
Anticipate Potential Objections (to Boundaries) to Act Diplomatically Assertive
Leadership 101: Become the Leader Others Want To Follow
Leadership 101: Cultivate Your Everyday Leadership - Section Introduction
What Leader Do You Want To Become?
The Importance of Detachment: Why & How
The "Everyday Leader" Mindset
Taking Extreme Ownership: Why & How
Getting Your Hands Dirty for Stronger Leadership
Don't Reinvent the Wheel: Why & How To Emulate Top Leaders
Create Your Leadership Log: Why & How
Communication Skills 101: Learn How To Instantly Connect with People
Communication Skills 101: Be Confident in Your Communication - Section Intro
What Type of Communicator Do You Want to Become?
How To Make Your Written Communication Way Better in an Instant?
The WHY & HOW of Practice for Communication Skills
The Easiest Way To Improve Communication Skills Today: My Challenge for You
Reading the Energy Around You & Diplomatically Leaving Conversations
Match Energies: Why & How
Listening Skills: Summarise Your Message
Crucial 18 Minute Lecture on How To Control Your Emotions
Productivity 101: How To Get Important Things Done in Less Time
Productivity 101: Get Important Things Done in Less Time - Section Introduction
The Fundamental Productivity Exercise: The TIME LOG
Getting Things Out of the Way: The 2-min Rule
Reverse Engineer Your Goals & Targets for Better Results
Overcome One of the Biggest Challenges: The Decision Paralysis
Multi-Tasking Controversy: Does it Actually Work?
Different Types of (WANT) TO DO Lists
Will It Make The Boat Go Faster? Learn the Secret of an Olympic Coach
Body Language 101: Reading People & Using Your Body for Confidence and Influence
Body Language 101: Understand Non-Verbal Signals - Section Introduction
Why is Body Language so Important?
Body Language Basics that Will Double Your Confidence in Seconds
Different Ways to Break Eye-Contact
The Power of Slowing Down & Not Feeling the Pressure to Overreact
EXTRA Section: How To Set and ACHIEVE Massive Goals
EXTRA Section: Set & Achieve Massive Goals - Section Introduction
Why Pursuing/Achieving Goals Boosts Your Confidence & What Are The Biggest MYTHS
Here's My Proven System for Setting and Achieving Ambitious Goals in 2023
Use the Power of Visualisation on the Micro Scale
Competing for Small VS. Massive Goals: My Counter-intuitive Approach
Reverse Engineer Specific Objectives: Why & How
Is SAFE the new RISKY? Avoid the Trap of Playing it "Safe"
BONUS Lecture & Congrats
Reviews
Elizabeth
October 23, 2023
Yes, it is a good match for me. I thought people would like what to hear what I was going to address but started to wonder around, looking for something that is not even in their mind. The just tolerate you. The body language says it all.
Very useful course. Lots of valuable information. Also worth pausing, reflecting upon and taking action. Plenty that resonate. Thank you very much for teaching and sharing in scenic locations. Very relaxing. We learn best in moments of enjoyment.
Aleksandar
September 15, 2023
Well structured, nicely presented content; valuable examples, oractical exercizes. Bravo and thank you Jimmy!
Jimmy is really a great mentor and also speaker. Whenever I listen to Jimmy's course, the material is great. Not only that. The video, voice, background, etc. Jimmy himself is one of role model.
Thank you this is a fantastic course, really took away actionable steps that i can do for improvement. Appreciate the content, have an awesome day
I loved the way Jimmy Naraine brings his talks and videos through different scenic spots and places. Seems like an adventure into the world of financial freedom and location independence lifestyle! great work Jimmy!
This course is more beneficial to me rather than other courses of same category. Thanks for educating.
Charts
Price
Rating
Enrollment distribution
12/25/2022
course created date
1/22/2023
course indexed date