Forex-Trading Masterclass: Trade strategically with a system
A strategy course that teaches a semi-manual and unique momentum based swing-trading-strategy.
Investing & Trading
category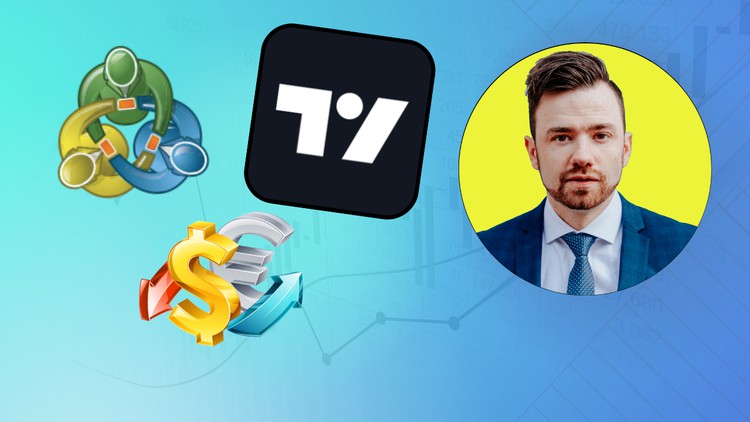 What you will learn
A complete course with all necessary tools incl. indicators, a dashboard and a rulebook.
A full installation instruction on how to setup the indicators into the MT4 software or Tradingview.
Practical Know-How: A advanced continuation course with a lot of practical examples to show you how to execute the strategy properly.
Strategic trading with a system: A unique swing-trading-strategy that is based on momentum.
Risk management: Learn how to manage your risk properly with the strategy. How to reduce losses and maximize profits.
No complex and unnecessary content. No encyclopedia of indicators. A market proven strategy.
You will learn how to manage your expectations properly with the strategy
Description
Hi Traderfriend! My name is Aleksander and I'm glad to present you my advanced forex-trading course that will help you become a self-sufficient and independent trader. I am using the strategy myself up to this day and have been trading for the last 6 years.
Are you still struggling to become profitable?

Do you still look for a strategic approach that will tell you exactly when to enter and exit trades?

Are you looking for a time-saving way to trade?

Are you tired of being a slave to the charts?

Are you confused about all the contradictive information on the internet in this trading-jungle?

Are you uncertain when executing trades?
Look no further! You are at the right place.
Who is it for?
This course is especially for people who already went through my first two free courses "Forex-Trading for beginners" Pt. 1 and 2. If you are already familiar with the basics you can go ahead and start here.

The strategy will help you gain an edge in the markets trading forex. The strategy is also suitable for stocks and crypto. It is a time-saving solution that is designed for people who also work full time. The strategy required 10 minutes of your attention daily if you trading it on the default setup presented in the course.

The course will start with an instructional installation video that will guide you step-by-step on how to properly setup your Metatrader4 or Tradingview platform.

Strategy course I
The first part of the course will give you access to all the indicators, a dashboard, a rulebook and a trading journal to assist you while studying. These tools will be explained in detail on how to use them effectively in the first two videos. You will learn how to place trades according to the rulebook. The rulebook will push your confidence and eliminate your fears. It is a 3-step-system on how to place trades. It also helps you to know when to exactly exit your trade and manage it properly.

You will also learn how to manage your trades in case the market won't give you what you want right away. Managing trades includes proper risk-to-reward ratios, the correct placement of stop-losses and adjusting them when we run in the green. You will also stumble upon some of my own developed concepts such as the candle-coefficient and its dashboard and indecision candles.

Repetition is key. And practice makes perfect.
The best way to learn is to see how others are doing it and then practicing it yourself:
That's why I recorded plenty of practical examples that will go through a multiple of scenarios. You will get a better understanding of the strategy from many different perspectives depending on the market situation in those examples. I take the time with passion to explain the concept of the strategy in all of these examples. I will repeat key rules over and over so you won't miss a thing and will build up your confidence.

In the last video of the first part of the strategy course you will get your hands on a newly developed tool called the HK dashboard. It will save you time and scan the markets for you 24/5. Meaning you will only need to spend approximately 10 minutes in front of the chart.

Strategy course II
The second part of the strategy course is all about practice. You will be shown how to execute trades properly and manage them with advanced management techniques such as hedging and off-setting. Hedging is an alternative form to manage risk which is more flexible if executed properly. You will get deep insights right from my MT4 and I will go through every of my trades in detail to give you a better understanding of the strategy.

Furthermore you will learn how to set your target zones properly using fibonacci, market structure and basic concepts like support and resistance and trendlines. It is all about confluence. In the last part of the course you will be shown how to use the strategy on intraday timeframes. Some people prefer a scalping method more instead of swing-trading. The strategy is adaptable and can be used on any timeframe and asset.
All in all you can use the strategy as a skillset to trade forex, crypto, stocks, CFDs and commodities with the strategy.
Most importantly is to stay disciplined, emotionally stable and strategic. Stick to the strategy and you will get the edge you need to become a profitable and self-sufficient trader.
Enjoy the course, study it with passion and happy trading,
Aleksander
Content
Installation
Instruction to install for Windows on Metatrader4
Instruction to install for Mac on Tradingview
Strategy course I - HK basics
Strategy course I - What is Heikin Ketsui?
Strategy course I - How to trade Heikin Ketsui?
Strategy course I - How to manage HK trades?
Strategy course I - Practical examples
Strategy course I - HK indicators
Strategy course II - Advanced Heikin Ketsui
Advanced strategy course Heikin Ketsui - 1. Risk Management with Hedging
Advanced Heikin Ketsui strategy course - 2. Fibonacci and Goal Setting
Advanced Heikin Ketsui strategy course - 3. Offsetting Stack Trades
Advanced Heikin Ketsui strategy course - 4. Intraday Trading vs. Swing-Trading
Reviews
Very comprehensive course, I truly enjoyed it, especially on the high level hedging part its a gem, 99% of courses I've tried do not cover this. Everything is provided for you the indicators etc and the trainer shares everything, he is also highly enthusiastic and genuinely wants you to succeed. He teaches and speaks very well and clearly. Definitely my top 3 Forex course on Udemy!
Charts
Price
Rating
Enrollment distribution
11/14/2022
course created date
5/26/2023
course indexed date