Freelance Writing on Upwork: Crash Course
How to Succeed on Upwork from a Full-Time Freelance Writer
Digital Marketing
category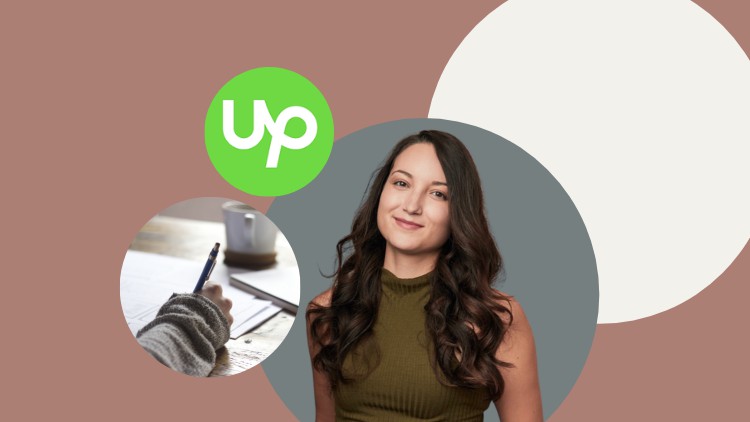 What you will learn
Learn how to hone your profile, cover letters, and more for Upwork
Build a six-figure freelance writing income on Upwork and from Upwork leads to your website
Learn how to negotiate with clients and get paid more with each writing job
Pick a niche that is specific to your skillset and learn how to market yourself on Upwork
Optimize your profile with tips and tricks from a writer who is in the top 3% of Upwork freelancers
Description
I'm a six-figure freelance writer, and I used Upwork to get my writing career off the ground and supplement the leads I get from my website and other platforms.
Here are all of my tips, tricks, and nuances on how to...
Optimize your profile for SEO and Upwork search capabilities

Get more invitations to interview

Negotiate with clients to land $8,000+ contracts

Become a Top Rated Plus freelancer, the top 3% of Upwork's freelancers

Use Upwork's hourly protection in your favor and avoid getting scammed

How to build winning proposals that land you great jobs

Use my resources like my hourly rate calculator and cover letter template to get set up for success

Learn how to use automations in your favor to simplify your workflow and wow clients

Learn how to use the Upwork Agency functionality to your advantage
This course is geared toward freelance writers, but any freelancer on Upwork can benefit from it!
More about me: my work has been featured in Parade Magazine, US News, Forbes, Authority Magazine, and more. As a full-time freelance writer, I love teaching others how to become writers. Platforms like Upwork are a great way to get your freelance business off the ground, which is why I recommend starting here! Even if you're a seasoned professional writer, I break down tips and tricks in this course that can help you get the most out of Upwork and all of the features and protections it offers to its freelancers.
Content
Setting Up Your Upwork Profile as a Freelance Writer
Getting Started with Your Upwork Profile
Setting Your Hourly Rate as a Freelance Writer
Winning Writing Jobs Through Submitting Proposals
Creating Your Cover Letters as an Upwork Freelance Writer
Evaluating and Submitting to Jobs
Quoting Clients and Negotiations for Upwork Freelance Writing Jobs
Client Workflow, Project Management, and Best Tools for Freelance Writers
Automation Tools
Time Management + Hiring an Assistant or Proofreader
Closing Out Contracts + What to Do with a Bad Review
Starting an Agency on Upwork
Conclusion
Conclusion + Last Tips!
Reviews
Amy's course was engaging, and her raw-from-the-heart presentation style was refreshing. I have been a content freelancer on UW for about 8 months and learned so many new things that I didn't even know existed on the platform, as well as tricks and tips for integrating other useful tools.
The presenter's examples are useless for beginners. For example, her sample cover letter starts with a line about how she's in the top 3% of freelancers. If you're not a top 3% freelancer, the advice she gives is "oh, just put something else there." Ok. We're not all Hollywood scriptwriters who have been showcased on Upwork and published in Forbes. A much more realistic approach with real advice for actual beginners is required.
This course was jam-packed with information, and most importantly, the information was broken down into manageable pieces and explained in a way that made it easy to understand. Amy's screen-sharing of her Upwork profile meant that I could follow along with where exactly I needed to go in Upwork to make my own changes, and she covered most of the questions I could think of as a newcomer to Upwork. Would strongly recommend this course to anyone thinking of becoming a freelancer!
Highly recommend - lots of detailed information on the ins and outs of Upwork, especially advising on what to look for, or not, regarding clients, as well as contract negotiations. Articulate instructor who presents the subject in an inspiring, yet realistic way.
This $200/hr freelance writer shows you exactly how she has been so successful on Upwork. Amy is incredibly generous with her talent and experience, literally showing you -- on screen -- exactly how she pitches cover letters, finds the best job opportunities, organizes client meetings, etc. She is engaging, likeable, and remarkably authentic. Layered on top of her direct blueprint for Upwork success is one gem of invaluable information after another – she literally shares 10 years of hard-won expertise in the matter of a few hours. Now I cannot imagine entering this field and NOT taking this course; I went from tentative/curious to empowered/excited almost overnight, thanks to Amy. This is the must-watch tutorial for young, ambitious freelance writers on Upwork.
Easy to follow along and understand! This helpful course makes me feel less overwhelmed to get started on upwork. I'm excited to put this info to use! Amy is an excellent and engaging instructor, I look forward to more courses!
9/8/2021
course created date
9/16/2021
course indexed date