Free Digital Marketing Basics Course
Become Great at Digital Marketing
Digital Marketing
category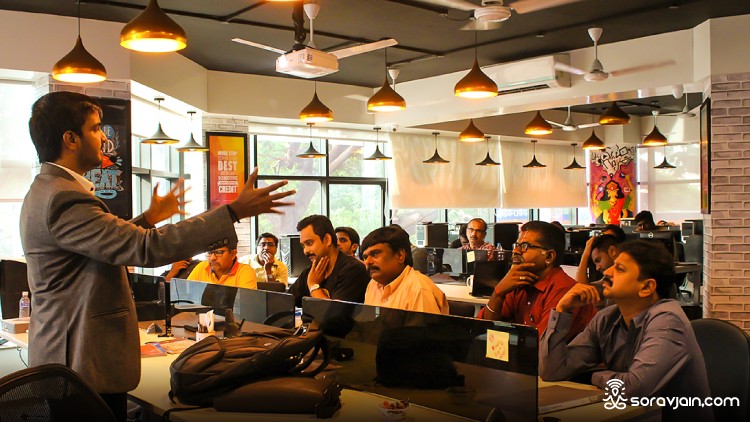 What you will learn
They will be able to learn Digital Marketing basics and clarify some concepts on this subject.
Some part of this course also aims at practical digital marketing and personal branding that shall help people get some practical experience.
Learn Landing pages and email marketing practically
Learn about Various tools practically and live demo
Description
Important Update:

For a Free Advanced course, visit the digital scholar's website to get an updated course. Also, get access to live training on the topics growth marketing, email marketing, facebook ads, instagram marketing, marketing automations and many more. Go to www(dot)digitalscholar(dot)in

Have you learnt Digital Marketing? You haven't? Well, not to worry! Here is an opportunity for you to start everything from the scratch. I have made over 21+ Free Video Lessons to Empower the world and embrace people with my knowledge in digital marketing and my passion for teaching.

My name is Sorav Jain, I'm the founder of Digital Scholar which is a digital marketing institute based out of chennai and Echovme, India's oldest digital marketing agency.
I am in a mission to reach out to people and tell them Digital has a business side and it can be used for a purpose.
Like how you define the purpose of Life, I believe you should also define the purpose of Digital Life and here are those 21 lessons that you shall get every single day to master Digital Marketing.

In this Free video lessons, you will learn:
1. Basics of Digital Marketing
2. Hand-on approach to running paid ads
3. Understanding email marketing and landing pages.
4. Understanding social media strategies using case-studies
5. How to grow your Instagram Followers
6. How to use whatsapp for business
7. How to generate organic leads on social media
Content
Introduction to Digital Marketing
What is Digital Marketing?
Digital Scholar
Skills Required To Become Digital Marketer
9 Reasons Why You Should Learn Digital Marketing
Various Modules of Digital Marketing [Introduction]
Introduction to Search Engine Optimization
Introduction to Search Engine Marketing
Introduction to Social Media Marketing
Introduction to Affiliate Marketing | How To Make Money Online
Introduction to Email Marketing
Introduction to Inbound Marketing
Introduction to Landing Pages and Leadpages Tool.
Behind The Scenes of A Blog (Blogging to Digital Marketing Journey)
Practical Digital Marketing Techniques
What is Google Analytics? How to Understand Google Analytics.
Become Social Ready: How to Polish Your LinkedIn Profile.
Become Social Ready: How to Polish Your Twitter Profile.
How to Generate Leads on Facebook & Ways to Target Your Audience.
How to Generate Leads on LinkedIn
How to Run Ads on Twitter
How to Grow Your Instagram Followers
How to Use Whatsapp for Business
Tools To Ignite Designer In You
How to Run LinkedIn In Mail Ads
Reviews
Got some more enlightens on my approach on digital marketing through social media platforms and creating opportunities on exploration.
I feel I am a little more prepared for the career change I have been wanting for years, this course was eye opening, thank you.
Thank you to the e-marketing course as I have learned all aspects of marketing from it. I am grateful to all those involved in it, including the marketing teachers and professors.
Really great introduction to Digital marketing. Wish some of the monetary values cited in the course had USD conversion equivalents to provide some context of paid ad costs.
Microphone sound is peaking throughout. Instructor is from India and his data points on certain metrics (ex., the gender breakdown of Facebook users) does not match what I've seen in the US. That's fine, but he's presenting his info as universal and it seems a bit misleading
Amazing content......Would definitely create a solid foundation for any newby.Though recommend it to all directly or indirectly associated with the industry.
Very straight forward explanations of different topics with examples, I got exactly what I was looking for with this course, thank you.
Katarzyna
December 28, 2022
It's horrible. Random copy-pasted videos. Not for beginners at all, horribly explained and difficult to follow Indian English
Molelekwa
November 30, 2022
Yes the course gives a good foundation in understanding fundamental concepts of digital marketing to a beginner
thanks you so much sir this course is very important for me . I improve my skills and also i am easy learning digital marketing.
I think the guy has really good content and you can see he know what he is talking about. With his accent sometimes it can be difficult to understand some of the words.
This gave me much more knowledge regarding digital knowledge which i had never known and the basic mechanics of how it works was well explained in a very ease manner. The waters are vast and is very deep but learning to swim on the surface is the first step which was provided here.
Thanks teaching about Digital Marketing tutor. I got many things from this lesson. Only hard thing was English pronunsation. But I have understood all. Thank you.
its really powerful and self explained, have really learnt a lot, need to put all i have been thought into productive use , Thanks sir
Excellent every point has been well explained of this course and make it very simple so anybody can understands. Thanks for this course it makes me more confident as well help me a lot to explore more in digital era which is priceless.
Charts
Price
Rating
Enrollment distribution
5/27/2018
course created date
6/22/2019
course indexed date