Four Fundamentals of Financial Planning
Liquidity, Retirement, Living Benefits and Death Benefits And How They Impact Your Success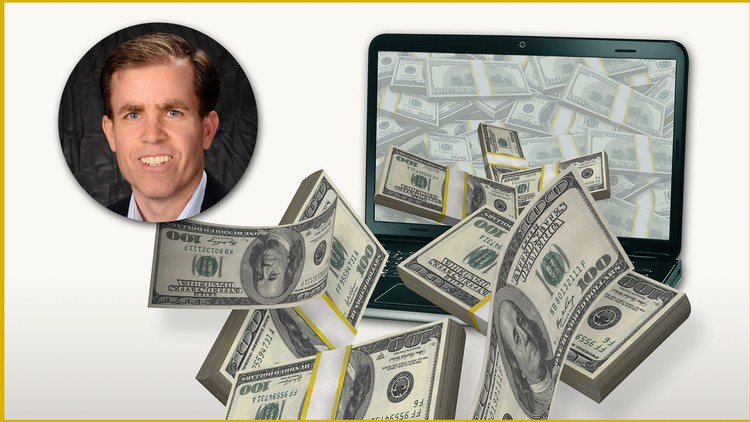 What you will learn
Plan for lucrative opportunities
Plan for unexpected emergencies
Understand the power of Compound Interest
Description
National credit card debt reached a peak of $1.022 trillion in April 2008 That's an average of $8,299 in credit card debt per household. That was more than a third (38 percent) of total U.S. consumer debt.

Today, the average American home has over $16,000 in credit card debt, says NerdWallet.
But the #1 cause of bankruptcy is healthcare costs. Not being prepared for an emergency can ruin you.

And personal finances are not just a North American problem. According to the Mirror in the UK: "The amount of personal debt has hit a staggering £1.5 trillion..."
Obviously, something needs to be done and you are the only person who can do it.
By understanding, then mastering the Four Fundamentals of Financial Planning, you will set yourself on a course towards achieving whatever monetary and lifestyle goals you want. In this fast-paced course, Dwayne Richards shows you how easy it is to take control of your bank account and live the life you want.
The course covers in detail:
Why Cash is King

Living Your Dream Lifestyle
What Your #1 Asset Really is
How to Safeguard Your Future

And much more!
You will discover the power of Compound Interest and how to use it to your advantage. Chances are that right now, it is working against you.
Dwayne Richards, CPA, CMA, Financial Security Advisor and Business Consultant, shows you every strategy, secret and tactic you will need to prevent you from being an 'Average American' with $16,000+ in credit card debt.
Don't wait! Register today!
Content
Cash is King
Introduction
The Importance of Cash
Emergency Cash
Opportunity Cash
The 2% Secret to Cash
Lifestyle
Introduction
Monthly Expenses
Compound Interest
Summary
Assets
Introduction
What is Your #1 Asset?
Self Protection
Summary
The Future
Introduction
Temporary Expense vs Permanent Expenses
Insurance
Conclusions
Next Steps
[Bonus] Free Consultation
Help Your Fellow Students
Reviews
I got an idea of how to do financial planning for yourself and also gained good knowledge from this course.
Simple yet very educative. I learned a lot from the course through Dwayne Richards. What I have learned from him will really help me in my job as a Financial Advisor as well. Thank you.
not so there must must be some in-depth info with live examples for a better understanding of the subject.
I just want to say do the course only for you, not anyone else. It will benefit you definitely in the future.
yes,i got an idea about pay yourself first and then n your needs and included in the list of those 2% people
Hi, First of all, I will thank Mr. Dwayne Richards for his efforts in this program which I qualify as very interesting, I would have liked if it is possible to have a course script with examples which explain each phase to have a global vision of the sections with a sequence of synthesis. big thanks for sharing
Well explained and it's like opening my eyes! Thank you, this course will be sure repeated watching when I'm 30 or even 40!
Gained good insights on the fundamentals of financial planning. Lectures are practical and entertaining.
Some hard-hitting points that got me thinking about my insurance. Liked that and I am taking action right away.
Great short and sweet course which will help moving from 98% to 2% club. Great work Dwayne!! Keep it up.
the course is really informative and could be practiced in life wherever you are for students,businessmen,engineers ,...............etc .The constructor was very helpful and the course was crystal clear.
This is a great overview on financial planning. Very easy to follow with excellent explanations. Looking forward to implement some of your ideas to help me transition from the 98% club to the 2 % club. Thank you for sharing this
Dwayne has a wonderful presence in front of the camera. He speaks clearly and so far what he teaches makes sense. I certainly am not doing some of the activities he brings up and I know it's hurting my bank balance. I look forward to finishing the course and using his system.
Great! simple examples and clear explanation. I'm looking forward implementing on my financial life a few ideas explained in this course. Thank you for sharing it!!
I'm not even bothering myself to go and look anymore than the 2 first lectures and clearly this guy has no clue what he is talking about, he is reading all from a slideshow word by word probably a fiver guy who got paid 200 buck for 1 hour long video; and the guys behind are 99% some nasty marketers who just want those 20 bucks and if lucky enough, 1-5% of enrolled students will follow their recommendations which is the complete same thing and pay extra 20$ for nothing; sign up for their new mastermind webinar following a ton of spam emails on how they are going to change your life in 10 simple steps and you'll be independent no taxes and have magically 1 million dollars in your bank account if you successfully followed those simple 5 extra steps they recently recommended you and if you didn't, you clearly missed something so you have to follow their new recommendation which now is down to 4 simple steps. Terrible
Coupons
| Submit by | Date | Coupon Code | Discount | Emitted/Used | Status |
| --- | --- | --- | --- | --- | --- |
| - | 5/18/2019 | SP4FUNDFB0 | 100% OFF | | expired |
| Lee Jia Cheng | 2/6/2020 | A4DC939286F3794EDFB3 | 100% OFF | | expired |
| Angelcrc Seven | 4/20/2020 | EXPIRESAPR22 | 100% OFF | 40000/1688 | expired |
| - | 5/5/2020 | MAYTHE4TH | 100% OFF | 40000/3023 | expired |
| Angelcrc Seven | 5/26/2020 | MAYDAY | 100% OFF | 40000/838 | expired |
| - | 7/30/2020 | FFFPEXPAUGUST12020 | 100% OFF | 40000/2510 | expired |
| Angelcrc Seven | 7/28/2021 | FFFOPEXPJUL312021 | 100% OFF | 40000/3690 | expired |
6/23/2016
course created date
5/18/2019
course indexed date