Foundation Course Of FOREX Trading ( The Complete Course )
Learn To Trade The FOREX Market by The Trading Firm CEO. Inc: Technical Analysis, Candlesticks, Live Trading + Much more
Investing & Trading
category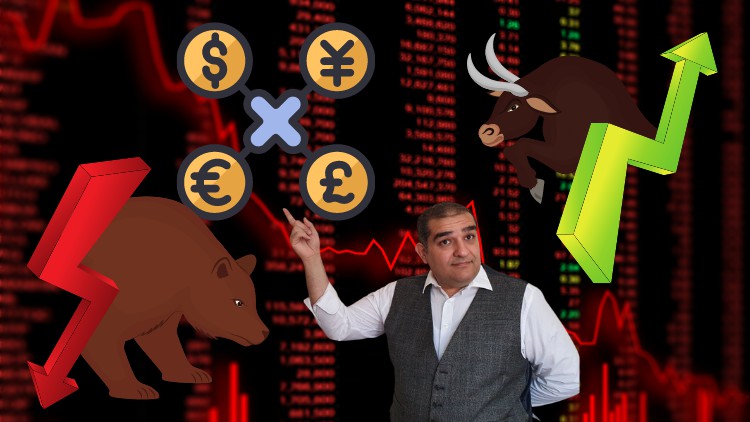 What you will learn
Completely understand how the FOREX Market works.
Understand Pips, Points and Lots.
Understand FOREX Terminology: Bid, Ask, Spread, etc.
Master Technical Analysis: Candlestick Patterns, Chart Patters, Volume and Technical Indicators.
Filter out the noise, get to know what our traders use and how they think. Get insight from a professional trader's standpoint.
How to use an Economic Calendar.
Money Management: how to manage risk on each position, how much to buy, and where to take a loss.
How to choose a Broker and Open a FOREX Trading Account.
Understanding Leverage and Short Selling.
Understand how to use Technical Analysis and Fundamental Analysis.
How to send Orders and different Order Types.
How to use Metatrader 4 (the most popular FOREX Trading Platform)
Risk Management: how to reduce losses and manage overall portfolio risk.
Description
In this course, you will learn everything you need to know to start Trading the Forex Market right now!
This is not just a theoretical course, there is LIVE Trading Included (where we show you how to use the information learned to Trade Live in RealIn In this course you will learn everything you need to know to start Trading the Forex Market right now!
This is not just a theoretical course, there is LIVE Trading Included (where we show you how to use the information learned to Trade Live in Real-Time).
You will be learning from Ali Shahraki, who is the Founder of the School Of Trading UK.
So whether you want to generate some side income by trading the FOREX Market or if you want to make trading your only source of income (like our Traders), then this course is for you.
In This course, we will cover beginner and Intermediary level information to get you on the right path to becoming a successful and consistently profitable Trader. On top of all the material thought, we will be giving you our personal tricks, techniques and views on the Forex market that have tremendously fast-tracked our success.
By the end of this course, you will understand the History of Money and understand the Structure of the FOREX Market. You will know all FOREX terminology like Bid, Ask, Spread, Pips, Points, Lots, Short Selling, Leverage and Much More!
You will be able to select which broker is best for you and will be able to open a trading account to start trading. You will also get familiar with the most popular FOREX Trading platform: Metatrader 4.
You will know how to analyse the Currency you are trading by learning Technical Analysis and Fundamental Analysis. You will learn how to use the Economic Calendar to avoid or play fundamental events that can impact wildly Currency prices.
You will also become an expert in chart reading! This means you will know how to spot the best Chart Patterns and Candlestick Patterns as well as use the best Technical Indicators in order to buy and sell at optimal locations.
We also cover Risk Management and Money Management techniques so you will be able to know exactly how much to buy or sell on each trade and where to place your take profits and stop losses to minimize your risk!
Going further than other trading courses we even cover Trading Psychology. Something that we have noticed has a huge impact on trading performance!
When registering for this course, you have:
Lifetime Access to the course

Access to all new/additional lectures (My courses are always up to date!)

Access to our Q&A section forever!
Eager to see you in the course!
Content
Me,You & This Course
About Your Instructor
What You'll be Able To Do After This Course
What You'll Learn in This Course
What's Expected of You
Important Details
How to ask questions
The History Of Money
Barter and Gold
Paper Money
Gold Standard
Bretton Woods
End of the Gold standard
Discussion
The Forex Market & Quotation
How to make Money
Currency Pairs
Major Pairs & Cross Pairs
Market Structure Explained
FOREX Terminology
Price Terminology
Pips
Lots
Pip Value Calculation
Leverage
Short Selling
Brokers
How to Choose a Broker?
A book vs B book brokers
ECN brokers and Commissions
The broker that i recommend
Shareable Ressources Google Sheet
Live and Simulation Accounts
Different ways of analysis
Technical Analysis VS Fundamental Analysis
Charts and Trends
Charting Tool: Trading view
Candles, Candlestick Charts & Line Charts
Trends & Trendlines
Channels, Supports & Resistances
Volume
Chart Patterns
What Are Chart Patterns?
Double/Multiple Tops and Bottoms
Ascending/Descending Triangles
Symmetrical Triangles
Wedges
Technical Analysis/ Indicators
Technical Indicators
Moving Averages
Moving Averages Crossovers
Bollinger Bands
Relative Strength Index (RSI)
Fibonacci
Fundamental Analysis
Fundamental Analysis Explained
Economic Calendar
Platforms
Which Trading Platform Should You Choose
Metatrader 4 (MT4)
Trading Through Tradingview
Risk Management
Defining Risk
Stop Losses
Money Management
Protecting Your Account
Position Sizing
FREE Excel Position Sizing Calculator
Trade Analysis
The Importance of Recording Historical Trades
Batting Average and Win/Loss Ratio
FREE Excel Sheet for Historical Trade Analysis
Connecting
Live Trading
Live Trading Examples
Live Trading Example 1
Trading Psychology
About this Section
The Importance of Trading Psychology
Loss Aversion
Endowment Effect
Status Quo Bias
Anchoring Effect
Confirmation Bias
Genes and Instincts
Misconceptions and Ways to Improve
Thank You
Thank You
Bonus Lecture
Reviews
I've been attending Ali's forex and cryptocurrency courses for about a year now and the value for money and support you receive is amazing, beyond my own expectations. Ali wants you to succeed in securing a better financial future for yourself and your family. You won't find a better, more hardworking mentor than Ali. Whatever your current lifestyle is, there are trading strategies and opportunities to fit around your current job. Thank you Ali.
Ali makes learning Forex simple and clear, this course covers all the basic areas that will allow you to get started as a pro trader. Ive done a few Forex courses and this is easily the best.
Ali has a wealth of knowledge on all things investing. Top man, got a heart of gold. I wouldn't go anywhere else to learn about Forex and investments. 10/10 can't recommend highly enough
10/20/2021
course created date
12/7/2021
course indexed date