The Complete Flutter Development Guide [2022 Edition]
دليلك الكامل في الفلاتر لبناء تطبيقات الاندرويد والايفون بكود واحد ولغة برمجية واحدة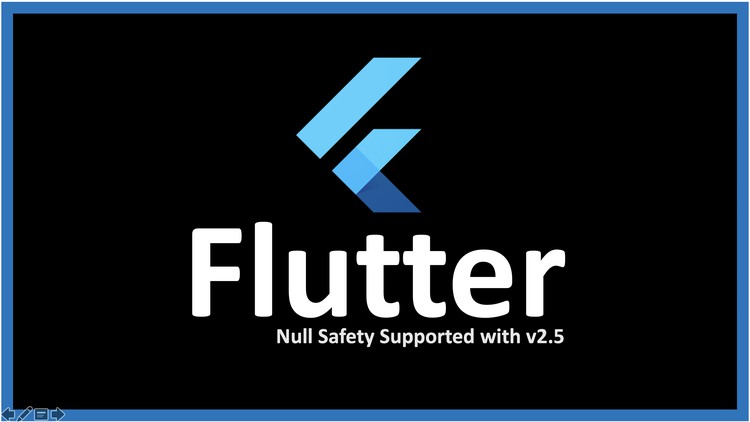 What you will learn
تعلم الفلاتر من الالف الى الياء خطوة بخطوة
انشاء تطبيقات موبايل بكفاءة النيتف لكل من الاندرويد والايفون
استخدام ميزات عديدة مثل كامرة الجهاز والمصادقة وغيرها
تعلم كل الأساسيات دون توقف وبعدهم: تعمق في الدارت والفلاتر لتصبح مطورًا متقدمًا
فهم جميع المفاهيم الأساسية لتطوير فلاتر
كن بارعًا في واحدة من أسرع التقنيات نموًا
Description
Notice: The Maximilian[Academind] course was adopted as a primary reference for this course ...
ملاحظة: تم اعتماد دورة ماكس كمرجع اساسي لهذه الدورة...
*تم تحديث جميع تطبيقات الدورة لتدعم نسخة الفلاتر 2.5
في هذه الدورة المتكاملة فلاتر [المرجع الشامل] افترض الشخص اللي امامي لا يعرف اي شيء عن الفلاتر وعن البرمجة التطبيقات اصلا
سأخذك خطوة بخطوة من الصفر الى انشاء تطبيقات حقيقية للاندرويد والايفون
Join the most comprehensive & bestselling Flutter course and learn how to build amazing iOS and Android apps!
You don't need to learn Android/ Java and iOS/ Swift to build real native mobile apps!
Flutter - a framework developed by Google - allows you to learn one language (Dart) and build beautiful native mobile apps in no time. Flutter is an SDK providing the tooling to compile Dart code into native code and it also gives you a rich set of pre-built and pre-styled UI elements (so-called widgets) which you can use to compose your user interfaces.
Flutter is extremely trending and gets used for major Google apps like their Adwords app - it's now marked as "ready for production", hence now is the time to jump in and learn it!
This course will teach Flutter from scratch, NO prior knowledge of either of the two is required! And you certainly don't need any Android or iOS development experience since the whole idea behind Flutter is to only learn one language.
You'll learn Flutter not only in theory but we'll build a complete, realistic app throughout this course. This app will feature both all the core basics as well as advanced features like using Google Maps, the device camera, adding animations and more!
With Flutter, you'll be able to write code only once and ship your apps both to the Apple AppStore and Google Play.
Use Google's Material Design to build beautiful, yet fully customizable, apps in no time with almost zero effort. You can use the rich widget suite Flutter provides to add common UI elements like buttons, switches, forms, toolbars, lists and more - or you simply build your own widgets - Flutter makes that a breeze, too.
Here's what's included in the course:
Detailed setup instructions for Windows.

A thorough introduction to Flutter and the concept behind widgets.

An overview of the built-in widgets and how you may add your own ones

Page navigation with tabs, side drawers and stack-based navigation

State management solutions

Handling and validating user input

Connecting your Flutter app to backend servers by sending Http requests

User authentication

Using native device features like the camera

Adding beautiful animations & page transitions

Image Upload
And more!
This course is for you if ...
You're interested in building real native mobile apps for the two most popular mobile platforms - iOS and Android

You want to explore the full set of features Flutter offers

Don't want to spend hours learning two completely different languages
Content
Introduction
What is Flutter ما هو الفلاتر
توضيح مهم جدا بخصوص تقييم الدورة
كيفية الحصول على شهادة بعد اكمال الدورة
كيفية تحميل اي مصدر يخص البرمجة
Dart Basics
Setup Environment
1 Output
2 Variables Part 1
3 Variables Part 2
4 Type Casting
5 Comments
6 Operations
7 prefix and postfix
8 If Statements
9 Condition Statements
10 Switch
11 Loops
12 Nested, Infinite Loops
13 Control Statements
14 Degree App.
15 Input
16 Exception
17 Numbers Methods
18 Strings Methods
19 Lists
20 2D Lists
21 Sets
22 Maps
23 Functions
24 Optional, Default Parameters
25 Passing array through function
26 Recursion
27 Exception Part 2
28 Lambda Expression
30 Typedefs
31 Class, Object, Cascade
32 Constructor
33 Static this
34 Setter getter
35 Inheritance Override
36 Super
37 Super Constructor
38 Abstruct & interface & multi inheritance
39 Mixins
40 Every Things is Object
41 Final vs Const
42 Enum
43 Generic
44 Import and Package
45 Math Library
46 DateTime
47 Operator Overloading
48 Polymorphism
49 Object Type Casting
50 Lexical Closure, Callable Function
Flutter Basics
Flutter Windows Setup
Windows Development Environment
Project Structure
Widget Tree
Stateless vs Stateful
Colors
TextStyle
Raised Button
FAT and FA Buttons
TextField Part 1
TextField Part 2 Visability
Dark Theme
TextField Part 3 Controller
Project 1 Age Calculator
Flutter Basics 2
AppBar Background Color
Margin & Padding
External Class
Stack & Alignment
Reviews
Abd-Alrahman
September 17, 2022
رائع، المادة الذي يقدمها وطريقة شرحها أراها الأفضل، ويستحق أعلى تقييم بكل استحقاق.. تحياتي لك أخي حسن، اقدر عملك كثيرا :)
كورس احترافي ورائع جداًا لكن يوجد نقطة, هي انو ممكن الطالب يقل إندفاعه وحماسه ويمل بسبب الدخول كثيراً في التفاصيل أتمنى لو بالإمكان شرح كورس أخر بسيط يركز على الأشياء الأهم فقط يعني بحدود 25 - 30 ساعة والذي يريد الاستفاضة بإمكانه اللجوء الى هذا الكورس وهذا يساعد الطالب على الدخول مباشرة في سوق العمل ويحفز عزيمته
نتمنى انشاء كورسات على شكل برمجة تطبيقات مختلفة من الصفر حتى الانتهاء من ربطه بالفايربيس والدفع الالكتروني
كورس دسم و محدث لاخر إصدار من فلاتر عاش بشمهندس حسن على هذه المجهود أرى انه كورس شامل للدخول بقوة فى عالم فلاتر بسبب كمية التطبيقات الهائلة التى يحتوى الكورس عليها و يستحق تقييم اعلى من خمس نجوم بصراحة استفدت جدا من الكورس شكر لك
No es un curso recomendado para principiantes(por el idioma), si sabes como funciona la programación y tienes manejo de Dart entonces puedes tomar el curso, quitas el sonido y pones tu musica preferida. Aprenderas algo de dart, getx, flutter y otras cosas
The best trainer gives a filter course and explains the topics sequentially and is familiar with all the information
الشرح خايس سريع ومخبص و واضح المقدم مو فاهم وش يقول وما يرد على اي سؤال اجل ليش نشترك في يودمي اذا ماراح نضكن اجوبة وفي بعض شرحة أخطاء في الأوامر الي كاتبها في ال terminal نصيحة شوف لك كورس ثاني أنا ما اقدر أكمل والشرح كذا خايس اذا تبغى نصيحة كورس ممتاز شوف كورس max باللغة الانجليزية على يودمي الحقيقة ان هذا الكورس هو ناسخ هذاك الكورس بنفس المحتويات وكل شي بس باللغة العربية وشرح سيء فعلًا الواحد ما يقدر يشرح شي هو مو فاهمه
Although I did not finish the whole course but the instructor is very clear and the content of the course seems very much organized and comprehensive. Thank you.
VaryGooooooooooooooddddddddddddddddddddddddddddddddddddddddddddddddddddddddddddddddddddddddddddddddddddddddddddddddddddddddddddddddddddddddddd, amazzzzzzzziiiiiiiiiiiiiiiiiiiinnnnnnnggggggggg
بلشت الكورس و مشيت ببطئ بسبب عملي كل فترة يتم تغيير المعلومات و ترتيب الدروس و أفكار متداخلة تعبت و أنا دور على حلول و مثل ال quiz app اعتمدت بشكل كبير على satack over flow تعبني جدا بعد ما قطعت شوط لل quiz app سابقا اكتشفت كم هائل من المعلومات الناقصة و اعاد صياغتا و كل فترة تتغير
شرح رائع ومبسط ويسير معك خطوة خطوة .. يبدأ بشيء بسيط ثم يضيف إليه بالتدريج.. كذلك يهتم بالتفاصيل والأدوات التي تساعد في كتابة الكود وتسهيله وتنظيمه.. سعيد لوجود محتوى عربي مثله?
Mahmoudsaad
January 30, 2022
مفيش كلام هيقدر يدي للكورس حقه اللي فوق رووعه بمعني الكلمه شارح كل حاجه تقريبا مش سايب جزء الا لازم تشرحه و تتكلم فيه ... غير التاسكات المجمعه و التركات اللي بين الاكواد وبتتشرح بالتفصيل كورس كامل متكامل بارك الله فيك <3
كورس ممتاز بس في نقطه معينه نفسي اتعلمها منهه انها طريقه ان المدرس يعلمني طريقه التفكير , بمعني ان في مشكله معينه ازاي يتشرح لي ازاي افكر فيها واحلها وكمان كنت اتمني انه يفعل التحميل للكورس لان النت في مصر مش بيستحمل المشاهده اونلاين كتير
Honestly this is an amazing Flutter course with so much information that you need to be a pro in Flutter dev, () => from 0 to HERO بصراحة ، هذه دورة Flutter رائعة مع الكثير من المعلومات التي تحتاجها لتكون محترفًا في Flutter dev ، () => من 0 إلى HERO
The course is really amazing and the instructor is as well. I got very much benefit from it and highly recommend it for anyone want to learn Flutter.
Coupons
| Submit by | Date | Coupon Code | Discount | Emitted/Used | Status |
| --- | --- | --- | --- | --- | --- |
| - | 7/12/2020 | 999999 | 100% OFF | 40000/5433 | expired |
| - | 7/17/2020 | 333333 | 100% OFF | 40000/1762 | expired |
| - | 8/25/2020 | 9FF28828D | 100% OFF | 40000/6531 | expired |
| - | 10/9/2020 | 4F87F5351C8644BECB10 | 100% OFF | 10/9 | expired |
| - | 10/22/2020 | DD677008C4F309E9A863 | 100% OFF | 40000/5602 | expired |
| - | 12/1/2020 | 3AB3EED8A6F99B6AEB1B | 100% OFF | 40000/7519 | expired |
| - | 1/12/2021 | COUPON2021 | 100% OFF | 40000/11151 | expired |
| - | 1/26/2021 | D6AA239DCC61C9844AE9 | 100% OFF | 40000/6653 | expired |
| - | 2/7/2021 | ACGAME | 100% OFF | 40000/5308 | expired |
| - | 2/17/2021 | 4TH2021 | 100% OFF | 40000/4630 | expired |
| - | 3/25/2021 | F2A0814D57ABBB06015B | 100% OFF | 40000/10140 | expired |
| sally | 4/3/2021 | ARAB_TECH | 100% OFF | 40000/2427 | expired |
| - | 4/20/2021 | 8F15D8BA54B9D6C5B950 | 100% OFF | 40000/6793 | expired |
| - | 5/2/2021 | EB094FB4F944647C8AF8 | 100% OFF | 40000/3138 | expired |
| - | 5/23/2021 | F770E73F2C8638CE9467 | 100% OFF | 10/9 | expired |
| - | 6/1/2021 | TUE01JUN | 100% OFF | 40000/1310 | expired |
| - | 6/22/2021 | 8CA11A30658136792E28 | 100% OFF | 40000/3412 | expired |
| - | 7/12/2021 | EFF22C19CE83ECAF9430 | 100% OFF | 40000/4749 | expired |
| - | 7/31/2021 | 6B929FE35F7A32835C22 | 100% OFF | 40000/3536 | expired |
| sally | 8/29/2021 | 1B90050CC92F6FF92559 | 100% OFF | 40000/2891 | expired |
| - | 9/3/2021 | 81476EA81DC281F9B792 | 100% OFF | 40000/1526 | expired |
| - | 9/12/2021 | CCA979390E714CD04B81 | 100% OFF | 40000/1973 | expired |
| - | 9/24/2021 | 47A5E91E521CF312210A | 100% OFF | 40000/1904 | expired |
| - | 10/4/2021 | EE220D4934B41ABCE6E6 | 100% OFF | 40000/1691 | expired |
| - | 10/18/2021 | 2D3CEA474F0D414CC09B | 100% OFF | 40000/2312 | expired |
| - | 12/19/2021 | 4BA923C333B8C3A77887 | 100% OFF | 1000/895 | expired |
| - | 12/28/2021 | 075D104F940A26A31B6C | 100% OFF | 1000/943 | expired |
| Ignacio Castro | 1/1/2022 | 77F89008854C0ECC0FCA | 94% OFF | | expired |
| - | 1/4/2022 | C365F4C74E781D2B5951 | 100% OFF | 100/3 | expired |
| - | 1/7/2022 | 6DF02BAD2488448169A0 | 94% OFF | | expired |
| - | 2/10/2022 | C6D36D2E924E24D84295 | 94% OFF | | expired |
| - | 2/20/2022 | 3210938FD03E046FFB8D | 100% OFF | 1000/972 | expired |
| Ignacio Castro | 3/3/2022 | 5F216DFA2F22263ACE28 | 100% OFF | 1000/835 | expired |
| - | 3/27/2022 | DAB37B4BC82C44F13543 | 100% OFF | 1000/553 | expired |
| - | 4/8/2022 | 02578B44B8110E9AA5D5 | 100% OFF | 1000/905 | expired |
| - | 5/2/2022 | EID-2022 | 100% OFF | 1000/993 | expired |
| - | 5/17/2022 | M01-2022 | 100% OFF | 1000/995 | expired |
| - | 5/26/2022 | M02-2022 | 100% OFF | 1000/981 | expired |
| - | 6/2/2022 | JU01-2022 | 100% OFF | 1000/978 | expired |
| - | 6/24/2022 | JU03-2022 | 100% OFF | 1000/982 | expired |
| - | 7/6/2022 | JU1-2022 | 100% OFF | 1000/991 | expired |
| - | 7/10/2022 | JU2-2022 | 100% OFF | 1000/883 | expired |
| - | 7/19/2022 | JU3-2022 | 89% OFF | | expired |
| - | 8/2/2022 | AU1-2022 | 100% OFF | 1000/992 | expired |
| - | 8/15/2022 | AU2-2022 | 100% OFF | 1000/934 | expired |
| - | 8/27/2022 | AU3-2022 | 89% OFF | | expired |
| - | 9/3/2022 | SE1-2022 | 100% OFF | 1000/942 | expired |
| - | 9/21/2022 | SE2-2022 | 100% OFF | 1000/994 | expired |
| - | 9/25/2022 | SE3-2022 | 100% OFF | 1000/993 | expired |
| - | 10/3/2022 | OC1-2022 | 100% OFF | 1000/954 | expired |
| - | 10/13/2022 | OC2-2022 | 100% OFF | 1000/670 | expired |
| - | 10/24/2022 | OC3-2022 | 100% OFF | 1000/980 | expired |
| - | 11/3/2022 | NO1-2022 | 100% OFF | 1000/948 | expired |
| - | 11/25/2022 | NO3-2022 | 100% OFF | 1000/984 | expired |
Charts
Price
Rating
Enrollment distribution
7/2/2020
course created date
7/12/2020
course indexed date