Five Proven Steps to Real Estate Investing Success
How to Start Your Real Estate Investor Career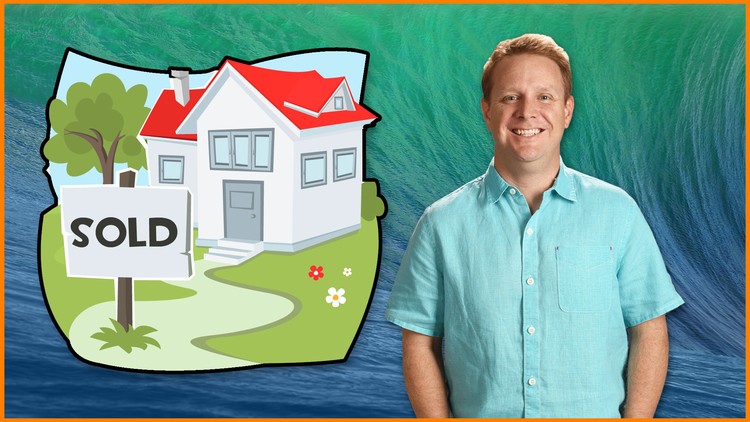 What you will learn
How to invest in real estate
The difference between a Prospect and a Suspect
How to find great Real Estate deals
Description
Learn from an expert real estate investor how to start investing in real estate the right way.
Blair Halver is an entrepreneur and marketing automation expert from Mooresville, NC.
Blair is a real estate investor and avid marketer, coming up under the greats: Dan Kennedy, Ron LeGrand, Russell Brunson, and more. He has personally managed a marketing spend of nearly two million dollars and generated more than 100,000 motivated seller leads for him and his clients.
Blair's clients are some of the fastest growing real estate investors in the country, and he has helped them systemize their marketing so they can create a life of true freedom in their real estate investing business.
In this course, Blair goes through his proven strategies for successful real estate investing.
Content
Step One: Finding Hot Prospects
Who is a Prospect?
Driving For Dollars
Outbound Marketing
World Know
FSBO's - For Sale By Owner
Summary
Step Two: Prescreen Your Prospects
Prospects
Path One for Presceening Prospects
Path Two for Prescreening Prospects
Summary
Step Three: Making the Deal
Making the Deal
Call Back Strategy
See the House
[Activity]
Step Four: Deal Meeting
Step Four: Deal Meeting
Step Five: Close Quickly
Step Five: Close Quickly
Conclusion
Wrap Up
Help your Fellow Students
[Bonus] Mentoring to Success
Reviews
Good general information that I've heard through several speakers/educators. I'm looking for more detailed information, especially related to deal structure and creative financing with sample documents.
This is marvelous. I really enjoy it. Hopefully, I would be one of those embrasing estate business man that would come back and give a good testimony.
This is a very good course. It gets right to the point on how to get started and how to get to the close.
great experience for beginners. i got the basic knowledge about investing real estate in the easiest and the most natural way.
This is a great course on real estate investing. Blair is an excellent speaker. He knows real estate. His enthusiasm is infectious. I want to start looking for houses to buy right now. Real estate is hot now around the US. I plan to make money starting with this course. Buy this course, learn from Blair and make money investing in real estate.
good for beginner to familiarize with the the real estate business approaches. how to set the business rolling with less financial startup
Coupons
| Submit by | Date | Coupon Code | Discount | Emitted/Used | Status |
| --- | --- | --- | --- | --- | --- |
| - | 7/8/2019 | REALESTATE0 | 100% OFF | | expired |
| - | 7/18/2019 | 5STEPS0 | 100% OFF | | expired |
| - | 8/31/2019 | BLAIR_FREE_2 | 100% OFF | 999/51 | expired |
| - | 11/30/2019 | 0167075731EEB50596FC | 100% OFF | | expired |
| Angelcrc Seven | 3/12/2020 | MARCH14FIVESTEPS | 100% OFF | | expired |
| Angelcrc Seven | 10/30/2020 | FPSREEXPNOV12020 | 100% OFF | 40000/966 | expired |
| - | 12/1/2020 | FPSREEXPNDEC42020 | 100% OFF | 40000/2894 | expired |
| Angelcrc Seven | 1/9/2021 | FPSREEXPJAN112021 | 100% OFF | 40000/3019 | expired |
| - | 1/22/2021 | FPSREEXPJAN252021 | 100% OFF | 40000/3128 | expired |
| - | 4/9/2021 | FPSREEXPAPR112021 | 100% OFF | 40000/1752 | expired |
| - | 6/4/2021 | FPSREEXPJUNE72021 | 100% OFF | 40000/3588 | expired |
| - | 10/15/2021 | FPSREEXPOCT172021 | 100% OFF | 40000/1750 | expired |
6/19/2019
course created date
7/8/2019
course indexed date