First Steps Into Public Speaking
Public speaking is one of the most important and most dreaded forms of communication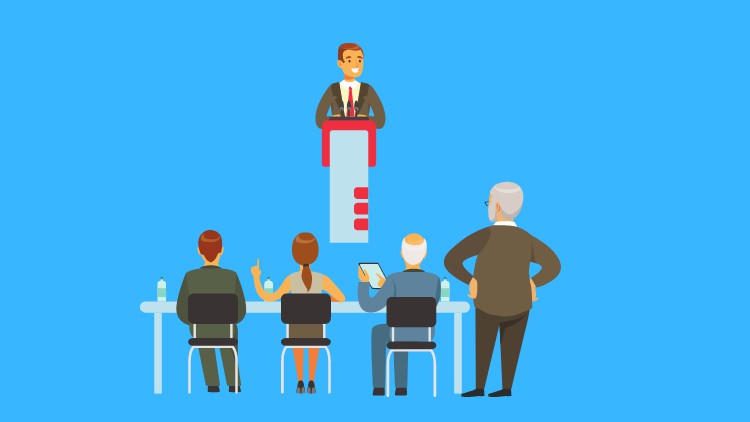 What you will learn
The Art of Conversation
Redesign Yourself for Strength
How to Control Your Jitters
Learn Body Language
Description
First Steps into Public Speaking
Do you get nervous when presenting at company meetings?

Do you find it hard to make conversation at gatherings and social events?

Do you lock up in awkward social situations?
If so, this course is just for you!
It's aimed at anybody who wants to improve their speaking skills in informal or formal situations.
We'll give you the confidence and the skills to interact with others, and to speak in front of small or large groups.
Glossophobia or speech anxiety is the most common fear people have across the globe.
It affects up to 75% of the population.
Fear of public speaking can prevent you from taking risks to share your ideas, to speak about your work, and to present your solutions to problems that affect many people.
However, public speaking is a tremendously efficient form of communication. If you rehearse your presentation over and over you will soon gain confidence.
Remember, one of the often unexpected delights of public speaking is how it builds confidence.
Knowing that you can stand in front of an entire tribe—sometimes complete strangers—and weave your magic, is a powerful elixir for greater confidence. And if you find that, rather than enduring public speaking, you actually enjoy it, so much the better.
I wish you a happy learning and let's get started.
Content
First Steps Into Public Speaking
Introduction
Self Disclosure
The Art of Conversation
Redesigning Yourself for Strength
Body Language
How Do You Prepare
Controlling Your Jitters
Key Themes
Plan to Structure Ideas
Organization Methods
Beginnings and Endings
Reviews
Every content was simple and practical to understand except the Organisational method was not easy to comprehend
It is a good match for me, most especially when dealing with the act of conversation. It is not everything people should know.
there werent new ideas plus its so boring .how could a boring google voice read presentation make me better at my presentations
This is a complete course for new public speakers and a reminder for long time public speakers. The presentation is simple and the explanation is easy to understand. Suggestion: Explain styles of public speaking and the examples of each style.
It helped me to take into account certain aspects that seem simple but that when speaking in public one leaves them aside
It's good for personality development but generally most of the people don't know how to deliver there words to other like me
i actually loved the class but am yet to get my certifiacte......my first course on udemy,not a bad one thou
This course is definitely a good match for me, even though I'm barely getting started with it. Very clear delivery and pretty useful info (such as the Johari Windows concept)!
Great presentation skills and clear terms. You do not need the dictionary to get meaning of the vocabularies used throughout the course.
I have experience in public speaking, but pursued the course to improve it more and after doing the course I think I need to learn more about it and this course given me a valuable amount of knowledge.
It's a good match, I've been deep into reading of psychology for long, because I am always building my Inter/Intrapersonal intelligence.
It's good, because it teaches to focus on something positives which eliminates your doubt as well as your fear.
It is a good course that helps me to be more confident in my future speechs and have a good impression from the listeners. Thank you!
it helps me to think and plan what to do/speak in front of audience and yes it helps a lot to increase my self-esteem.
For my personal experience it was great .I have learned many things from this course I try my level best to follow all these steps.
Coupons
| Submit by | Date | Coupon Code | Discount | Emitted/Used | Status |
| --- | --- | --- | --- | --- | --- |
| AhmedELKING | 2/16/2021 | FEB2021 | 100% OFF | 40000/7088 | expired |
| - | 3/15/2021 | MAR2021 | 100% OFF | 40000/3819 | expired |
| - | 3/24/2021 | MARCH2021 | 100% OFF | 40000/1831 | expired |
| - | 4/5/2021 | APRIL21 | 100% OFF | 40000/2962 | expired |
| - | 4/10/2021 | APRIL2021 | 100% OFF | 40000/2573 | expired |
| - | 4/22/2021 | APRIL-2021 | 100% OFF | 40000/3954 | expired |
| - | 5/5/2021 | MAY.2021 | 100% OFF | 40000/4651 | expired |
| - | 5/13/2021 | MAY.21 | 100% OFF | 40000/4328 | expired |
| Failur3 | 5/16/2021 | MAY2021 | 100% OFF | 40000/1011 | expired |
| Angelcrc Seven | 6/2/2021 | JUNE21 | 100% OFF | 40000/1333 | expired |
| mohamedxxx | 6/17/2021 | JUNE-21 | 100% OFF | 40000/1533 | expired |
| mohamedxxx | 7/1/2021 | JULY21 | 100% OFF | 40000/4708 | expired |
| - | 7/16/2021 | JULY2021 | 100% OFF | 40000/3838 | expired |
| mohamedxxx | 7/29/2021 | JULY.21 | 100% OFF | 40000/2503 | expired |
| Angelcrc Seven | 8/11/2021 | AUGUST21 | 100% OFF | 40000/1353 | expired |
| - | 8/15/2021 | AUGUST-21 | 100% OFF | 40000/1744 | expired |
| Angelcrc Seven | 8/23/2021 | AUGUST.21 | 100% OFF | 40000/2624 | expired |
| - | 9/7/2021 | SEPT.21 | 100% OFF | 40000/2268 | expired |
| - | 9/19/2021 | SEPT-21 | 100% OFF | 40000/966 | expired |
| - | 10/15/2021 | OCT-21 | 100% OFF | 40000/533 | expired |
| Angelcrc Seven | 10/24/2021 | OCT.2021 | 100% OFF | 40000/1851 | expired |
| - | 10/30/2021 | OCT-2021 | 100% OFF | 1000/991 | expired |
| - | 11/8/2021 | NOV-2021 | 100% OFF | 1000/998 | expired |
| Angelcrc Seven | 11/24/2021 | NOV.2021 | 100% OFF | 1000/771 | expired |
| - | 11/30/2021 | NOV-21 | 100% OFF | 1000/842 | expired |
| - | 12/7/2021 | DEC.21 | 100% OFF | 1000/906 | expired |
| Angelcrc Seven | 12/18/2021 | DEC-2021 | 100% OFF | 1000/966 | expired |
| - | 1/4/2022 | JAN-2022 | 100% OFF | 1000/845 | expired |
| Angelcrc Seven | 1/25/2022 | JAN.2022 | 100% OFF | 1000/692 | expired |
| - | 2/3/2022 | FEB.2022 | 100% OFF | 1000/864 | expired |
| Angelcrc Seven | 3/4/2022 | MARCH-2022 | 100% OFF | 1000/836 | expired |
| Angelcrc Seven | 3/20/2022 | MARCH.2022 | 100% OFF | 1000/910 | expired |
| Ignacio Castro | 3/25/2022 | MARCH.22 | 100% OFF | 1000/981 | expired |
| Angelcrc Seven | 4/5/2022 | APR.2022 | 100% OFF | 1000/977 | expired |
| Angelcrc Seven | 4/18/2022 | APR-2022 | 100% OFF | 1000/843 | expired |
| - | 5/7/2022 | MAY.2022 | 100% OFF | 1000/872 | expired |
| - | 5/14/2022 | MAY.22 | 100% OFF | 1000/992 | expired |
| - | 5/17/2022 | MAY-2022 | 100% OFF | 1000/634 | expired |
| - | 6/6/2022 | JUNE-2022 | 100% OFF | 1000/976 | expired |
| - | 6/12/2022 | JUNE.2022 | 100% OFF | 1000/673 | expired |
| - | 6/21/2022 | JUNE-22 | 100% OFF | 1000/907 | expired |
| - | 7/2/2022 | JULY-2022 | 100% OFF | 1000/801 | expired |
| - | 7/25/2022 | JULY-22 | 100% OFF | 1000/895 | expired |
| - | 8/5/2022 | AUG-2022 | 100% OFF | 1000/557 | working |
2/15/2021
course created date
2/16/2021
course indexed date
AhmedELKING
course submited by