First Steps Into Public Speaking
Public speaking is one of the most important and most dreaded forms of communication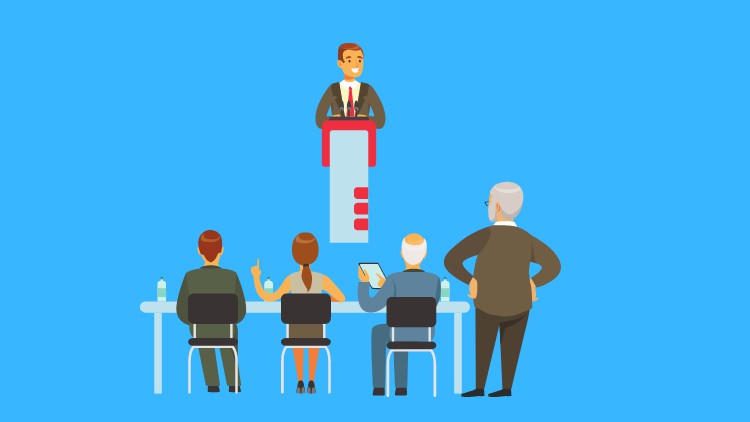 What you will learn
The Art of Conversation
Redesign Yourself for Strength
How to Control Your Jitters
Learn Body Language
Description
First Steps into Public Speaking
Do you get nervous when presenting at company meetings?

Do you find it hard to make conversation at gatherings and social events?

Do you lock up in awkward social situations?
If so, this course is just for you!
It's aimed at anybody who wants to improve their speaking skills in informal or formal situations.
We'll give you the confidence and the skills to interact with others, and to speak in front of small or large groups.
Glossophobia or speech anxiety is the most common fear people have across the globe.
It affects up to 75% of the population.
Fear of public speaking can prevent you from taking risks to share your ideas, to speak about your work, and to present your solutions to problems that affect many people.
However, public speaking is a tremendously efficient form of communication. If you rehearse your presentation over and over you will soon gain confidence.
Remember, one of the often unexpected delights of public speaking is how it builds confidence.
Knowing that you can stand in front of an entire tribe—sometimes complete strangers—and weave your magic, is a powerful elixir for greater confidence. And if you find that, rather than enduring public speaking, you actually enjoy it, so much the better.
I wish you a happy learning and let's get started.
Content
First Steps Into Public Speaking
Introduction
Self Disclosure
The Art of Conversation
Redesigning Yourself for Strength
Body Language
How Do You Prepare
Controlling Your Jitters
Key Themes
Plan to Structure Ideas
Organization Methods
Beginnings and Endings
Reviews
It's a good match, I've been deep into reading of psychology for long, because I am always building my Inter/Intrapersonal intelligence.
It's good, because it teaches to focus on something positives which eliminates your doubt as well as your fear.
It is a good course that helps me to be more confident in my future speechs and have a good impression from the listeners. Thank you!
it helps me to think and plan what to do/speak in front of audience and yes it helps a lot to increase my self-esteem.
This is totally awesome but it will be more awesome when it is presented by live face instead of presentation. At last i want to say this is awesome course created.
it is been giving various tips und ways on how to correctly make a decent conversational speech starting with just people in commun before moving to speaking in front of a group or an audience
It was Good!! This tutorial met my expectations, also lecture no. 3 The Art of Conversation and lecture no. 5 Body Language were the best ones according to me. Thank you so much for this tutorial lecture :D
For my personal experience it was great .I have learned many things from this course I try my level best to follow all these steps.
The Mode of delivery is not interactive enough. Since it's a public speaking course. Video recording would have been great.
It was fast-paced and direct. Though it was sometimes too fast on thematic and topic changes. Also the sound of the former was cut with too little time to absorve the past topic before moving on to the next. But on general it was a nice set of information and well organized.
Course is designed correctly but the way of teaching is wrong, It could have been more detailed and instead of just showing slides and giving voiceover, Topics could have explained well. Although it is good for beginner level.
i would say it's avarage, as i already had known this much from my school age, i just graduated. i was expecting more like tasks, readings or some other ways to overcome some people's anxiety over audience or how to make the conversation way perfect to achieve the perfect score
It was exciting, not difficult and simple to understand.I enjoyed every bit of it. With this knowledge I sure have an edge. Thank you!
Good course!!. Very crisp and to the point. Love the way slides are presented. Very very impressed. Thanks a lot to the instructor.
It was a great learning experience. Just a few things remain unclear but the most of the course was good. Also, even after dats of completing this course, I didnt receive certificate of completion. But overall it was a good experience.
Coupons
| Submit by | Date | Coupon Code | Discount | Emitted/Used | Status |
| --- | --- | --- | --- | --- | --- |
| AhmedELKING | 2/16/2021 | FEB2021 | 100% OFF | 40000/7088 | expired |
| - | 3/15/2021 | MAR2021 | 100% OFF | 40000/3819 | expired |
| - | 3/24/2021 | MARCH2021 | 100% OFF | 40000/1831 | expired |
| - | 4/5/2021 | APRIL21 | 100% OFF | 40000/2962 | expired |
| - | 4/10/2021 | APRIL2021 | 100% OFF | 40000/2573 | expired |
| - | 4/22/2021 | APRIL-2021 | 100% OFF | 40000/3954 | expired |
| - | 5/5/2021 | MAY.2021 | 100% OFF | 40000/4651 | expired |
| - | 5/13/2021 | MAY.21 | 100% OFF | 40000/4328 | expired |
| Failur3 | 5/16/2021 | MAY2021 | 100% OFF | 40000/1011 | expired |
| Angelcrc Seven | 6/2/2021 | JUNE21 | 100% OFF | 40000/1333 | expired |
| mohamedxxx | 6/17/2021 | JUNE-21 | 100% OFF | 40000/1533 | expired |
| mohamedxxx | 7/1/2021 | JULY21 | 100% OFF | 40000/4708 | expired |
| - | 7/16/2021 | JULY2021 | 100% OFF | 40000/3838 | expired |
| mohamedxxx | 7/29/2021 | JULY.21 | 100% OFF | 40000/2503 | expired |
| Angelcrc Seven | 8/11/2021 | AUGUST21 | 100% OFF | 40000/1353 | expired |
| - | 8/15/2021 | AUGUST-21 | 100% OFF | 40000/1744 | expired |
| Angelcrc Seven | 8/23/2021 | AUGUST.21 | 100% OFF | 40000/2624 | expired |
| - | 9/7/2021 | SEPT.21 | 100% OFF | 40000/2268 | expired |
| - | 9/19/2021 | SEPT-21 | 100% OFF | 40000/966 | expired |
| - | 10/15/2021 | OCT-21 | 100% OFF | 40000/533 | expired |
| Angelcrc Seven | 10/24/2021 | OCT.2021 | 100% OFF | 40000/1851 | expired |
| - | 10/30/2021 | OCT-2021 | 100% OFF | 1000/991 | expired |
| - | 11/8/2021 | NOV-2021 | 100% OFF | 1000/998 | expired |
| Angelcrc Seven | 11/24/2021 | NOV.2021 | 100% OFF | 1000/771 | expired |
| - | 11/30/2021 | NOV-21 | 100% OFF | 1000/842 | expired |
| - | 12/7/2021 | DEC.21 | 100% OFF | 1000/906 | expired |
| Angelcrc Seven | 12/18/2021 | DEC-2021 | 100% OFF | 1000/966 | expired |
| - | 1/4/2022 | JAN-2022 | 100% OFF | 1000/845 | expired |
| Angelcrc Seven | 1/25/2022 | JAN.2022 | 100% OFF | 1000/692 | expired |
| - | 2/3/2022 | FEB.2022 | 100% OFF | 1000/864 | expired |
| Angelcrc Seven | 3/4/2022 | MARCH-2022 | 100% OFF | 1000/836 | expired |
| Angelcrc Seven | 3/20/2022 | MARCH.2022 | 100% OFF | 1000/910 | expired |
| Ignacio Castro | 3/25/2022 | MARCH.22 | 100% OFF | 1000/981 | expired |
| Angelcrc Seven | 4/5/2022 | APR.2022 | 100% OFF | 1000/977 | expired |
| Angelcrc Seven | 4/18/2022 | APR-2022 | 100% OFF | 1000/843 | expired |
| - | 5/7/2022 | MAY.2022 | 100% OFF | 1000/872 | expired |
| - | 5/14/2022 | MAY.22 | 100% OFF | 1000/992 | expired |
| - | 5/17/2022 | MAY-2022 | 100% OFF | 1000/634 | expired |
2/15/2021
course created date
2/16/2021
course indexed date
AhmedELKING
course submited by